It's important to remember that, despite being in a position of responsibility, an ESYL is still a young person. ESYLs should never be left alone with a section, should always be supported, and must not be counted in the section's adult to young person ratios. It's important to have an in-touch process in place, and to be aware of any medical details and contact details relating to the ESYL.
ESYLs have their own version of Young People First (Yellow Card): Young People First (Orange Card). This is introduced in Module A, which covers safeguarding and child protection in detail.
Please note that Module A must be completed by all ESYLs, and by all young people from outside Scouting volunteering as Young Leaders, within three months of starting the Scheme. It's integral that every ESYL has their own copy of Young People First (Orange Card) with them at all times. Following the rules not only safeguards young people in the section, but also safeguards the ESYL themselves, preventing them from putting themselves in vulnerable positions.
On camp, ESYLs are in a unique position within the section. They are not adults and are under 18, so they must not share sleeping areas with the leadership team. Similarly, it's important to acknowledge that they are in a position of responsibility and are not attending camp as a participant. As a result, they should always be given their own private space and sleeping arrangements.
The Young People First (Orange Card) can be found on scouts.org.uk and is available for free at Scout Stores.
Supporting Explorer Scout Young Leaders in your District: advice for District Explorer Scout Commissioners
The ESYLs' Scheme is part of the Explorer Scout programme and an important part of the District Explorer Scout Commissioner (DESC) role.
The Scheme offers ESYLs a fantastic opportunity to volunteer alongside adult leaders in a Beaver Colony, Cub Pack or Scout Troop. Young Leaders can also be young people not currently involved in Scouting who are working towards their Duke of Edinburgh's Awards or their Queen's Guide Award for a set period of time. Lots of Young Leaders are unaware that they are completing the volunteering sections of Duke of Edinburgh's Awards or Chief/Queen's Scout Award, make it a target to tell young people how they can sign up and complete their Awards while they're a Young Leader. You could organise an introduction session with your District/County DofE Adviser who can help you plan to support the Awards and let you know about any upcoming adult volunteer training.
ESYLs are very much part of the leadership team and should play an active part in the section. They plan and run activities, as well as being positive role models.
The ESYL's Scheme contains 11 modules and four missions that ESYLs work through whilst volunteering in their chosen section. The modules will give them the skills and knowledge to be successful, and the missions will allow them to put this into practice with support.
Supporting Explorer Scout Young Leaders in your District: advice for the District Executive
The Explorer Scout Young Leaders' (ESYLs') Scheme is part of the Explorer Scout programme and an important part of the District Executive's responsibilities.
Supporting Explorer Scout Young Leaders: advice for County/Region or Area teams
Reviewing the Explorer Scout Young Leader provision in the District
The Quality of Programme Checker is a tool designed to help you plan and review your ESYL provision, and make sure that you are delivering quality scouting to the ESYLs you work with. A quality programme is challenging, relevant and rewarding for every young person.
What we mean by challenging:
opportunities for outdoor and adventurous activities in safe environments
opportunities for young people to gain confidence by participating in new or less familiar
activities, and by stepping outside their comfort zone
all young people can enjoy and achieve, regardless of their abilities
What we mean by relevant:
young people shape the programme based on what they want to learn and explore
the needs of every young person are met
volunteers respond to what young people are currently inquisitive about, reflecting their
interests in the programme
What we mean by rewarding:
programme actively develops skills for life, including teamwork and leadership
young people are supported with their progression through the sections
young people are excited about Scouting, having fun, and increasing in confidence
The red, amber and green categories below will help you identify any areas where the ESYL Scheme could be improved, and to set targets when planning. This tool could be used to review the last year of term, and identify areas that need a greater focus. Tick the box next to the answer that best applies to your programme for each question. To make sure the tool is as beneficial as possible, you should be open and honest while completing it.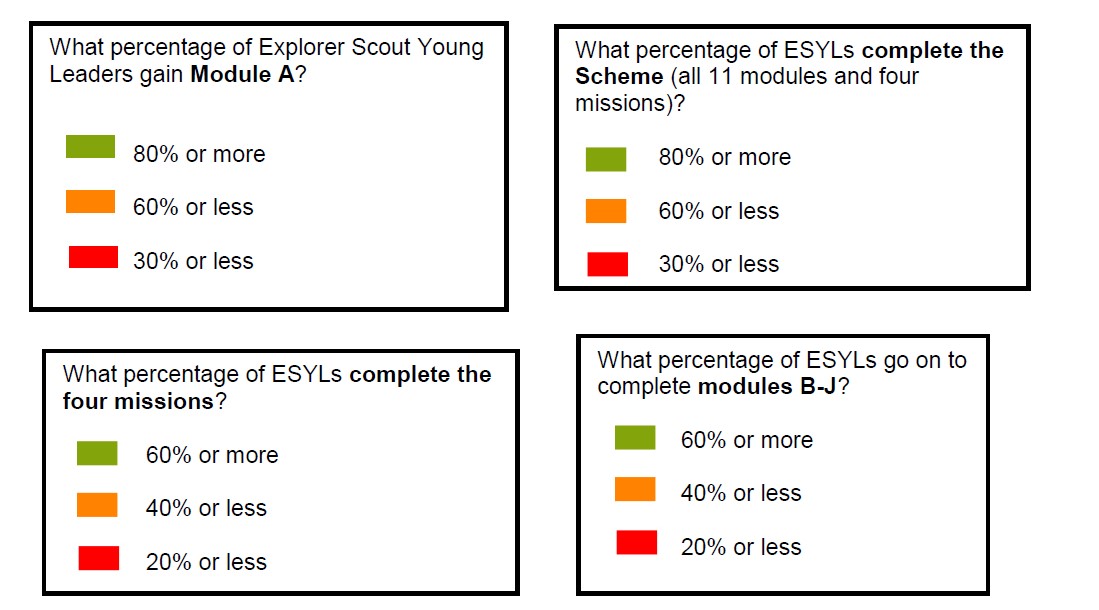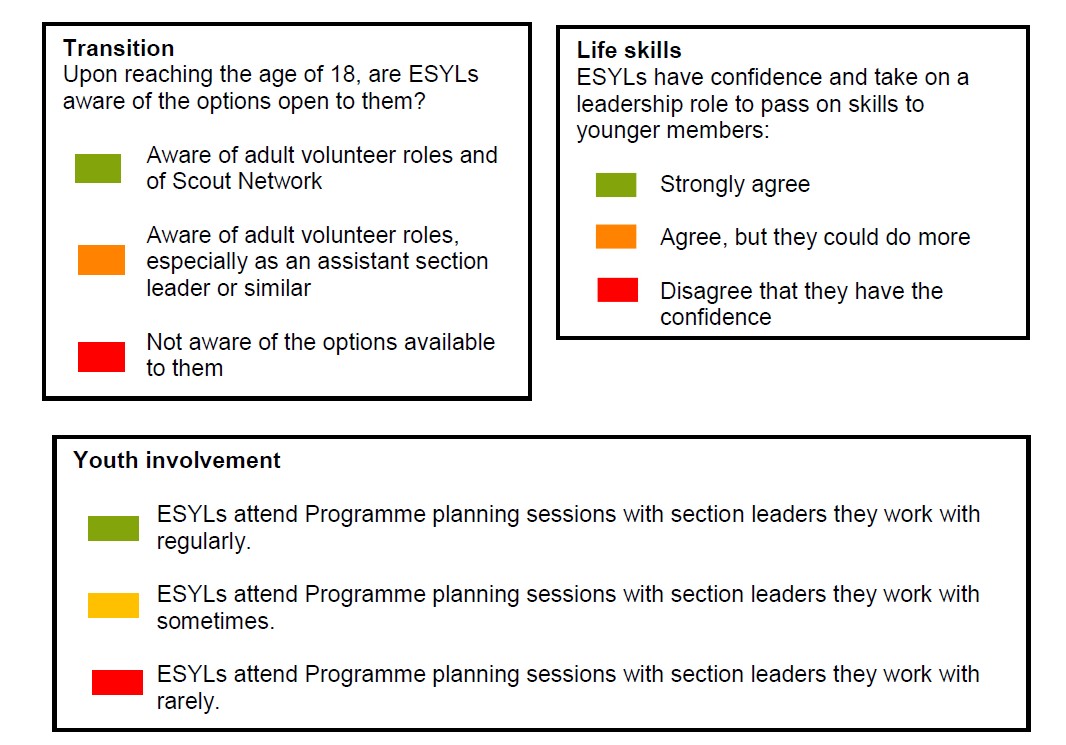 Growing your ESYL provision
The Scheme equips Explorer Scouts with life skills and prepares them to be successful citizens. At such an important time in a young person's life, the Scheme offers them a chance to develop, to give back to their communities and to have fun along the way.
ESYLs are a brilliant asset to any section. They diversify the leadership team and bring fresh ideas and inspiration to the table. With the right development, they can become fantastic section leaders, ensuring that even more young people in the future benefit from the adventures, friendship and skill development Scouting brings.
The greater the number of young people who complete the Scheme, the greater impact the Scheme has. Therefore, growing your ESYL provision locally is an incredibly important task.
Here are some top tips to consider when growing your provision, or increasing numbers in your District: