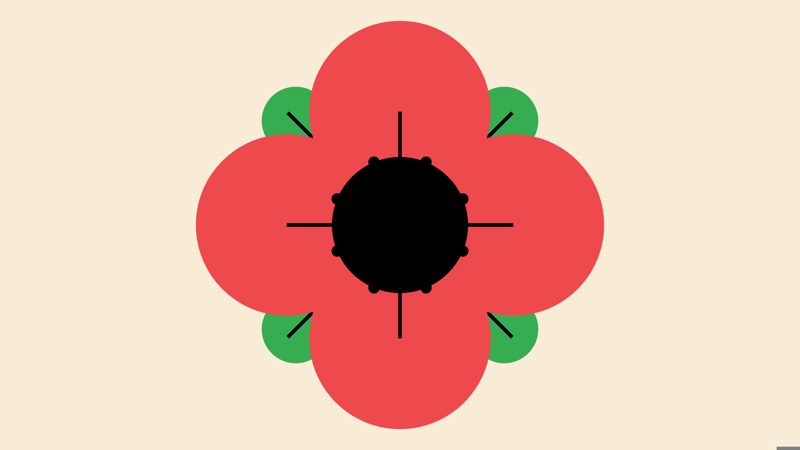 A Remembrance reflection
Hold a successful virtual Remembrance reflection with our hints and tips.
You will need
Device with access to the internet
Before you begin
Check out the advice on using Zoom and other popular digital platforms and the guidance on being safe online
You could approach local branches of the Royal British Legion to join you or provide speakers. If you're joining a public video event, it's important to talk to the organisers to make sure that two adult Scouts volunteers are admitted into the call before its opened up to the general public (and young people).
Think about how you'll run the event – we've included some suggestions but it's up to you how much you want to adapt them for your group. It's a good idea to read through the information before you begin so you're prepared.
Reflecting on Remembrance
We know that things are a bit different this year because of coronavirus, so lots of groups will be holding a virtual event instead.
We've put together some suggestions below. Adapt them so they work for your group – you may have your own poem to read, a visitor to invite, or some important local context to add. The instructions are a starting point for you to create an event that works for you. 
Hold a virtual remembrance event
The person leading the event should welcome everyone to the call and ask them to mute themselves.

The person leading the event should start the session by reminding the group of the significance of Armistice Day and Remembrance Sunday. Everyone should talk about the days and how they may have marked them in the past.
The person leading the activity could ask if anyone's seen poppies (and pictures of poppies) around in November. Some people may have seen them for sale or bought them, and some people may be wearing one on the call.

Everyone could take it in turns to explain what they know about poppies and why they're worn around Remembrance.
The person leading the activity could explain that in the UK, people wear poppies in November for two reasons: to remember those who have served and sacrificed their lives in war and as a sign of hope for a peaceful future. The poppy was chosen because at the end of the first world war, poppies began to grow in the fields in Western Europe where the fighting happened.
Poppies inspired Lieutenant Colonel John McCrae to write the poem In Flanders Fields. If you want to, you could read some of it out loud (or ask someone to read some of it out loud).
We often use symbols to represent our thoughts. If you want to, you could ask if anyone knows of any other symbols that represent something important. For many people, poppies are a reminder to take time to remember and be thankful for people who made sacrifices during wars.
The person leading the activity could share a bit more about who's remembered in Remembrance. They may tell people about the Scouts Roll of Honour or Scouts' heritage collections or they may talk about some of the wars since the second world war.
The person leading the activity could ask everyone what remembrance means to them.
Everyone could think about who they're grateful to this Remembrance. Anyone who's comfortable could share some of their thoughts with the group.
The person leading the activity could explain that there are lots of different ways to mark Remembrance. Many people take part in a two minute silence at 11am on 11 November. Pausing and being silent for two minutes is a way to show respect and gratitude. It also lets people take time to think about the people Remembrance commemorates.
The person leading the activity could show the Royal British Legion's video Pause, which shows why the two minute silence is important and what it means for us today.
Once the video has finished, everyone should share a moment of silence together. You may want to make sure that everyone's on mute so you're not disturbed by any background noise.
After the silence, someone could read another reading.
Finally, the person leading the activity could leave some time to chat about everything people have discussed.
The person leading the activity should thank everyone for joining and end the call.
Safety
All activities must be safely managed. Use the safety checklist to help you plan and risk assess your activity. Do a risk assessment and take appropriate steps to reduce risk. Always get approval for the activity and have suitable supervision and an InTouch process.
Online safety

Supervise young people when they're online and give them advice about staying safe.

For more support around online safety or bullying, check out the NSPCC website. If you want to know more about specific social networks and games, Childnet has information and safety tips for apps. You can also report anything that's worried you online to the Child Exploitation and Online Protection command.

As always, if you've got concerns about a young person's welfare (including their online experiences), follow the Yellow Card reporting processes.