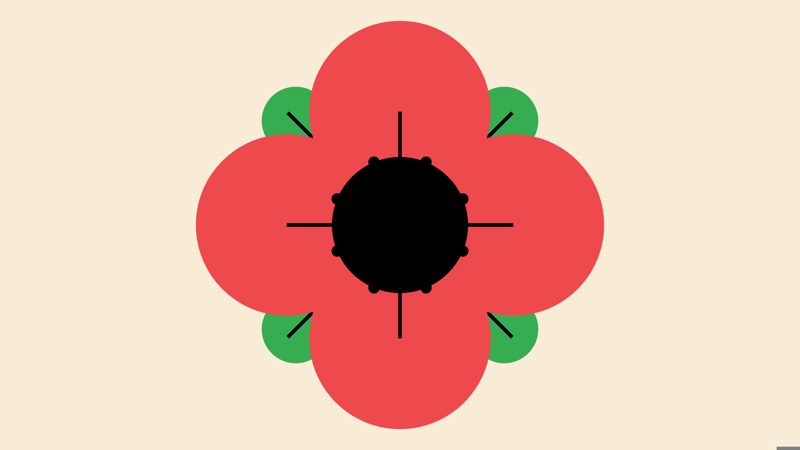 A pebble to remember
Paint a poppy on your pebble, then add it to a group picture, as a way to remember the people who have served and sacrificed.
Plan a session with this activity
You will need
Paint
Paint brushes
Access to water
Pens or pencils
Stones or pebbles
Paint pots
Tables (optional)
Chairs (optional)
Thick card
Before you begin
Make sure you've risk assessed your meeting, and also have a COVID-19 safe risk assessment that's been agreed by your line manager. You can check out more detailed guidance here. 
Decide whether you'll use chairs and tables. If you will, set them out so there's enough room for everyone to sit socially distanced.
Next to each chair (or spot on the floor), put a pebble, pencil, some paint, paintbrushes, and a pot of water to clean the brushes.
This activity could also be completed online. Check out the advice on using Zoom and other popular digital platforms and the guidance on being safe online.
If you're completing this online, ask everyone to bring everything they'll need with them to the video call.
Draw a landscape or a message of remembrance on the piece of card. This will become the centre of the group's final creation. You can paint it yourself or leave it for someone to do during the meeting.
Safety checklist
Use the Safety checklist to help you plan and risk assess your activity. Additional coronavirus-related controls to think about may include: 
Make sure that everyone knows the plan for dropping young people off (and picking them up again).
Set up a hand washing station that you can use throughout the session.
Stay socially distanced when moving around the space and when talking to the leaders.
Make sure there is enough equipment for everyone to have their own.
Clean equipment before and after use.
Time to paint
Everyone should sit at one of the spaces at the table or on the floor. The person leading the activity should explain that they've set these spaces out so everyone stays a safe distance apart.
Everyone should chat about Remembrance. Talk about why it happens, what it means, and how people usually mark the occasion.
The person leading the activity should explain that people can't go on parades this year because of coronavirus – but this doesn't mean people can't mark Remembrance. Making a pebble to remember is just one other way to remember everyone who died in war.
Everyone should draw the outline of a poppy on their pebble.
Once they're happy with their outline, everyone should get stuck in with paints.
When everyone is finished, place the pebbles somewhere out of the way to dry (such as a windowsill or a table).
While the pebbles are drying, everyone should read a poem like In Flanders Fields by John McCrae or A Scout in Flanders by H.E. and talk about what it means.
When the pebbles are dry, everyone should pick up their pebble and take it in turns to place it around the picture or phrase on the card. They should stay distanced as they do this.
Everyone should decide how to display their creation. They could leave it somewhere people can see, take a picture to display, or rebuild it somewhere else.
Reflection
This activity gave everyone the chance to think a bit more about the poppy. Do people usually see lots of poppies around in November? Did anyone already know what they meant and what they symbolised? Do people think it's helpful to have a shared symbol like a poppy for important things like Remembrance?
In this activity, everyone thought about Remembrance and how it links to their lives. What did people find out about Remembrance? How did it make them feel? How are people going to take part in Remembrance this year?
Safety
All activities must be safely managed. Use the safety checklist to help you plan and risk assess your activity. Do a risk assessment and take appropriate steps to reduce risk. Always get approval for the activity and have suitable supervision and an InTouch process.