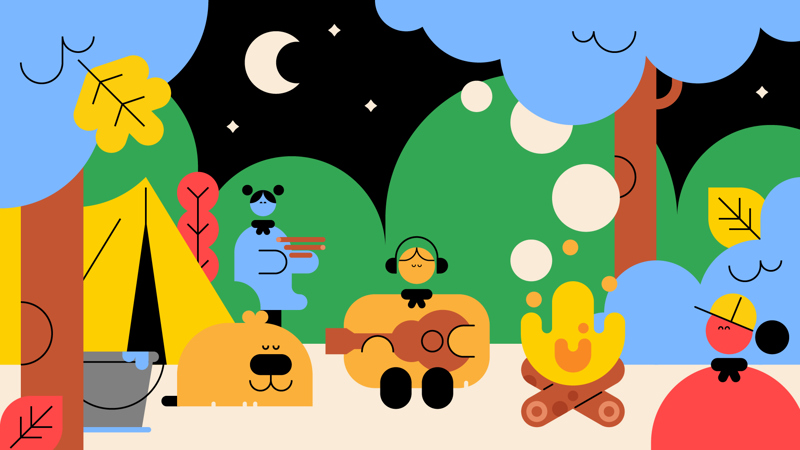 Camping
Camping is a great choice for nights away. Sleeping in a tent gives you the chance to connect with nature and build your independence.
What to expect
Your first night away as a Beaver will probably look a lot different to your adventures away from home as an Explorer Scout, but the skills these experiences have in common will always be greater than the ways they change.
Nights away from home let young people build skills that set them up for the rest of their lives. Doing your own thing starts when you pack your own bag – and thinking on your feet starts when you get by without the things you've forgotten. Camping also helps everyone become a stronger team, as they work together to make sure everyone's got a hot meal to fill their tummy and a comfy place to rest their head. Camping isn't always easy, but the key is getting back up and trying again. At the end of the day, when you've put a tent up despite the wind and lit a fire despite the rain, you'll go to bed with a warm glow inside, despite the cold. 
Fun facts
Some Scouts from Ontaria, Canada, hold the world record for the fastest time to erect a four person tent. They managed it in a speedy 1 minute 58 seconds!
The first tents were made mainly from mammoth hide, and evidence found in Russia can be dated back to around 40,000 BC. 
Handy hints
Selecting a good site to camp is really important, check out this advice from Scout Adventures for some ideas of what to look for and how to set up your camp.  
Can you tell the brailing from the beckets? Have a look at this information to learn more about the different types of tent. 
Tent detectives
Turn detective and make sure all your sleeping areas are clean, safe and tidy in this group activity.
Suitable for: Beavers, Cubs
Tent detectives >
Pitch in
Put up a mess tent then get creative with the shared space.
Suitable for: Scouts, Explorers
Pitch in >
Safety
Outdoor activities

You must have permission to use the location. Always check the weather forecast and inform parents and carers of any change in venue.
You must always:
Be safe outdoors:
Check the weather forecast
This activity can be led by you or someone else in Scouts
:
Acceptable instructor qualifications

Nights Away Permits - to the level appropriate to the location being used (except for adult only groups)
Guidance
Reflection
Camping is a great chance to be more independent, regardless of your age. It can feel like a big step to spend time away from home, but it can be great fun too. Did you do anything for yourself for the first time (depending on how many times you've camped before, this may look like brushing your teeth by yourself, or it may look like setting up the campsite without any adults)? Did you try things that someone else usually does for you at home? Did you have to make decisions for yourself (for example, which clothes to wear each day)? Did you achieve anything for yourself?
Camping is also a chance to try new things. Had you camped before? Had you camped in this place before? Was it how you expected it to be? Did you get to try any new activities or foods when you were away?