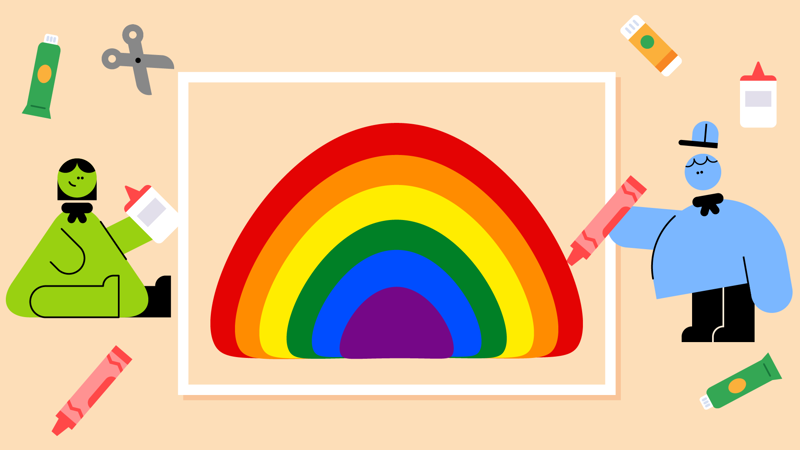 Prints for Pride
Learn about the rainbow flag as a symbol for the LGBT+ community by making some colourful prints.
You will need
A4 card
Paint
Paintbrushes or sponges
Before you begin
Use the safety checklist to help you plan and risk assess your activity. Additional help to carry out your risk assessment, including examples can be found here.  Don't forget to make sure all young people and adults involved in the activity know how to take part safely.
Scouts is an inclusive, values-based movement, open to all those who share our fundamental values. Find out more in our inclusion and diversity pages and learn about what Scouts are doing to support Pride.
Pop 'n' Olly have lots of resources you could use to explore LGBT+ learning.
Set up the paints and paintbrushes or sponges at your meeting place before everyone arrives. You'll need paints in each colour of the rainbow (red, orange, yellow, green, blue, purple, dark pink) and enough paintbrushes or sponges for one per person.
You could create prints using leaves or other natural objects collected in the Diversity in Nature activity. 
Story time
You could start by reading a story to get everyone thinking about how special rainbows are.
Here's some ideas:
How Do You Make a Rainbow? by Caroline Crowe. On a rainy day, a little girl asks her grandad to help her paint a rainbow on the sky. This rhyming story is a colourful celebration of love, positivity and community. Borrow this book.
Kenny lives with Erica and Martina by Olly Pike. Kenny's world becomes a lot more colourful when some new neighbours move in, but not everyone is happy. Someone could read the book, or you could use this video. 
Learning about the rainbow flag
Ask your group if they know the colours of the rainbow. Can everyone name them?
Ask anyone if they have ever seen a rainbow flag before and if anyone knows what it might mean.
Tell everyone a bit about the rainbow flag.
You could explain that some families use rainbows to celebrate that they have two mums, or two dads, or that someone in their family is LGBT+.  June is Pride month and is a chance to be proud of LGBT+ people and to celebrate different rainbow families. There are also Pride parades and events throughout the year. We can show that we support them too and are proud of them too by being something called an ally, which means friend, by choosing to display the rainbow symbol.
Explain that today you're going to great your own rainbows by making prints onto card with paint.
Making your Pride prints
Decide what kind of items or materials you want to use to make your prints. You could use one of the following suggestions, or use an idea suggested by your group. Some ideas include:
Natural objects, such as leaves, sticks, feathers and shells
Craft materials, such as wool, pom poms, pipe cleaners, tissue paper and buttons
Soft Styrofoam, such as from takeaway containers or pizza bases
Dry and clean recyclable objects, such as egg boxes, tissues boxes, yoghurt pots, toilet roll tubes and empty bottles
Painting directly onto thumbs, fingers, hands or feet – this one can tickle!
Cookie cutters in different shapes
Rolling pins wrapped in textured material, such as string and bubble wrap
Fruit and vegetables, such as potatoes, oranges, apples or carrots
Using the paints and a few paintbrushes or sponges, encourage everyone to decorate the items using just the colours found in a rainbow.
Each person could have a different colour, or everyone might choose to paint their objects using all the rainbow's colours.
Once everyone has painted their objects, they should take a piece of card and gently press the painted side onto the card to create a print. They may want to use lots of different objects and items to add lots of different prints, colours and textures to their picture.
Put the pictures somewhere safe to dry.
Reflection
This activity is all about learning about the rainbow flag. It celebrates lots of different families and people who use the rainbow flag to show that they are proud of who they are.
How Do You Make a Rainbow?
Why does the little girl want to make a rainbow?
How do rainbows make you feel? What do rainbows make you think of?
What ways do people use rainbows? Where have you seen pictures of rainbows?
Kenny lives with Erica and Martina
How are you all unique?

How were Jenny and Hasan unique?

How would you feel if there was only one colour in the world?

Were people kind to Jenny and Hasan?

Kenny used colours to make feel Jenny and Hasan welcome. How can you welcome new friends in your group?
Make your Pride prints
Can you remember why a rainbow flag was chosen as the pride flag?
How can we help make sure everyone knows that they are welcome and included?
Keeping the conversation light and entertaining can help everyone understand the beauty of being unique and appreciate differences in our everyday life.
Safety
All activities must be safely managed. Use the safety checklist to help you plan and risk assess your activity. Do a risk assessment and take appropriate steps to reduce risk. Always get approval for the activity and have suitable supervision and an InTouch process.
Rubbish and recycling

All items should be clean and suitable for this activity.

Craft: Unusual substances

Supervise young people appropriately when they're using unusual substances, such as powdered paint, ash or dirt. Be aware of any medical conditions which could be affected by what's being used.

Make sure you follow all relevant safety guidance or manufacturers guidelines, where available. Make sure you dispose of it appropriately too, in line with safety guidance.

Scissors

Supervise young people appropriately when they're using scissors. Store all sharp objects securely, out of the reach of young people.

Sharp objects

Teach young people how to use sharp objects safely. Supervise them appropriately throughout. Store all sharp objects securely, out of the reach of young people.

Gardening and nature

Everyone must wash their hands after the activity has finished. Wear gloves if needed. Explain how to safely use equipment and set clear boundaries so everyone knows what's allowed.