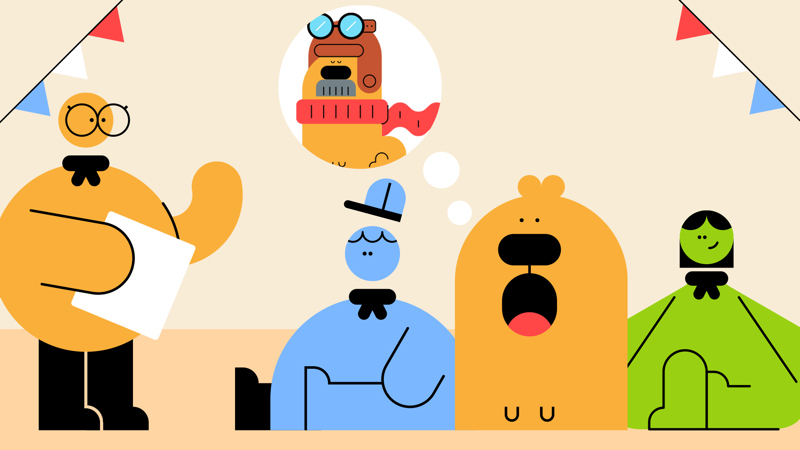 You will need
Pens or pencils
Scrap paper
Device with access to the internet
1940s badge pictures
PDF – 379.4KB
Before you begin
This is a great activity to run during an online session. Check out

 

the advice

 

on using Zoom and other popular digital platforms and the

 

guidance on being safe online.
You could host this quiz with people working in teams online over a separate chat function or by themselves. Alternatively, email it to your group and get individuals to send back their answers. 
Check out the box at the bottom of this page for more info on running this activity using the online quiz platform Kahoot!
Test your knowledge
The person leading the activity should start the meeting, welcome everyone and ask them to mute themselves.
Everyone should split everyone into small teams. It's OK if some people want to work individually. 
The person leading the activity should give each team a link to the '1940s badge pictures' sheet. They could post it in the chat box or share their screen. 
Each team should work together to figure out what each badge was called, and what a modern equivalent might be.
Once everyone's finished, the person leading the activity should gather everyone together again and reveal the answers. Everyone should make sure they know what all of the words mean – some may be unfamiliar or new.
Everyone should look at the badges again. The person leading the activity should explain some of the things people had to do to earn the badge.
Each team should chat about the skills the 1940s Scouts used and how the badge activities may have helped the war effort.
The teams should take it in turns to feed back to the group. Were any of the skills similar to the ones Scouts use today?
Everyone should think about how they could use their skills to help in their community. There's no war effort right now, but there are plenty of ways to make a difference.
Learn about badges back then
Try it on Kahoot!
We've turned this activity into a ready made Kahoot! quiz you can run with your group too.
Kahoot! is a competitive and fun online quiz platform. You'll need someone to host the quiz; everyone else will need their own device (such as a laptop or smartphone) with internet access. If you're new to the platform, check out Keep calm and Kahoot! for all the info you need to run your session. 
See the Kahoot! quiz
Reflection
This activity was all about being a citizen and developing skills. Scouts make a Promise to do their best, keep the Scout Law, commit to their beliefs and country, and help other people. In the second world war, people had to play their part to help out – it wasn't just about the people away fighting, the second world war needed everyone to work together on the home front too. Can anyone remember some of the ways Scouts helped? How did the skills they learned at Scouts help them to help?
During the second world war, Scouts made a big difference. It's not just in times of war that Scouts can use their skills to help their communities. What could people do to help their community today?
In this activity, everyone thought about Remembrance and how it links to their lives. What did people find out about Remembrance? How did it make them feel? How are people going to take part in Remembrance this year?
Safety
All activities must be safely managed. Use the safety checklist to help you plan and risk assess your activity. Do a risk assessment and take appropriate steps to reduce risk. Always get approval for the activity and have suitable supervision and an InTouch process.
Online safety

Supervise young people when they're online and give them advice about staying safe.

For more support around online safety or bullying, check out the NSPCC website. If you want to know more about specific social networks and games, Childnet has information and safety tips for apps. You can also report anything that's worried you online to the Child Exploitation and Online Protection command.

As always, if you've got concerns about a young person's welfare (including their online experiences), follow the Yellow Card reporting processes.