Blog | 11 March 2021
Getting ready for St George's Day
St George's Day is traditionally a time for Scouts to come together, renew their Promise, and celebrate. How are you planning to celebrate differently this year? You may be planning to meet virtually as a group, District, County or Area, or you may be preparing to do some activities with your section. We've pulled together some inspiration, ideas, and resources to get you started. 
Why do we celebrate St George's Day?
We celebrate St George's Day because Baden-Powell chose St George to be the patron saint of Scouts. He wanted St George's Day to be a time to reflect on the Scout Promise and what it means to be a Scout.
Want to know more? Use A soldier, a saint, a Scout? to test your group's knowledge, and find out more about St George.
Renew your Promise
St George's Day is a great opportunity to reflect on and renew our Promise. Last year, lots of Scouts renewed their Promise from home. You can find all of the versions of the Scout Promise on our website. 
You could join in by inviting everyone to renew their Promise at home and send a photo or video for you to edit together. Why not ask people to renew their Promise in an unusual place (sticking to COVID-19 restrictions, of course) or put a creative spin on the final edit to transport people to a unique location? From the bathtub to the Moon, your imagination's the limit. 
You could also come together on a digital platform and renew your Promise online. We know that it can be tricky to plan a fun and inclusive online event, so we've put together some suggestions to get you started in Renew your Promise online.
Or, renew your Promise at the same time as others around the world, by joining Scoutadelic's St George's Day online event.
Take some time to reflect on what the Promise means – and tick off the Promise and values parts of your section's World Challenge Award at the same time. You could do this as part of A soldier, a saint, a Scout? if you think about how your Promise and values relate to the story and legend of St George.
Younger sections could try out Promise hands or A fable for your promise, while you could challenge older sections to get creative and create something about what their Promise means to them. They could choose a picture, a video, a dance, or another way to express themselves.
Shout about Scouts
You may not be able to get out and about as much as you'd like, but you could still use St George's Day to spread the word about Scouts and how it helps young people gain skills for life.
Some people might choose to wear their Scout scarf (with permission from their school or college) or update their social media profile pictures to show them wearing a necker. You could also display a symbol of Scouts (like our logo or a Scout scarf) in your window at home.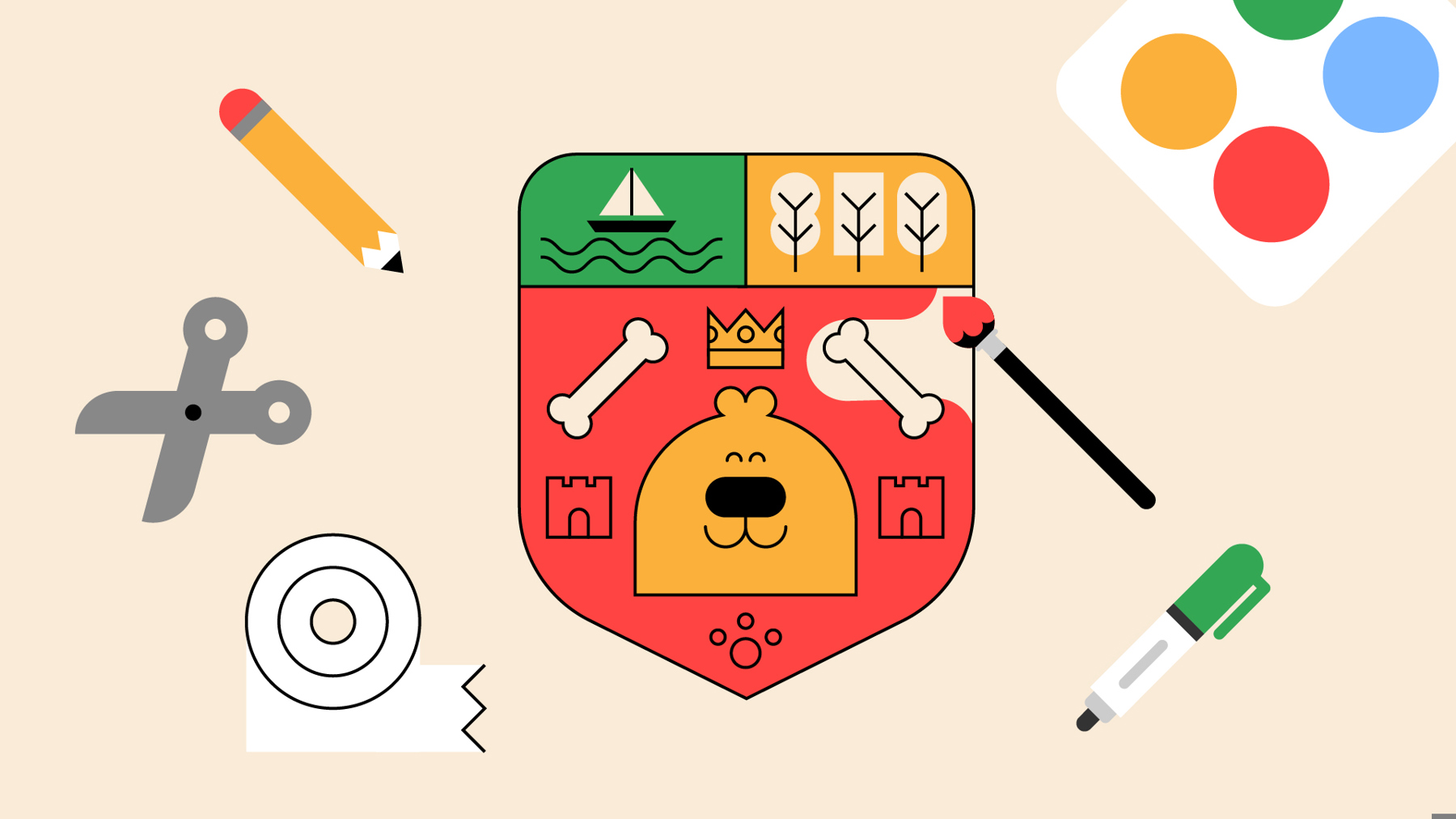 Get creative exploring the legend of St George
Looking for some creative inspiration? Check out some of the ways Shropshire Scouts got creative last year.
Get started with a bang (or a roar) by creating your own dragon. People could choose their own materials: they could draw, use building blocks or items of recycling, or show off their digital skills by making a virtual beast. If you want a helping hand, younger sections could try making this clay dragon with English Heritage. 
Create your own shields, like Beavers from 1st Liss Scouts did last year, with Changing your coat. You'll also need a sword – luckily, English Heritage have put together some instructions for making a sword from cardboard (you'll need to use scissors, so make sure a parent or carer is there if you're doing this at home).
Once you've got your props at the ready, challenge everyone to act out the legend of St George and the dragon. Can they send in a photo or video? If people don't want to spend time making dragons, swords, and shields, they could use household objects to safely recreate the scene. Swords don't need to be sharp – breadsticks and wrapping paper tubes do the job nicely.
Scouts and Explorers could take it even further and use their imagination to get stuck into fantasy storytelling with our partners Dungeons and Dragons.
Depending on how everyone chooses to get creative, they may be able to tick off parts of their Creative or Entertainer Activity Badges (or their Skills Challenge Award).
Stop and reflect
St George's Day is an opportunity to pause and reflect and we've got plenty to think about this year. You could celebrate the fun moments you've had meeting online with And the winner is or look at the year as a whole with An unusual year at Scouts. If you're meeting face-to-face, you could try Paper memories.
You may not have saved your community from any dragons recently, but what other things have you done to help? You could use St George's Day to recognise the impact you've made this year and plan what you'd like to do in the coming year. Take a look at A Million Hands if you're looking for some inspiration.
Celebrate awards
St George's Day is a great time to celebrate badges and awards people have earned. 
Plenty of people have achieved great things despite the pandemic, so why not run a virtual awards celebration locally? You could explore different ways of recognising achievement while we can't meet in big groups face-to-face.
We've had a difficult year, so it can give everyone a boost to focus on how people have overcome new challenges to achieve amazing things. Hearing about people's successes can encourage everyone to keep going with Scouts.
Not sure where to start with your celebrations? We've pulled together some ideas and resources to help with Virtual awards celebrations.
Make an international link
Did you know that Baden-Powell hoped that celebrating St George's Day would 'bring all Scouts the more in touch throughout the world'?
With this in mind, why not reach out to another group abroad? Groups are meeting up online – with new and improved digital tools and skills, it might be the perfect time to get to know some new faces. We've put together some general guidance on making these international links.
If you're able to connect with another group, you could ask whether they celebrate St George's Day where they live, or whether they have a special day for another person in their history or legends. Think about how you'll tell them about St George's Day and what it means for Scouts in the UK too.
Share your ideas
Further reading
Coming Soon
Related links
Coming Soon