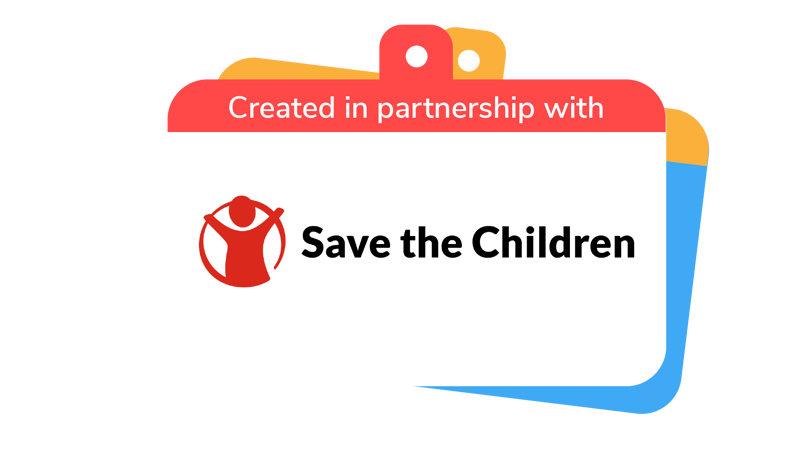 Welcoming messages
Send a welcoming message to young refugees and displaced children from around the world, to show them they are welcome in the UK.
You will need
Coloured pens or pencils
Craft materials (for example, tissue paper, pipe cleaners, stickers)
A4 paper or A4 card
Camera or scanner
Before you begin
You might like to run the Welcome new arrivals activity to help people think about how important it is to make people feel welcome when they arrive somewhere new.
Use the safety checklist to help you plan and risk assess your activity. Additional help to carry out your risk assessment, including examples can be found here.  Don't forget to make sure all young people and adults involved in the activity know how to take part safely.
Talk about refugees and displaced children
The person leading the activity should explain that while Ukraine may currently be in the news, there are lots of different conflicts and crises around the world that force adults and children to have to leave their homes. Sometimes they have to go to a different country to find safety.
The person leading the activity should explain that the UK is one of many countries that people might choose to seek safety in. We can all help to make people arriving in this country feel welcome.
The person leading the activity should explain that they are going to create welcoming messages for refugees and displaced children to read when they arrive in the UK.
Create your messages
Remember, the messages will be seen by refugees arriving in the UK from different parts of the world, so try to make sure your messages are welcoming to all young refugees, no matter what country they come from.
Everyone should split into groups of about four people.
Each group should think about the different things that people should know about the UK if they are new to this country. If you were arriving into this country or moving to a new country for the first time, what would you want to know?
Each group should then think about things that are important to them that they would want to share with people who are newly arriving to the UK.
Each group should decide what are the most important things they want to include in their welcoming message and what it will look like. It's up to you how simple or detailed you make your messages. 
Each group should create their welcoming message, with drawings and illustrations. Get creative!
Share your messages
The person leading the activity should gather the finished welcome messages from the different groups. They should explain that they are going to send the messages to Save the Children. Save the Children will gather together all the messages created by Scout groups from across the UK. They will put messages together to share with people arriving in the UK from Afghanistan, Ukraine, Syria, Yemen and other places.
Submit a clear image of your group's welcoming messages before Thursday 30th June 2022.   We've shared some tips below.

Reflection
This activity was about helping your wider community to welcome new members and about how we can show care and compassion to others.
Everyone could think about how they felt last time they were a new arrival somewhere and how they were welcomed. It may have been starting at a new school, moving house or joining the Scout group. How might you be feeling if you're a new arrival, and how would receiving welcoming messages make you feel?
Safety
All activities must be safely managed. Use the safety checklist to help you plan and risk assess your activity. Do a risk assessment and take appropriate steps to reduce risk. Always get approval for the activity and have suitable supervision and an InTouch process.
Scissors

Supervise young people appropriately when they're using scissors. Store all sharp objects securely, out of the reach of young people.

Glue and solvents

Supervise young people appropriately when they're using glue and solvent products. Make sure there's plenty of ventilation. Be aware of any medical conditions which could be affected by glue or solvent use and make adjustments as needed.

Online safety

Supervise young people when they're online and give them advice about staying safe.

For more support around online safety or bullying, check out the NSPCC website. If you want to know more about specific social networks and games, Childnet has information and safety tips for apps. You can also report anything that's worried you online to the Child Exploitation and Online Protection command.

As always, if you've got concerns about a young person's welfare (including their online experiences), follow the Yellow Card reporting processes.