Run a JOTA-JOTI event
A unique opportunity to connect with Scouts all around the world by taking part in an international jamboree.
What is JOTA-JOTI?
Organised by the World Organization of the Scout Movement (WOSM), JOTA–JOTI is the world's largest digital and radio Scout event, taking place online and over the air. It stands for 'Jamboree on the Air' and 'Jamboree on the Internet.'
It's taking place on the 20 to 22 October 2023 this year and it's completely free.
You can sign up now. By registering, you can find out handy tips and stay tuned for updates, such as the programme launch and this year's challenges!
Who can get involved in JOTA-JOTI?
Every year, the event brings more than two million Scouts together from over 173 countries to promote friendship and global citizenship. It's always the third weekend in October.
One of the best things about JOTA–JOTI is that everyone can take part (even people who aren't part of Scouts – yet!)
As a parent, carer or young member, you can contact your local Scout group to see if they are participating in this year's JOTA-JOTI activities. If they aren't, you can still register and join as an individual.
As a section, you can reach out to your local Scout community and make plans, so you'll be super prepared when the weekend comes around. Why not see if a local JOTA-JOTI event is happening near you?
Why should we take part in JOTA-JOTI?
Scouts learn all about communication and technology, while making new, international friends. It's all about global citizenship, and helping Scouts learn about other cultures while working as a team.
JOTA–JOTI is a truly unforgettable event in the Scouts calendar. It's a unique opportunity to speak to Scouts around the world, learn about different cultures and global issues, and build on communication skills.
While meeting new faces from different places, you'll step away from today's technology with JOTA and communicate through radio. There's something truly special about the crackling of the airwaves and first hearing the voices of a Scout group on the other side of the world!
It's also the perfect opportunity to work towards badges. JOTA–JOTI can help you get the International badge, Global Issues badge, World Challenge Award or Communicator badges, and it's a completely free event.
How to get involved
If you're not sure how to get started, don't worry. It's super simple to get involved for the next JOTA–JOTI.
First things first, you'll need to register your group on the JOTA–JOTI website.
Why not see if there's a local or national event your group could take part in? You could also reach out to another volunteer who's been to a JOTA–JOTI event to find out more.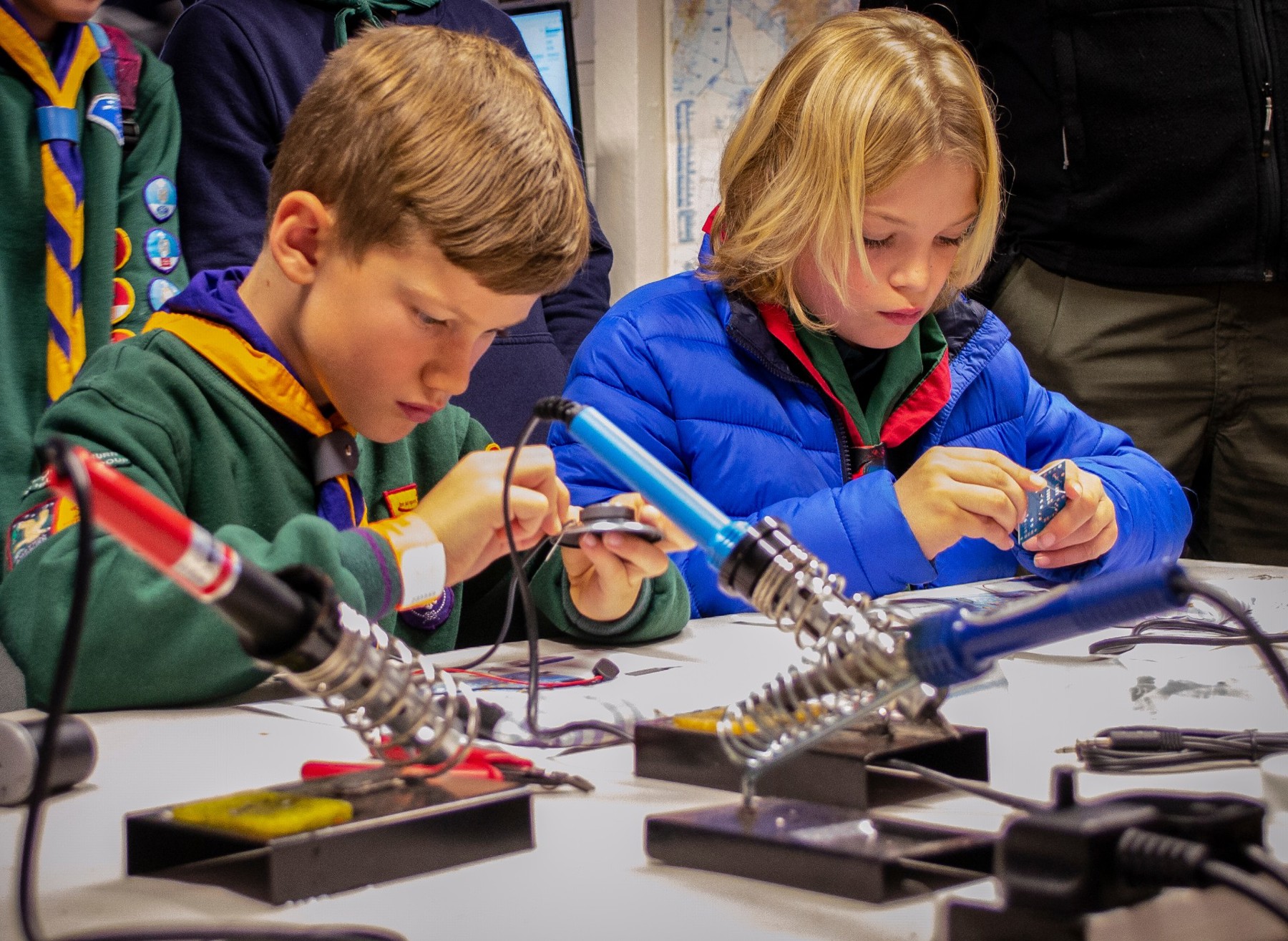 Did you know?
It's usually pronounced so that JOTA rhymes with 'rota' and JOTI rhymes with 'floaty' or 'goatee'.
JOTA's first event was in 1958 – so it's been running for over 60 years!
Baden-Powell was an early radio enthusiast. Scouts could earn a Radio Wireless Badge as early as 1923.
JOTA was joined by JOTI in 1997, and so JOTA-JOTI was born.
It's the world's largest digital and radio Scout event, and provides a chance to connect with fellow Scouts from over 172 countries.
At one JOTA-JOTI, some lucky Scouts from Norfolk made radio contact with the International Space Station!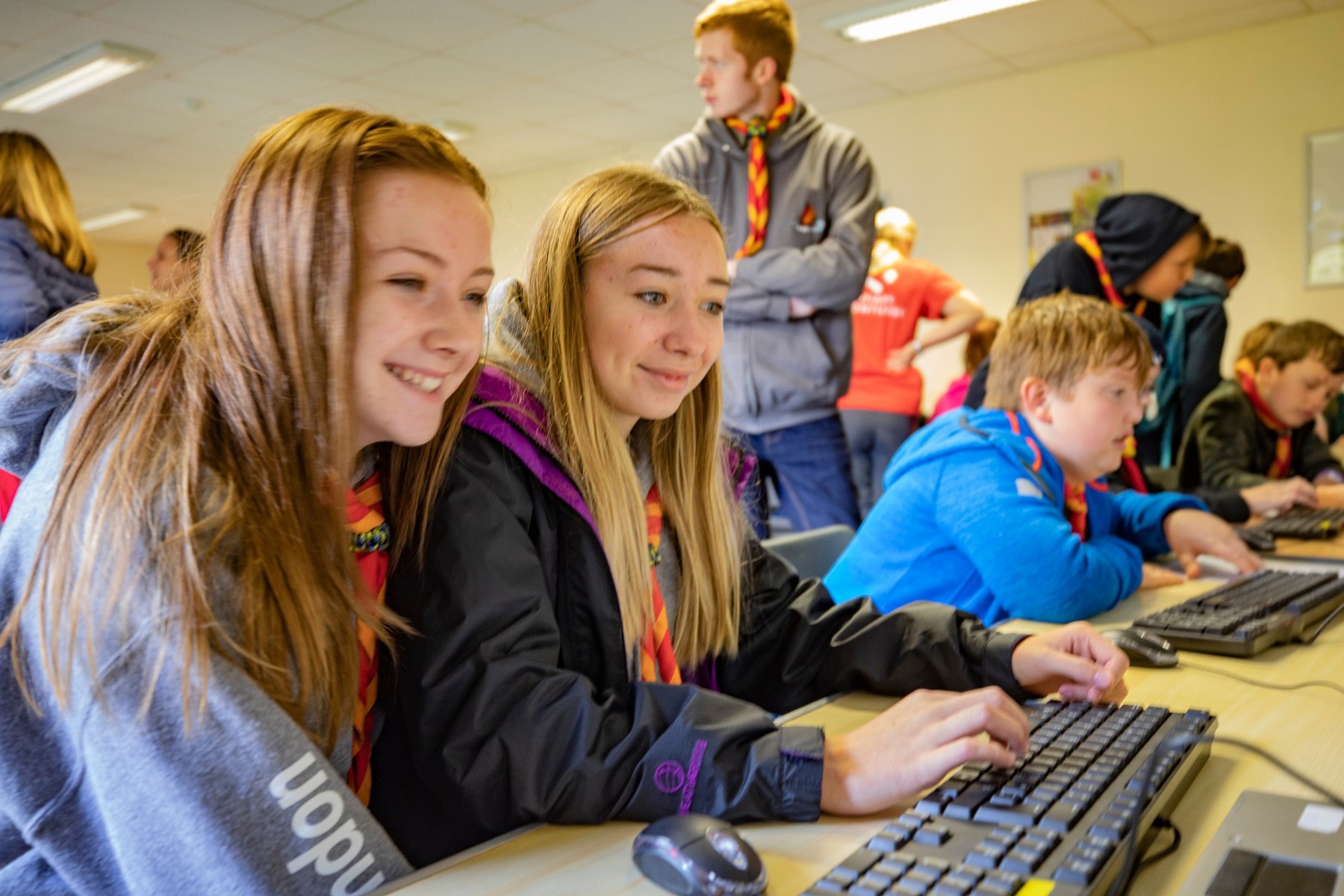 Getting ready for the event
Register to take part: You'll need to register on the JOTA-JOTI website. If registration isn't open yet, you can follow their social media channels for updates. You can find a quick guide to registration on the JOTA-JOTI website.
Plan a themed event: One way to get involved is to build JOTA-JOTI into an international or communications-themed camp or activity day. Take a look at some of our international and global-based programme activity ideas. 
Find an event: Find out if your local Scouts area or local Scout Centre are running a JOTA-JOTI event. Don't forget to check if there're any events being run by Scout Adventures, too.
Setting up the event safely
Have a risk assessment in place: Use the safety checklist to help you plan and risk assess your activity. Additional help to carry out your risk assessment, including examples can be found here. Don't forget to make sure all young people and adults involved in the activity know how to take part safely. Take a look at our information on event safety and planning. Have a first aid kit and first aiders, a robust InTouch system and relevant emergency contact details.
Photography: Make sure you've consent forms and permission to take someone's photograph first. Take a look at our guidelines on photography, video and audio recording at Scout events. 
You may want to put up posters to let people know that photography and filming will be taking place at your event. You'll need to add on who people can speak to if they wish to opt out and you might ask people to wear wristbands if they don't want to have their photo taken, so the photographer will know who to avoid. 
Setting up a JOTA station: You'll need help from someone with an amateur radio transmitting licence. Lots of groups get in touch with a local licensed amateur radio station or club. You may also have a volunteer, parent or carer, or young person with a licence. Local radio societies are keen to help and encourage new enthusiasts and often have the equipment required to operate a radio station.
Setting up equipment safely: If you're using electrical or radio equipment, make sure you get advice from a competent person about how to set up and use it safely. For helpful tips for when you're completing your risk assessment with your team, you can use our example risk assessment for running a JOTA activity.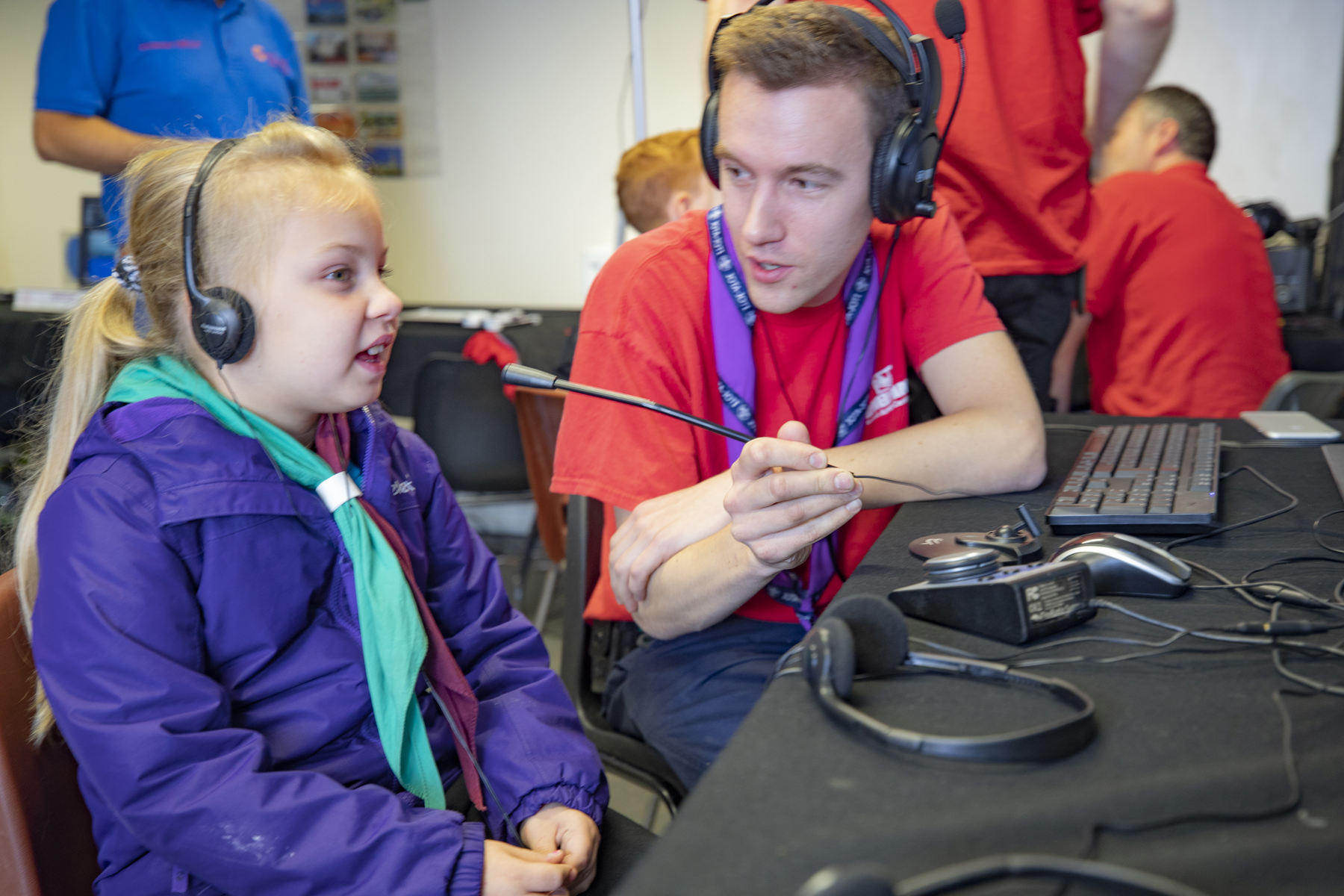 Staying safe
Staying safe online: You should supervise young people when they're online or in radio contact, and give them advice about staying safe. Take a look at our guidance on staying safe online and at this information from WOSM on how to stay safe during JOTA-JOTI.
Online safety activities: You could run some our online safety activities before this event, created in partnership with Nominet. 
Providing safe supervision: Make sure you'll have enough adult helpers. You may need some parents and carers to help if you're short on helpers. Young people making radio contact will need to be under the supervision of a licensed radio amateur, who'll need to make sure the guidelines about conduct on-air are followed, and a Scouts volunteer. Everyone should be supervised in-line with the Yellow Card guidelines.
Activities
Have extra activities prepared: Having some individual and small group activities that can be done at any point will make sure there's always something for everyone to do while they're waiting to talk to Scouts around the world. Remember to have appropriate adult supervision for these activities, too.
Find activity ideas on our global programme ideas page or head straight over to the activity finder. Some suggestions for activities where you can learn about Scouts around the world are:
Work towards badges: It's a great opportunity to work towards the international parts of our programme and the Communicator badges.
Online games: Take a look at some of our online games and activities you could use during your event.
Plan some conversation starters: You could use our activity, Remote contact, to get everyone thinking about what they'd like to ask other Scouts around the world.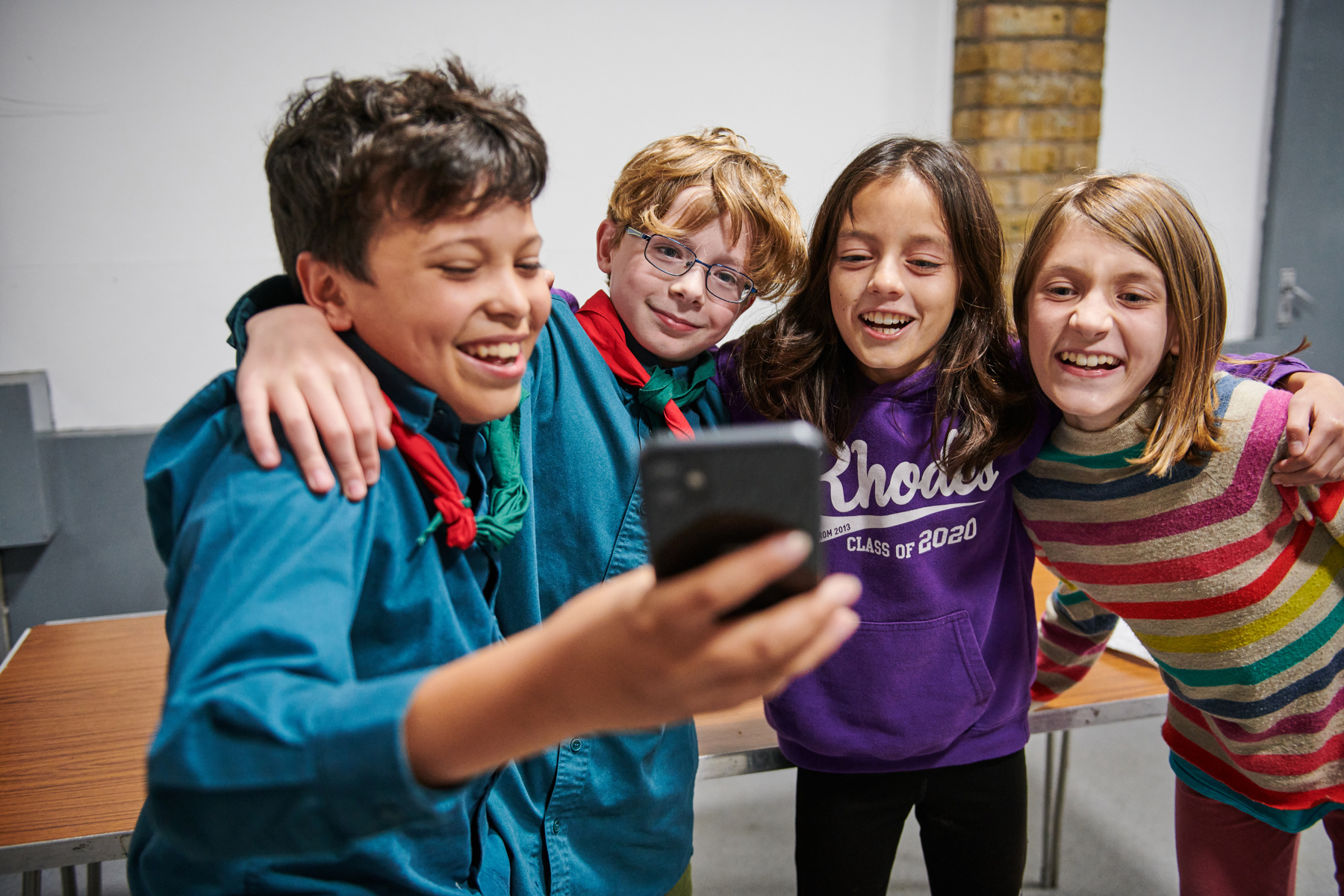 Reflection
Taking part in JOTA-JOTI is a great opportunity to feel part of a worldwide family of Scouts. How does being part of a global movement make people feel? What values do we share?  All National Scout Organisations will have versions of the Scout Promise and Law that our movement is based on.
You might want to think about how we use technology and its benefits. It's possible to build friendships across distance with the use of technology. What are the benefits of being able to talk to people you might not otherwise meet?  What are the challenges of communicating in this way?
When you're reflecting on what you've learnt, think about skills you've developed, such as your communication skills and digital skills, as well as facts you've learnt about other countries and Scout groups.  Were some types of communication easier or more difficult than others?  If you communicated with people who didn't speak the same language as you, what did you learn from this?
Safety
Online safety

Supervise young people when they're online and give them advice about staying safe. Take a look at our online safety or bullying guidance. The NSPCC offers more advice and guidance, too. If you want to know more about specific social networks and games, Childnet has information and safety tips for apps. You can also report anything that's worried you online to the Child Exploitation and Online Protection Command. As always, if you've got concerns about a young person's welfare, including their online experiences, follow the Yellow Card to make a report.

Electronics

Remove any equipment you're working on from the power source before you begin. Never assume the power circuit's off – test it with a voltmeter (and then test it again to be sure). Only connect power to a circuit once you've finished working on it and have checked your work. Make sure your circuit isn't overloaded, and return any covers you've removed.

Make sure that all electronics equipment is properly grounded. Use the right electronics tools, and always replace damaged equipment (for example, replace cables rather than repairing them with insulating tape). Always have safety equipment including a fire extinguisher, basic first aid kit, and mobile phone nearby.

Phones and cameras

Make sure parents and carers are aware and have given consent for photography.
You must always:
Other activities:
Where an activity is not covered by any other rules members must follow rule 9.1 and assess the risk, ensure that members can be kept safe and that all equipment is suitable for its use.
This activity can be led by you or someone else in Scouts
You can go to a centre or use an activity leader who is not part of Scouting:
You must find a suitable provider who meets the following requirements:
The provider must have public liability insurance.
Use the opportunity to learn about Scouts in another country. What ages groups do they have, and what uniform do they wear? What Promise do they use, and what activities do they do?
You could work with another group to act on a global issue and tie this into your Community Impact badge or Global Issues badge.
Taking part in JOTA is a also great opportunity to explore communications, such as morse code and the phonetic alphabet.  
There's lots of different ways to get involved in JOTA-JOTI and to start communicating with other groups. Plan ahead and find what best suits the needs of your group.
If you're going along to a JOTA-JOTI event or someone is setting up a JOTA station for you, make sure you get in touch to chat through the needs of people in your group. Make sure you give them plenty of notice, so they can put things in place.
You could have a list of questions as conversation starters for your young people to use.
All Scout activities should be inclusive and accessible.
You could try to find a group to keep in contact with after the event and build up a relationship. Take a look at our guidance on international links for what you need to know.
If being involved in JOTA has got people interested in amateur radio, they could develop their skills in this and even work towards getting a licence.  Find out more about amateur radio. They could also learn other ways to communicate, such as morse code or the phonetic alphabet.  
Plan how to take part in JOTA-JOTI together as a group.  How do people want to take part? What parts of the JOTI-JOTA programme are they interested in?  Would they like to try to contact groups from a particular country?
Find out what everyone would love to ask someone from another Scout group. Take a look at our Remote contact activity for some ideas.