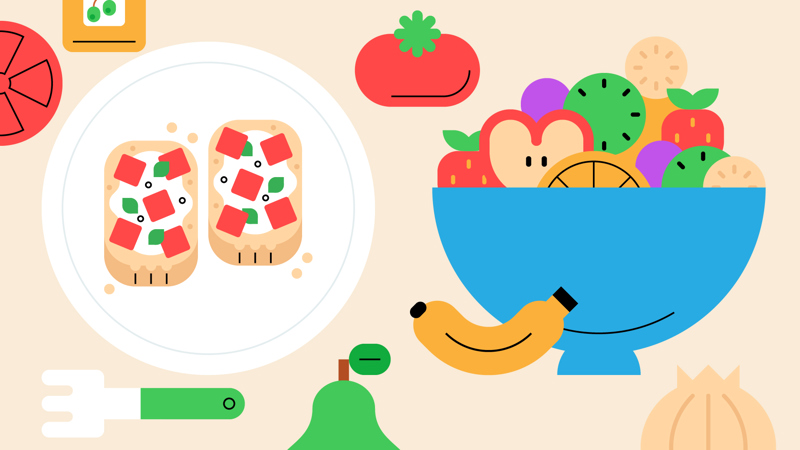 You will need
Scissors
Mixing bowls
Hob
Knives
Forks
Spoons
Plates
Chopping boards
Access to a sink
Washing up liquid
Ingredient picking tool
PDF – 83.8KB
Before you begin
Make sure you're aware of any allergies and dietary requirements among the chefs or judges.
Cut up the ingredients sheet, and remove any ingredients anyone can't eat. You'll need a copy for each group.
Put each set of ingredients in two bowls – one for sweet, and one for savoury.
Choose a panel of judges (these could be volunteers, or parents or carers) and arrange for them to join you at the second session, to sample everyone's delicious dishes. Alternatively, you could get groups to judge one another.
Plan how you'll buy and store the food everyone needs between the two meetings.
Meeting one: prepare to cook
Split into groups of about six people. Give each group two bowls of folded up paper ingredients (one sweet and one savoury).
Each person should pick one ingredient from each bowl, so they have one sweet and one savoury ingredient each. At least one person in each team needs to have a vegetable.
Each group should write or draw a list of all of the ingredients they've picked and give the list to the person leading the game, so they can buy the ingredients before next week.
Each group should think about how they'll combine their ingredients into two courses. What dishes can they make? Everyone should think about taste, presentation, how easy it is to cook, and how much mess it might make.
Meeting two: time to cook
The person leading the game should set up safe cooking stations – they may want to do this before everyone arrives. They should organise the ingredients so every group can collect all of their ingredients in a bag.
Everyone should get back into their groups, and collect their ingredients from the people leading the game.
Each group should prepare and cook their meal at a cooking station, with an adult supervising.
Each group should get their meal ready to serve, thinking about taste and presentation.
Once their dishes are ready, each group should present them to the judges. They should explain what ingredients they started with, and what they've made.
Each group should then tidy up any mess they've made, including collecting the judges' plates – but only once they've finished eating!
The judges should judge everyone's meals – how do they taste? How are they presented? How well have they been cooked? How much mess did the team make?
The judges should give everyone feedback on their meals. They might want to give out some awards or prizes, for groups who did different thing especially well.
Reflection
This activity helped you to problem solve. Was it obvious how your ingredients made a meal? Did you have any tricky ingredients which were harder to include? How did you decide what order to do things like chopping and washing and cooking? Did you have any unexpected problems, such as food getting dropped or burned? What did you do?
This activity also helped you to be a team player. Did you all do a bit of everything, or did you split different roles between you? Did you have one leader, or did everyone help lead? How did you talk to each other in your group? Did you achieve your shared goal of making a meal? Did you sometimes have to think of the group before yourself, for example, by doing the jobs that weren't as fun (for example, washing the vegetables or cleaning up)?
Safety
Food

Check for allergies before you begin. Make sure you have suitable areas for storing and preparing food and avoid cross contamination of different foods.

Cooking

Teach young people how to use cooking equipment safely. Supervise them appropriately throughout. Make sure it's safe to use and follow manufacturers' guidelines for use.

Fires and stoves

Make sure anyone using fires and stoves is doing so safely. Check that the equipment and area are suitable and have plenty of ventilation. Follow the gas safety guidance. Have a safe way to extinguish the fire in an emergency.

Scissors

Supervise young people appropriately when they're using scissors. Store all sharp objects securely, out of the reach of young people

Sharp objects

Teach young people how to use sharp objects safely. Supervise them appropriately throughout. Store all sharp objects securely, out of the reach of young people.
All activities must be safely managed. Do a risk assessment and take appropriate steps to reduce risk. Always get approval for the activity and have suitable supervision and an InTouch process.