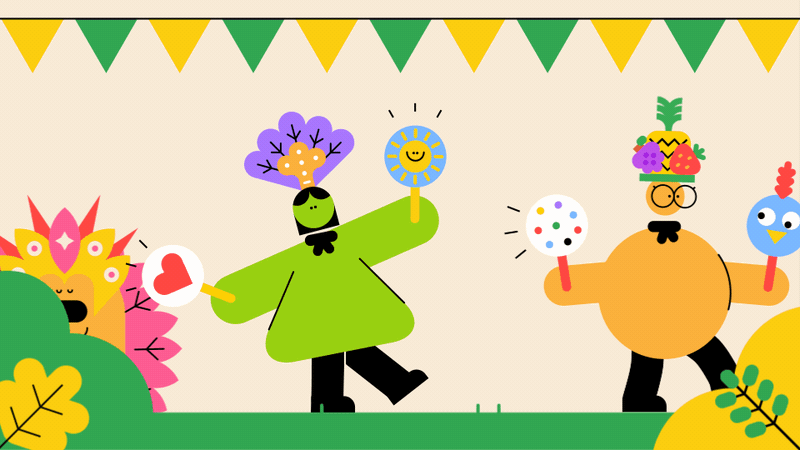 Play maracas for the Brazilian Carnival
In the lead up to Lent, Brazil celebrates Carnival. Join in by making your own maracas.
You will need
Craft materials (for example, tissue paper, pipe cleaners, stickers)
Lollipop sticks
Dried food (for example, pasta, beans, rice)
Sticky tape
Stapler
Glue sticks
Device to play music
Paper plates (two per person)
Samba music (optional)
Make your maracas
Use sticky tape or glue to attach a lollipop stick onto the front of a paper plate. About a third of the stick should be on the plate, the rest should stick out of the bottom like a handle.
Decorate the bottom of both paper plates – make them as colourful and fun as possible. How about adding some decoration that moves when you shake the maracas?
Put the plates on top of each other, with the colourful sides facing outwards.
Attach the plates together, leaving a hole so you can fill the maraca. You can use the stapler to staple around the edges, or stick the plates together with glue.
Pour dried food into the maraca. Experiment with a combination of different sizes – do lentils sound different to pasta?
Seal the hole using staples or glue.
Celebrate carnival
Everyone should gather together with their finished maracas.
If the person leading the game has any music, they should play it.
Everyone should show the noise their maraca makes – and share with a partner so they can take it in turns to play two maracas at once.
Reflection
This activity helped you to value and respect others. Did you already know anything about Brazil, or Carnival? Why does Brazil celebrate Carnival? What do you think it feels like to be a part of Carnival? Would you like to see the celebrations in Brazil?
This activity also reminded you that you're a local, national, and international citizen. Do you celebrate any festivals? How are your celebrations similar to (or different from) the Carnival of Brazil? Do your celebrations involve music?
Safety
All activities must be safely managed. Use the safety checklist to help you plan and risk assess your activity. Do a risk assessment and take appropriate steps to reduce risk. Always get approval for the activity and have suitable supervision and an InTouch process.
Scissors

Supervise young people appropriately when they're using scissors. Store all sharp objects securely, out of the reach of young people.

Food

Check for allergies before you begin and read the guidance on food safety. Make sure you have suitable areas for storing and preparing food and avoid cross contamination of different foods.