You will need
Scissors
Coloured pens or pencils
Pens or pencils
Glue sticks
Pictures of various aircraft
Aircraft-related information sheets, leaflets, magazines
A3 paper or flip chart paper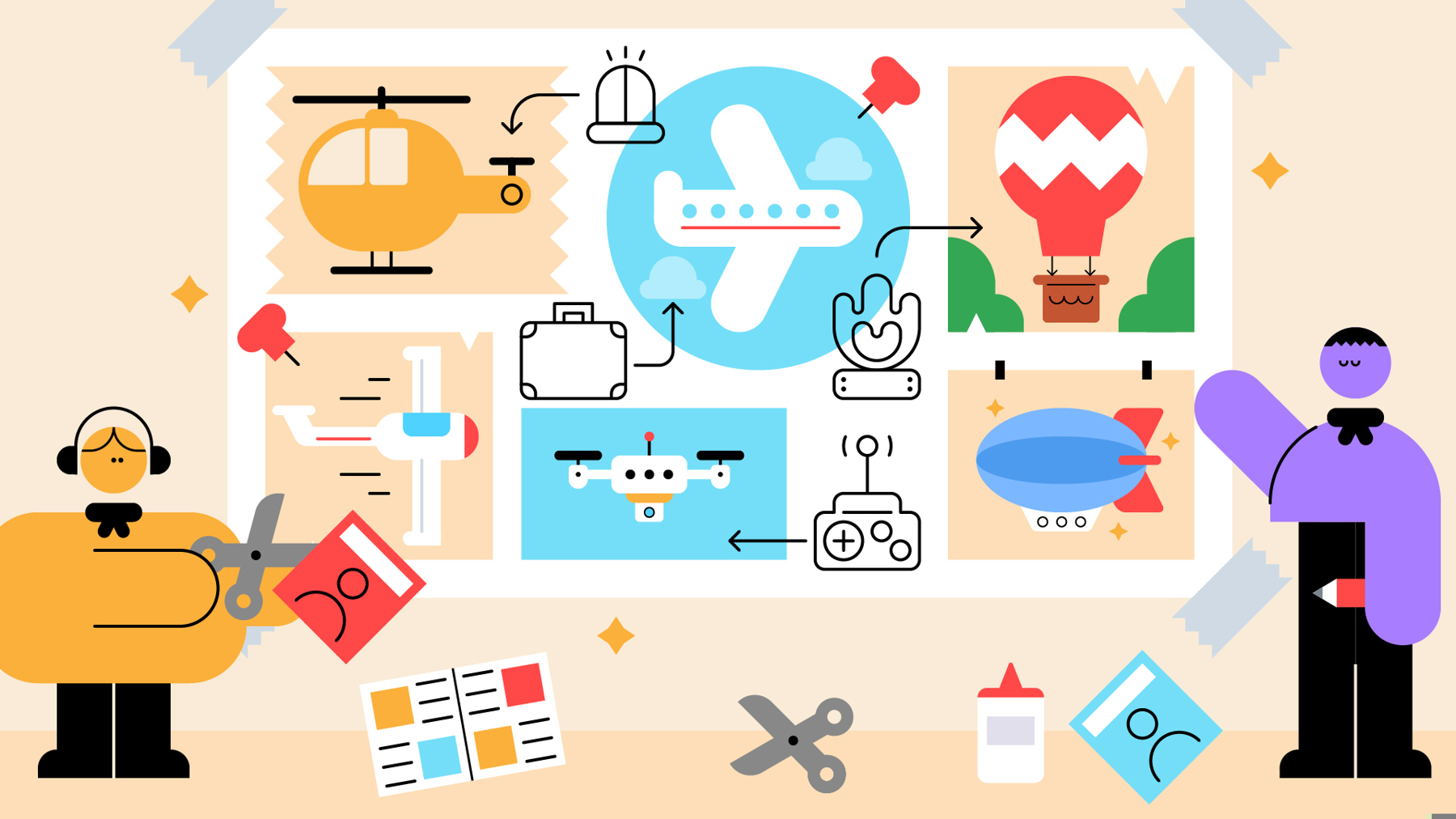 Before you begin
Find, print and cut out pictures of different types of aircraft. You'll need at least six different types and enough pictures that each group has at least one picture of each aircraft.
You could use images from leaflets or old aircraft magazines or ask everyone to bring in pictures of aircraft and find out some facts about them. Alternatively, if you're doing this activity after visiting an airfield, you could collect leaflets or take photographs there.
Print out some general fact or information sheets about the different types of aircraft.
If you have access to the internet and devices available, set them up to be used during the activity, with parental controls.
Invite parents or carers, or Young Leaders to help.
Make your posters
The person leading the activity should split everyone into small groups and hand them the images plus any extra information, leaflets and magazines.
The person leading the activity should explain that everyone has images of different aircraft types. Then, one by one, they should call out the names of the aircraft. Everyone should find the correct picture and hold it up.
Each group should use a piece of flipchart paper, coloured pens, glue sticks and scissors to create a poster that helps other people learn about the six different aircraft. For example, they could cut out and stick on (or draw) pictures, label them, and add facts.
When everyone's finished, the person leading the activity should gather all the groups together so they can show their posters to each other and talk about what they found out.
Reflection
This activity helped everyone to recognise the wide variety of aircraft. Everyone should talk about how they created their posters and decided what to put on them. If anyone knows additional information about their aircraft, they could share some more facts with the group. For example, has anyone been on or seen any of the aircraft they included on their poster? What's the most unusual aircraft anyone has seen?
Safety
All activities must be safely managed. Use the safety checklist to help you plan and risk assess your activity. Do a risk assessment and take appropriate steps to reduce risk. Always get approval for the activity and have suitable supervision and an InTouch process.
Scissors

Supervise young people appropriately when they're using scissors. Store all sharp objects securely, out of the reach of young people.

Glue and solvents

Supervise young people appropriately when they're using glue and solvent products. Make sure there's plenty of ventilation. Be aware of any medical conditions which could be affected by glue or solvent use and make adjustments as needed.

Online safety

Supervise young people when they're online and give them advice about staying safe.

For more support around online safety or bullying, check out the NSPCC website. If you want to know more about specific social networks and games, Childnet has information and safety tips for apps. You can also report anything that's worried you online to the Child Exploitation and Online Protection command.

As always, if you've got concerns about a young person's welfare (including their online experiences), follow the Yellow Card reporting processes.