Scouts without a venue
Top tips for running a section or group without a Scout hut or permanent indoor venue
The parents often stay and watch us doing our stuff. They see the leaders having so much fun which definitely encourages more of them to volunteer as they know they're joining a really good team.
Top tips to help with your planning
Here are some venue options you might consider:
Office spaces
Local parks
Country parks
The coast
Campsites
Places of worship
Schools
Hotels (some hotels have community spaces you can use for free)
Fire stations 
Supermarkets
Community spaces
Virtually (this could be useful for programmes involving indoor cooking, especially if you can't find a venue with a kitchen)
You can also base some of your activities around your local area. You could plan a city treasure hunt, historical walk, urban or rural orienteering or beach cleans.
Build relationships with other community organisations, local councillors, parish/town/county councils and local businesses. They might be able to help you find suitable meeting places, or a back-up option. You never know, it could even lead to improvements at the venues you're using.
If you're planning to meet in the same outside space throughout the whole year, ask the landowners if they'd support you with shelter and lighting.
Plan your programme, decide where you'll meet, and book the venue well in advance. Sometimes, you might need to get permission to meet in outdoor spaces, so give yourselves enough time to plan and complete your risk assessments for each venue.
If you're meeting in different outdoor spaces each week, try to have a back-up venue you can use at the last minute.
Remember to think about the seasons and your available locations when planning your programme. For example, in the winter months, hiking, campfires, visits to other organisations, wide games or tracking with glow sticks would be great choices. In the summer months, when the nights are lighter, consider crafts, cooking, axe, knife, and map work.
Communicating with parents/carers is especially important, as they'll need an early heads-up about where you're meeting. It's a great idea to send reminders about location, timings and what young people will need to bring or wear. You might find it useful to speak with them and agree as a section or Group on the best way to communicate.
Meeting outdoors might encourage parents/carers to stick around during your section meetings. This might be a great opportunity for you to ask them to lend a hand once in a while. You might consider asking them to come to your section meetings once a term, for example, so you have extra pairs of eyes and ears when you're outdoors.
Open and regular communication with your section team and across the Group is fundamental. This'll keep everyone up-to-date with what's happening, help with planning, and make people aware of any last- minute changes.
Have a conversation with your team to agree how you'll communicate with everyone, and what communication channel might work best for the team.
If every section meets in the same place throughout the same evening, it'll save you moving equipment from one place to another. 
If your sections are meeting in different places, it's useful to keep your equipment in boxes that you can easily store and move around.
Each section could have their own set of basic equipment for their meetings (such as pens, paper, scissors), saving volunteers from making extra journeys to collect equipment before each meeting.
Work out what equipment you have, when and how often you'll use it, and how much storage you need.
Why not consider having a storage container near the places you meet most regularly? You could use rented storage, a cupboard at an office or local school, or a parent or volunteer's garage or shed.
You might also be able to borrow camping equipment from other groups, your District or the County/Area/Region(Scotland) to save you storing your own.
Learn from the experts
We've grown from 70 to 220 young people. Because we are outdoors, we're not restricted by the size of a hall. We're the biggest Group in the County.
Half outdoors, half indoors
In this group, from April to October, Squirrels, Beavers, Cubs and Scouts meet outdoors at a local Deer Park. This makes them visible in their community, which helps with recruiting volunteers and attracting young people.
Programme led venues
This group was designed to meet without a permanent venue since its start in 2021, they use a mix of venues: from office spaces to local parks. Their programme is reversed: wide games and hikes in winter to keep warm, and crafts in summer, when there's more natural light.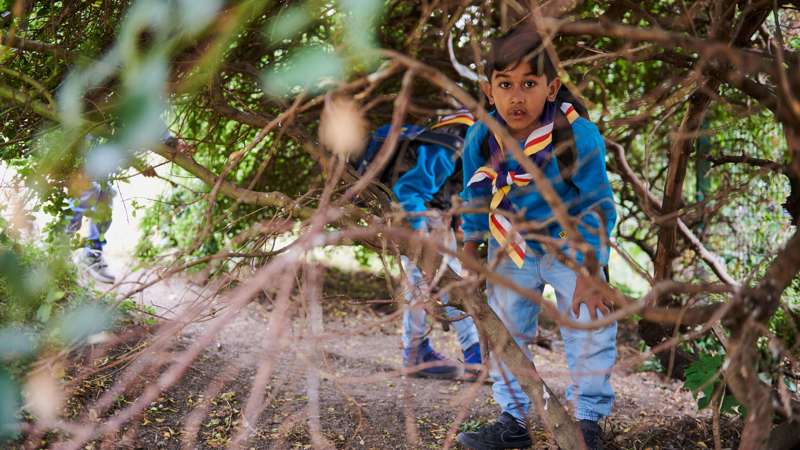 Responding to the unexpected
This group found themselves venue-less after their Scout hut roof was blown off in a storm. They've used their local surroundings to adapt their programme, doing beach cleans and history tours in town, or meeting at a field nearby.
Outdoors all year round
Since 2018 this group have been meeting outdoors at a local countryside park. They rent a small office space at the park's coffee shop for indoor meetings and storage. To minimise rent expenses, all sections meet on the same day, which also helps with retention rates.
Tips from Girlguiding
Girlguiding volunteers share their hints and tips on finding alternative venues for their meetings. 
Read tips from Girlguiding