News | 08 July 2021
Announcing Squirrels for 4–5 year olds: inspiring a new generation with skills for life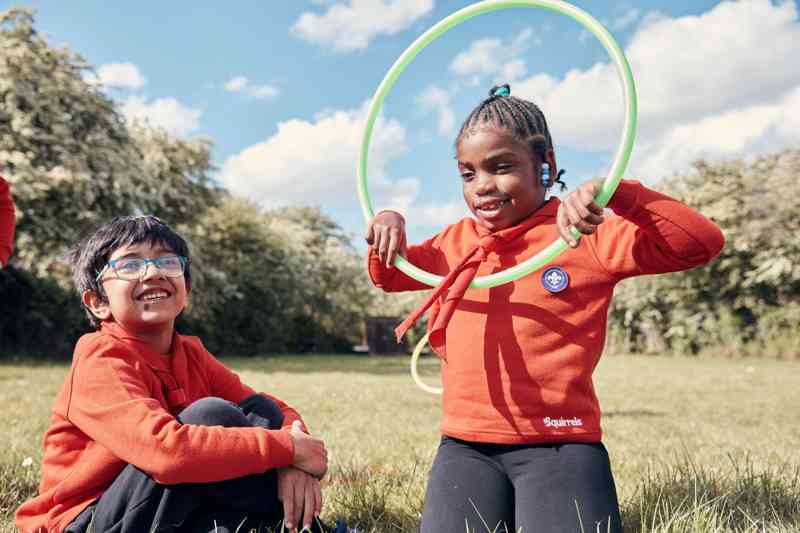 We couldn't be prouder to announce Squirrels: our new programme for 4 and 5 year olds. It's also a historic milestone for the UK Scout movement. As the first new age range in Scouts for 35 years, we're helping young people gain skills for life where and when it matters most.
Following two years of pilots and pioneering work in Northern Ireland, 200 Squirrel Dreys have opened in locations across the UK. We're prioritising communities most affected by the pandemic, and supporting families and young people who've fallen behind.
We're particularly proud to welcome those young people from underrepresented communities, including those who haven't tried Scouts before.
Promoting key skills when it matters
Research from Ofsted tells us that children hardest hit by the COVID-19 pandemic are lacking basic skills and learning. We know that what happens in these critical early years, when vital connections are being made in the brain will fundamentally shape their future.
Our programme's therefore designed to support informal learning and help 4–5-year-olds catch up. It's about promoting key skills like working together, communication, and language, as well as creativity and community awareness.
Squirrels get active, explore nature and have fun learning with friends, all while earning badges – just like other Scouts. New badges include Feel Good, Be Active, Explore Outdoors, Brilliant Builder and Exciting Experiments.
It's a positive, safe environment for young children to develop essential skills for life, starting them on a journey to become the active citizens and leaders of the future.
'Squirrels', says Matt Hyde, Scouts' CEO, 'is part of our commitment to help young people, families and communities come back stronger from the pandemic. Our mission is to equip young people with skills for life.
'What we learn up to the age of 5 lays the building blocks for everything that follows. If you're 4, you've spent a third of your life in lockdowns. That's why we're opening the first Squirrel Dreys in those communities that need it most.
'But to scale up this new programme, we need support from volunteers, partners, donors and MPs, to help us reach even more young people.'
Calling for new volunteers
To support the roll out of Squirrels, we're now calling for adults, including parents and carers to step forward as part of our #GoodForYou campaign, designed to recruit over 5,000 new volunteers. We're showing adults how volunteering for Scouts not only helps young people, but is good for them too, supporting wellbeing and building skills for employment and education.
Bear Grylls, Chief Scout, is helping launch the new age range: 'I'm so glad that younger children now have the chance to join our family of Scouts,' he said, 'and develop skills for life.
'We know from our pilot programme that 4–5-year-olds can really benefit from the activities that we offer. We believe that by offering opportunities at this early age, inspiring a sense of wonder, fun and curiosity, we can have a long-lasting, positive impact on young people's lives.'
Growing in confidence
Charmaine, the mother of Alexia, a 5-year-old in an early years' pilot group, shared the positive impact being in Scouts has had.
'Alexia has loved coming to the meetings. She's learnt so many skills, like confidence, independence, and learning to tidy up after herself. During lockdown, she set up a tent in the living room and camped there for two nights. The socialising has also helped her. She doesn't go to school with the children here, so it's good for her to meet other children.' She agrees that parents and carers get actively involved too: 'If the children are making something then the parents can make something as well, so they know how to do similar activities at home. The leaders are very encouraging and very child focused. During lockdown they kept in touch and dropped off packs of activities for Alexia to do. The best thing coming to Scouts is the skills they learn, the discipline it gives them, and the chance to get outside, play and interact with other children.'
'I've been to every single meeting and I love everything. I like being outside, going to the park and playing.'