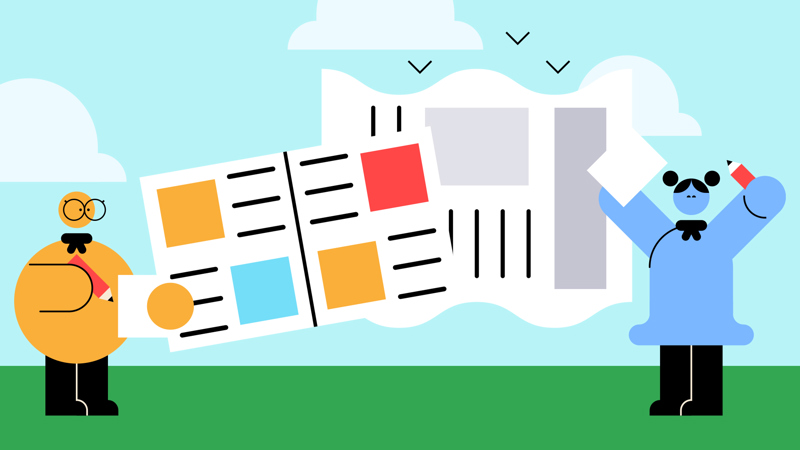 The Scout Times
A big story is about to break, and it's down to you to sniff out facts, interview witnesses, and report the truth.
You will need
A4 paper
Pens or pencils
Camera or phone
Access to a computer
Looking for templates, fonts or images?
Head over to our brand centre to download free newsletter templates, a variety of photos of Scouts in action, our brand fonts and much more!
Scouts brand centre
Split into pairs or threes, and give each group pens and paper.
Everyone is now a part of The Scout Times team. Together, they need to make sure that everyone knows the truth about what's going on in the world of Scouts.
Give each group a news story, or ask them to make up their own story.
The person leading the activity should explain the channels The Scout Times has. Depending on the equipment available, they could have a printed newspaper, online pages, a radio station, and even a television channel.
Each group should choose which channel they'll use to tell their story.
Groups should create their story. Depending on the channel they're using, groups may need to write a script or plan a draft.
Each group should work together to produce their final version. They need to make sure the details are right, create anything like illustrations or photos, and do their best to make the story interesting.
Groups should take it in turns to present their stories – they may want to record audio or film to play back, type a blog, or stick illustrations to a newspaper template.
Reflection
This activity helped you develop your communication skills. How did you communicate the story – what channel did you use? Why did you choose that way to communicate? Did you interview or talk to others to make your story? Was it easy to help them tell their story? Was it easy to stick to the facts, or did your opinion change the way you wrote? Did you tell a balanced story? 

This activity was also a chance to try new things. Did you use a method of communication that was new to you? Did you interview someone – have you done that before? Did you work with anyone new, who you haven't worked with before? Would you like to report on news stories again, or try it in real life?
Safety
All activities must be safely managed. Use the safety checklist to help you plan and risk assess your activity. Do a risk assessment and take appropriate steps to reduce risk. Always get approval for the activity and have suitable supervision and an InTouch process.
Online safety

Supervise young people when they're online and give them advice about staying safe.

For more support around online safety or bullying, check out the NSPCC website. If you want to know more about specific social networks and games, Childnet has information and safety tips for apps. You can also report anything that's worried you online to the Child Exploitation and Online Protection command.

As always, if you've got concerns about a young person's welfare (including their online experiences), follow the Yellow Card reporting processes.