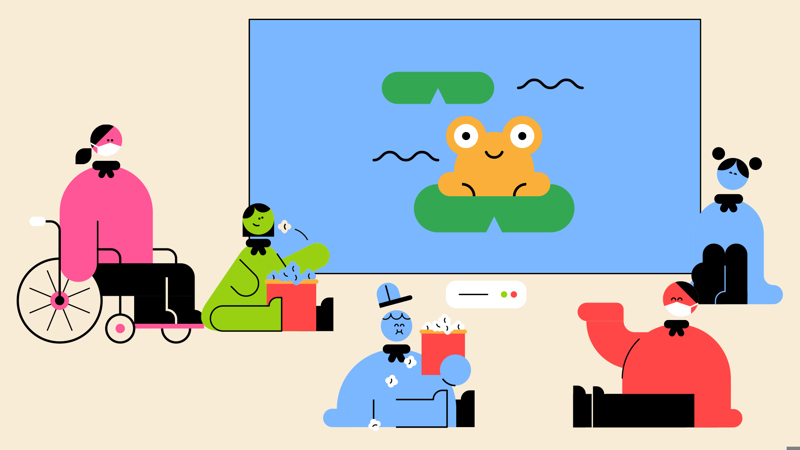 Night at the movies
Set up your screen and learn about black history and culture by sharing a cinematic experience.
You will need
Access to a computer
Chairs
Projector
Screen
Speakers
Popcorn or other snacks (optional)
Before you begin
Make sure you've risk assessed your meeting, and also have a 

COVID-safe risk assessment

that's been agreed by your line manager. You can check out more detailed guidance here. 
Choose a theme for your movie night – you could watch a film that's about an aspect of black history or choose one that's a good example of black representation on screen. We've included some suggestions below.
Make a shortlist of three or four films and send the shortlist to everyone's parents and carers so they have a chance to chat to you if they have any concerns.
Decide how you'll show the film and make sure you have everything you need. Set up the equipment before everyone arrives so you're ready to go.
If you want some extra support or information on discussing Black History Month with young people, take a look at Scouts' Black History Month information or this article on discussing race and racism with young people.
Safety checklist
Use the Safety checklist to help you plan and risk asses your activity. Additional coronavirus-related controls to think about may include:
Set up a handwashing station that you can use throughout the session. Make sure people wash their hands before enjoying any snacks.
Remind everyone to stay at a safe distance when they're choosing where to sit. Could you set out chairs before people arrive?
Think about how you'll share snacks like popcorn – how will you make sure everyone has their own portion so that they're not helping themselves from the same bag?
Set up your cinema
It's up to you to decide how you'll set the scene and make your cinema experience feel like the real deal.
Will you host your cinema indoors or have an open-air cinema for a screening under the stars?
Make sure you've got enough chairs (or cushions or beanbags) for everyone. Will you set them out so everyone stays a safe distance from each other during the film?
Think about how to make it comfortable. Why not see if people could bring their own pillow (or even a sleeping bag) from home to avoid sharing?
How will you show the film? You could use a projector (ask another group or a local school if they have one you can borrow) and project onto a screen, wall, or old white sheet.
No film is complete without snacks! You could ask everyone to bring their own, or buy a big bag of popcorn and put it in individual containers for everyone to enjoy.
If you're not meeting in person right now, you could run this as an online activity and watch together from wherever you live. Use a digital platform like Zoom to discuss your thoughts after you've seen the film.
Choose your film
The person leading the game should introduce the theme they've chosen and the shortlist of films.
Everyone should have a chance to ask any questions they have about the films and chat about their choices.
Everyone should vote on the film they'd like to watch. If it's a tie, people could explain their choices to help everyone decide.
Time to talk
Everyone should split into small groups and sit in a circle, staying two metres apart.
Everyone should chat about the film. The person leading the activity could give people some discussion prompts if they're not sure where to start:
Who was your favourite character? Why were they your favourite?
What do you think the most important part of the film was?
How did the film make you feel?
Can you describe the film in three words?
Why do you think it's important to have black main characters on screen?
If your film was about a particular aspect of black history, what was the most interesting thing you learned?
Did anything surprising happen in the film?
Would you recommend this film to a friend? Why or why not?
Reflection
Ask everyone to think about the books, films, and TV shows that they watch. Think about the different roles that black people play: are they often leading roles or supporting characters? Are they authority figures, heroes, or villains? Who do people think is represented most in films? Why is it important that black people are represented in films? People could think about how underrepresentation is linked to injustice and inequity. Do people think they could find other examples of films that challenge people's preconceptions or teach them something new?
This activity was about respecting other people. Has anyone heard of unconscious bias? Unconscious biases are underlying beliefs and feelings that affect how people understand and engage with other people – because they're unconscious, they affect how we see and respond to other people without us realising it. Lots of things contribute to unconscious biases. Can anyone think of some examples? What role could films play in helping people to challenge their unconscious biases? People could think about how they can tell stories that challenge stereotypes (for example, by showing black heroes), teach people about race and racism, and give people the opportunity to step into someone else's shoes and see their side.
Safety
All activities must be safely managed. Use the safety checklist to help you plan and risk assess your activity. Do a risk assessment and take appropriate steps to reduce risk. Always get approval for the activity and have suitable supervision and an InTouch process.