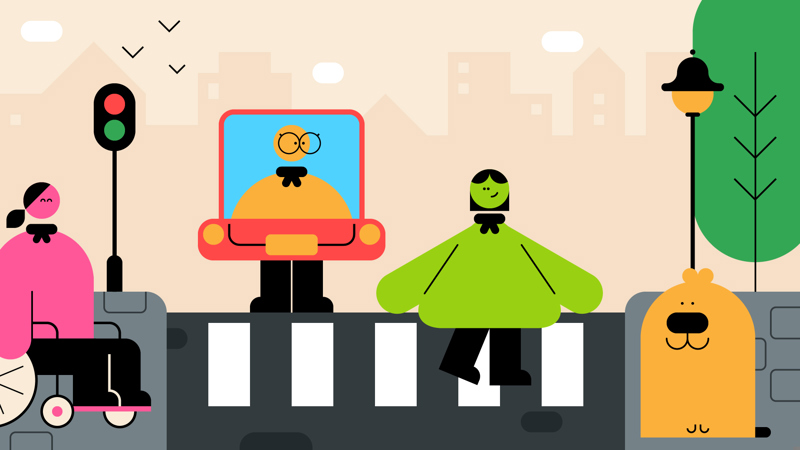 You will need
Something to mark lines (for example, chalk, masking tape, or rope)
The Green Cross Code
Think! First find the safest place to cross
Stop! Stand on the pavement near the kerb
Use your eyes and ears! Look all around for traffic and listen
Wait until it's safe to cross! If traffic is coming, let it pass
Look and listen! When it is safe, go straight across the road – do not run
Arrive alive! Keep looking and listening
Before you begin
Create a road though your meeting place using masking tape or rope.
Create a white line down the centre and mark two pavements.
Crossing with the Code
Everyone should discuss the Green Cross Code.
Why is the Code important?
How does it keep pedestrians safe while crossing roads?
Everyone should split into two teams. One team will be the cars, and the other will be the pedestrians. Several people should monitor the road. They'll tell the pedestrians when to cross it.
The cars should walk up and down the road, pretending to be cars. They should drive sensibly and keep a sensible distance from each other. Remind the cars that drivers should always be keeping a look out in case of pedestrians crossing, or emergencies where they have to brake suddenly. They should mainly look forward, but should also look to the sides (to the pavement) and behind (for other cars).
The pedestrians should walk up and down the pavements alongside the road, until they're asked to cross the road. The pedestrians must then choose a safe place to cross the road using the Green Cross Code. The cars should keep driving at their normal, sensible speed. Like real drivers, if they see a pedestrian crossing they should slow down or stop.
When a pedestrian is preparing to cross the road, they should say the six stages of the Green Cross Code out loud: think, stop, use your eyes and ears, wait until it is safe to cross, look and listen, arrive alive.
Once the pedestrians have crossed several times, everyone should swap roles.
Think about everyone
Everyone should come back together to discuss the Green Cross Code. What are the six stages? What if you're not able to look and listen because you have hearing or visual impairments? Everyone should think about disabled people. How can they safely cross the road?
Everyone should think about some ways they could help someone to cross the road safely. How could they create a safe place on their road for everyone to cross? For example, people could make a pedestrian crossing complete with a tactile floor and sound effects.
Reflection
This activity was about gaining independence and thinking about keeping safe when crossing the road. Who would appreciate you being safe when you needed to cross the road? How would you feel now if you needed to cross a road by yourself or with a friend?
This activity was also about being responsible for your actions. How did the Green Cross Code help you to cross the road responsibly? Who might learn from your good behaviour and copy you if you cross the road safely?
Safety
All activities must be safely managed. Do a risk assessment and take appropriate steps to reduce risk. Always get approval for the activity and have suitable supervision and an InTouch process.