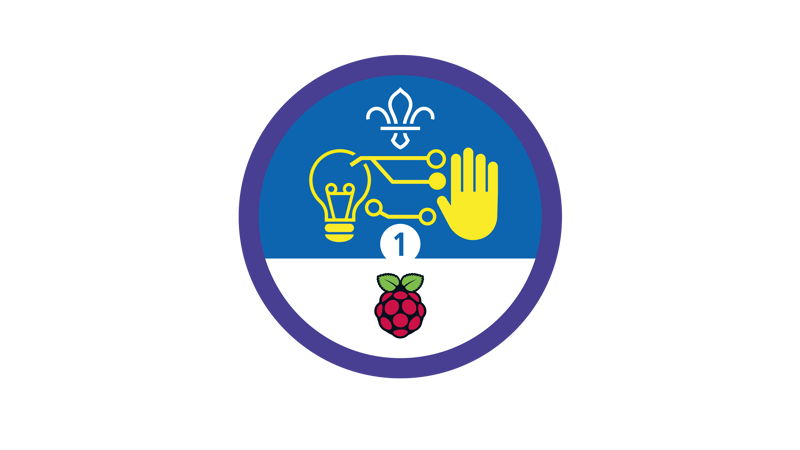 Compass coding
Use coding skills and compass directions to help a ScoutBot get to camp.
You will need
Notes and handout (Compass coding)
PDF – 1.1MB
Before you begin
If your meeting place has internet: run Scratch online by typing 'rpf.io/compass' into the address bar of your internet browser.

If your meeting place doesn't have internet access, don't worry. You can download the Scratch desktop application from 

here

, there's a 

Scratch guide here

 too. 
Familiarise yourself with Scratch and how to programme the ScoutBot using the

'Notes and handout' pack

.
When you're ready to run the activity, open Scratch. Open the project and enter full-screen mode.
Print out copies of the handouts from the

'Notes and handout' pack

 for the group.
Give clear instructions
Everyone should think about the way we tell computers what they should do. We have to give them very clear instructions. Why might this be important? (Computers will do exactly what you tell them to, even if you get it wrong.) What could be the problem if your instructions are unclear?
Everyone should discuss the ways you can give instructions when navigating. We use a compass, with four directions (North, East, South, West). How can giving compass directions be the clearest way of giving instructions?
Everyone should watch a short demonstration of Scratch. Show how to move the ScoutBot from the start to the camp by writing compass directions in the dialogue box.
In the language of computers, the compass directions are the code for instructing the computer. If the code is wrong and does not get the ScoutBot to the camp, we say there is a 'bug' in the code. To resolve the issue, the code needs to be 'debugged'.
Have a go
Everyone should have a go at using Scratch. Work in pairs or small teams to create routes for each other to solve. Use the instruction sheet as a guide.
Create more challenging routes by dragging in rocks to create obstacles.
Reflection
This activity helped you to develop your programming skills. This could help you to understand how computers, tablets and smartphones work and what they do. Why do you think it could be useful to understand computers? What kind of jobs involve working with computer programming?
This activity was also about solving problems, just as computer programmers do. How did you find a bug in your code? How did you correct, or debug, the code? Was it better to choose a short route with fewer instructions or a really long route? Was it possible to find a bug before pressing 'Start'?
Safety
All activities must be safely managed. Use the safety checklist to help you plan and risk assess your activity. Do a risk assessment and take appropriate steps to reduce risk. Always get approval for the activity and have suitable supervision and an InTouch process.
Online safety

Supervise young people when they're online and give them advice about staying safe.

For more support around online safety or bullying, check out the NSPCC website. If you want to know more about specific social networks and games, Childnet has information and safety tips for apps. You can also report anything that's worried you online to the Child Exploitation and Online Protection command.

As always, if you've got concerns about a young person's welfare (including their online experiences), follow the Yellow Card reporting processes.