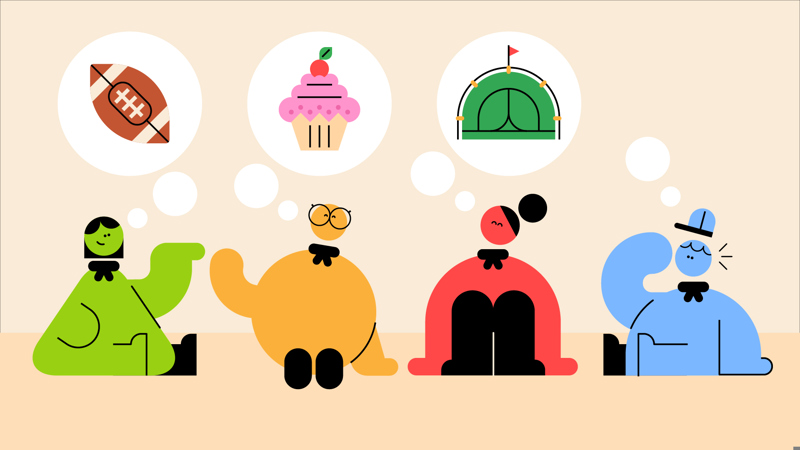 A hobby can be anything from knitting to visiting castles, painting to dancing. It doesn't have to be a sport or a craft. If everyone's looking for a hobby to take up, try playing this game to get and give some inspiration.
Everyone should sit in a circle.
Going around the circle, everyone should take it in turns to name hobbies beginning with each letter of the alphabet in order (A: abseiling, B: baking, C: crochet, D: drawing). If anyone gets stuck, the person leading the game could give them a clue for an answer, or they could just say pass.
Once you've named 26 possible hobbies, the person leading the game should ask everyone if they've tried (or would like to try) any of the mentioned hobbies. Are there any they'd never heard of?
Reflection
Trying out a hobby is a great way to try new things. There's no such thing as being 'good' or 'bad' at a hobby because it's just about enjoying it and having fun. What do you think you could do if you've given a hobby a chance, but you're still not enjoying it (talk to someone about it, try something else)? Are there any new hobbies you'd like to try? How does it feel to try new things?
Hobbies can also help to improve our wellbeing. What do you do that makes you feel happy? When do you feel like you're doing something worthwhile? Why do you think people (including grown ups) like to spend their time doing hobbies?
Safety
All activities must be safely managed. Use the safety checklist to help you plan and risk assess your activity. Do a risk assessment and take appropriate steps to reduce risk. Always get approval for the activity and have suitable supervision and an InTouch process.