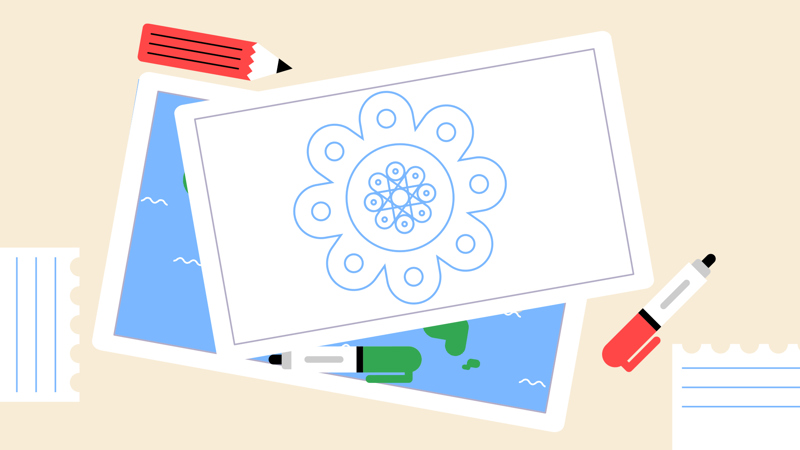 Henna hands
Explore the art and traditions of henna by creating a decorated henna hand.
You will need
A4 paper
Brown pens
World map
Learn about henna
The person leading the game should ask if anyone knows what henna is, and everyone should share their ideas.
The person leading the game should show everyone the examples of henna designs, and explain that these are sometimes called mehndi. 
Everyone should think about where henna is common and share these ideas. The person leading the activity should explain that henna designs are common in counties including India, Pakistan, Bangladesh, and Afghanistan. Everyone should try and find these countries on the world map.
Make a henna hand
Everyone should draw around their hand and wrist on a piece of A4 paper and cut it out.
Everyone should use brown pens to draw intricate designs on their paper hands. They should be inspired by the traditional henna patterns, because this activity is all about taking part in an activity from another country.
Everyone should show their henna hands to the group and admire everyone's designs.
Reflection
This activity helped you to respect others, and reminded you that you're an international citizen. Learning about international traditions can help us understand and trust people from different backgrounds. Everyone should sit and put their henna hands in front of them. They should look at their hands—how do we use our hands to celebrate or express ourselves? We might clap, or fingerspell, or wave our hands to show clapping in British Sign Language (BSL). We may also shake hands with people, or wave. Not everyone uses henna, but lots of people use their hands in different ways to express themselves. 
Safety
All activities must be safely managed. Use the safety checklist to help you plan and risk assess your activity. Do a risk assessment and take appropriate steps to reduce risk. Always get approval for the activity and have suitable supervision and an InTouch process.