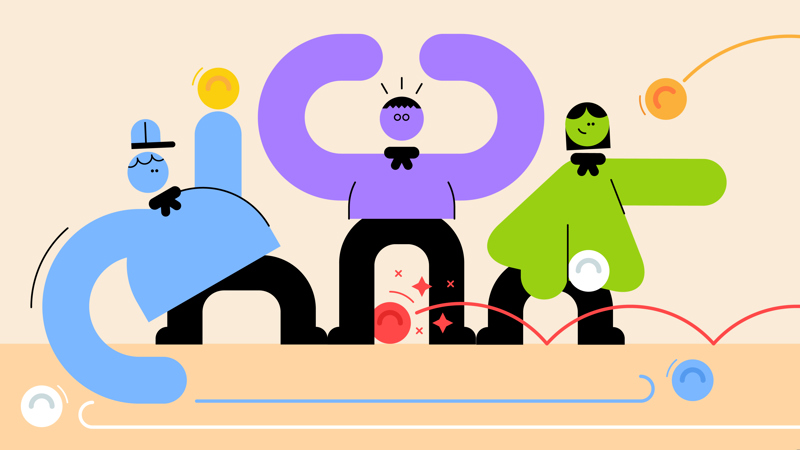 Game of aim
How good is your aim? Put it to the test with this fast-paced team game.
Everyone should split into two teams.
The teams should line up facing each other. They should stand with their legs far apart, and each player's heels should touch the heels of the teammates next to them.

The person leading the game should give each team the same number of tennis or small sponge balls – the more the better.

Everyone should try to throw or roll their tennis balls between the legs of a player on the other team. Players should use their hands to defend and stop the balls going through their legs. No one should move their feet, for example, they shouldn't close their legs.

When a ball goes through a player's legs, they're out. They should step out of the line, and their teammates should shuffle up to fill the gap. The player who is out should go behind their team to find balls and take them back for their team to roll again.


The team with the most players left at the end is the winner. It's up to the person leading the game whether they set a time limit, or play until a team loses all of its players.
Reflection
This game was a really fun way to be physically active. Can anyone name a skill that this game helped people work on? People should take it in turns to share their ideas, they might include aiming, throwing, defending, or working together. Where else might these skills be useful? They're all useful for plenty of other sports. When people exercise, their heart rate often increases because their body works hard to get more oxygen and blood to their muscles. Being active can make us feel calmer, too.
Safety
All activities must be safely managed. Use the safety checklist to help you plan and risk assess your activity. Do a risk assessment and take appropriate steps to reduce risk. Always get approval for the activity and have suitable supervision and an InTouch process.
Active games

The game area should be free of hazards. Explain the rules of the game clearly and have a clear way to communicate that the game must stop when needed.