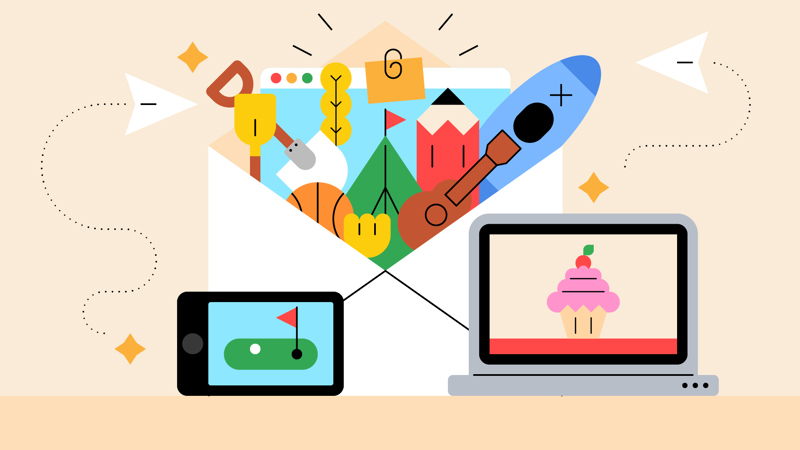 You will need
Access to the internet
Laptop or tablet (more than one if the group is large)
Before you begin
Create a new email account specifically for this activity rather than using your own. If you don't have a section email address, set one up.
Senders should also copy in another leader's email address for safeguarding reasons.
Set up a laptop or tablet with your new email account open. Separate everyone into pairs and while another activity is going on, give each pair the chance to try emailing.
Set up parental controls on the devices so no one has access to inappropriate content.
Get sending
Working with an adult, each pair should take it in turns to write an email about the game they like the most. They should start with a greeting (for example, 'Hello' or 'Dear'), write a message about the game they've like to play, and sign off (for example, with 'From' or 'Best wishes' and then their names).
Each pair should check their email, then work with an adult to send it. The adult should check that another leader is copied into the email before it's sent.
What shall we play?
Once each pair has sent their email, the person leading the activity should check all the emails the section email address has received. They should put the suggestions together.
Everyone should play the most popular game suggestion. If there wasn't a clear winner, the person leading the game could choose one at random.
Reflection
This activity helped everyone to feel more confident about communicating by sending an email to their leader. Everyone should talk about how they found the experience of writing and sending it. Did they remember to greet the person and sign off politely? Why is it important to do this? It can be more difficult for people to express themselves clearly on email because they can't be seen or heard. Talk about what words or expressions might sound angry on email and what's friendly too.
Safety
Online safety

Supervise young people when they're online and give them advice about staying safe.

For more support around online safety or bullying, check out the NSPCC website. If you want to know more about specific social networks and games, Childnet has information and safety tips for apps. You can also report anything that's worried you online to the Child Exploitation and Online Protection command.

As always, if you've got concerns about a young person's welfare (including their online experiences), follow the Yellow Card reporting processes.
All activities must be safely managed. Do a risk assessment and take appropriate steps to reduce risk. Always get approval for the activity and have suitable supervision and an InTouch process.