You will need
Tables
Chairs
Big pieces of paper
CAA topographical air map
Aviation protractors
Nautical map ruler
Projector and screen, optional
Before you begin
Find some Civil Aviation Authority (CAA) topographical air maps and navigation tools. To borrow the maps, try speaking to members of your group, contacting a local flying club or Air Cadets, or contacting UK Air Scouting. CAA maps are updated every year so you may be able to find out-of-date ones. Alternatively, visit Skyvector to see free online charts.
Familiarise yourself with headings, tracks, bearings and drift. Flight Club offers some great simple videos on YouTube: watch Track vs Heading to start.
You may decide you need the help of an expert guest to deliver this session.
Understand flight tracks
The person leading the activity should explain that there are four concepts to consider when making a flight plan:

Headings – the compass direction in which an aircraft's nose is pointing.
Tracks – the direction of the aircraft tracking across the ground.
Bearings – the angle between the start and end of the leg.
Drift – caused by the weather. Navigators will set a course to steer (using cardinal direction) that compensates for any drift.

Everyone should get into pairs and sit down with scrap paper, pencils, an air map, a ruler and protractor.
One person in each pair should draw three headings with corresponding tracks and challenge their partner to calculate the drift in degrees (the angle between the heading and the track).
Every pair should swap roles and set three more headings and tracks.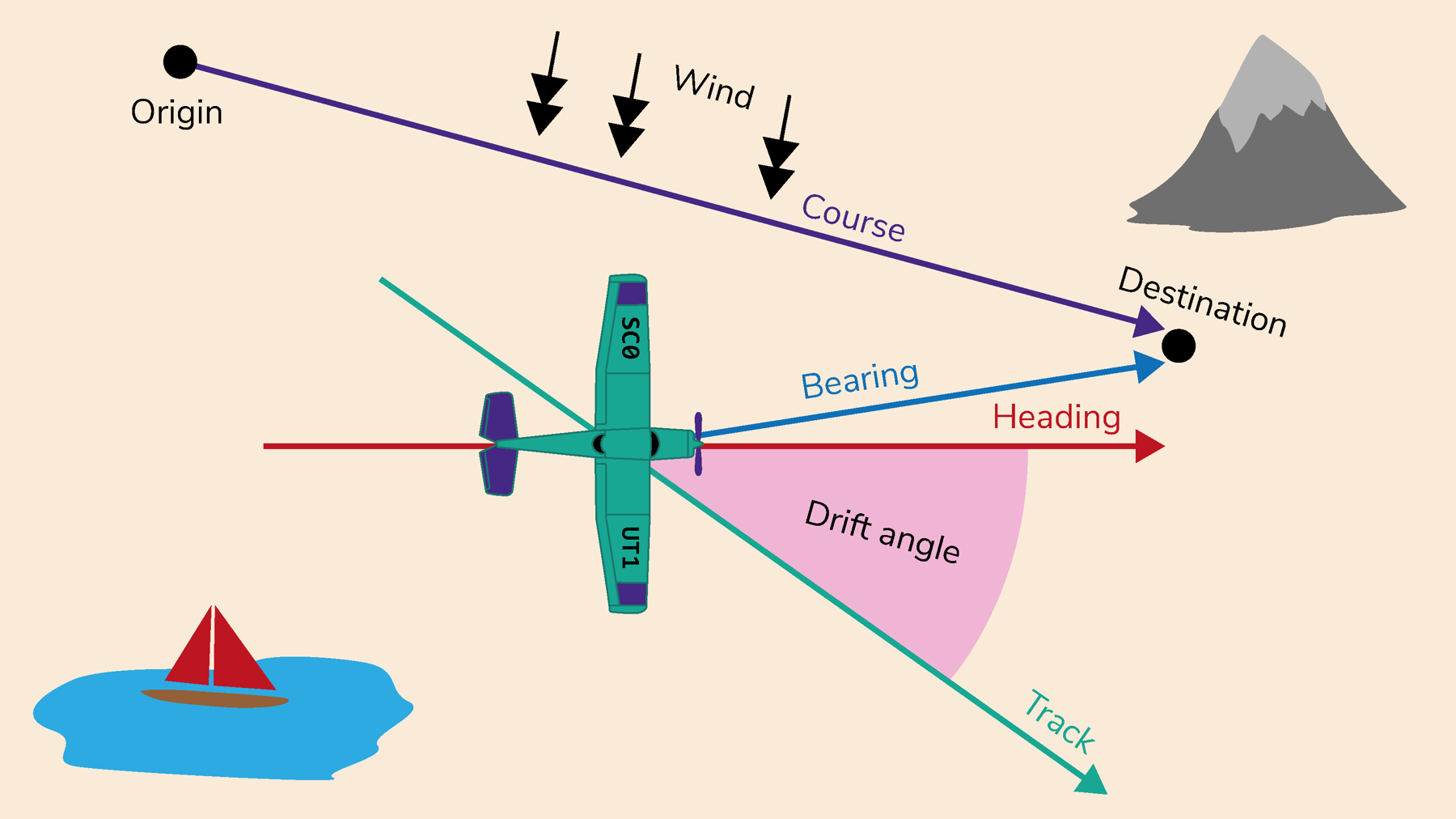 Draw your own flight tracks
Everyone should stay in their pairs and get a CAA topographical air map.
Every pair should plot an imaginary flight. Choose from these two options:

Draw a track for a flight of at least 80 nautical miles. Point out the landmarks that would show up on both sides of the track, in clear visibility, at an altitude of about 600 feet.
Identify landmarks on the map that you would see during a flight of about half an hour in clear weather.

Every pair should draw a second track, joining two places that are at least 100 nautical miles apart. Measure the exact distance once the track has been drawn.
Reflection
This activity was about trying new things and learning to solve problems. Learning some of the finer details of flight planning can be tricky. Everyone should take time to reflect on the ways they learn best. This way, when it comes to approaching the next new challenge, they can say what works for them.
Safety
All activities must be safely managed. Do a risk assessment and take appropriate steps to reduce risk. Always get approval for the activity and have suitable supervision and an InTouch process.