Digital leaf identifier
Use a simple computer programme to create something that'll help identify different leaves.
You will need
Access to a computer
Natural materials (for example, leaves, twigs, feathers)
Notes and handout (Digital leaf identifier)
PDF – 2.7MB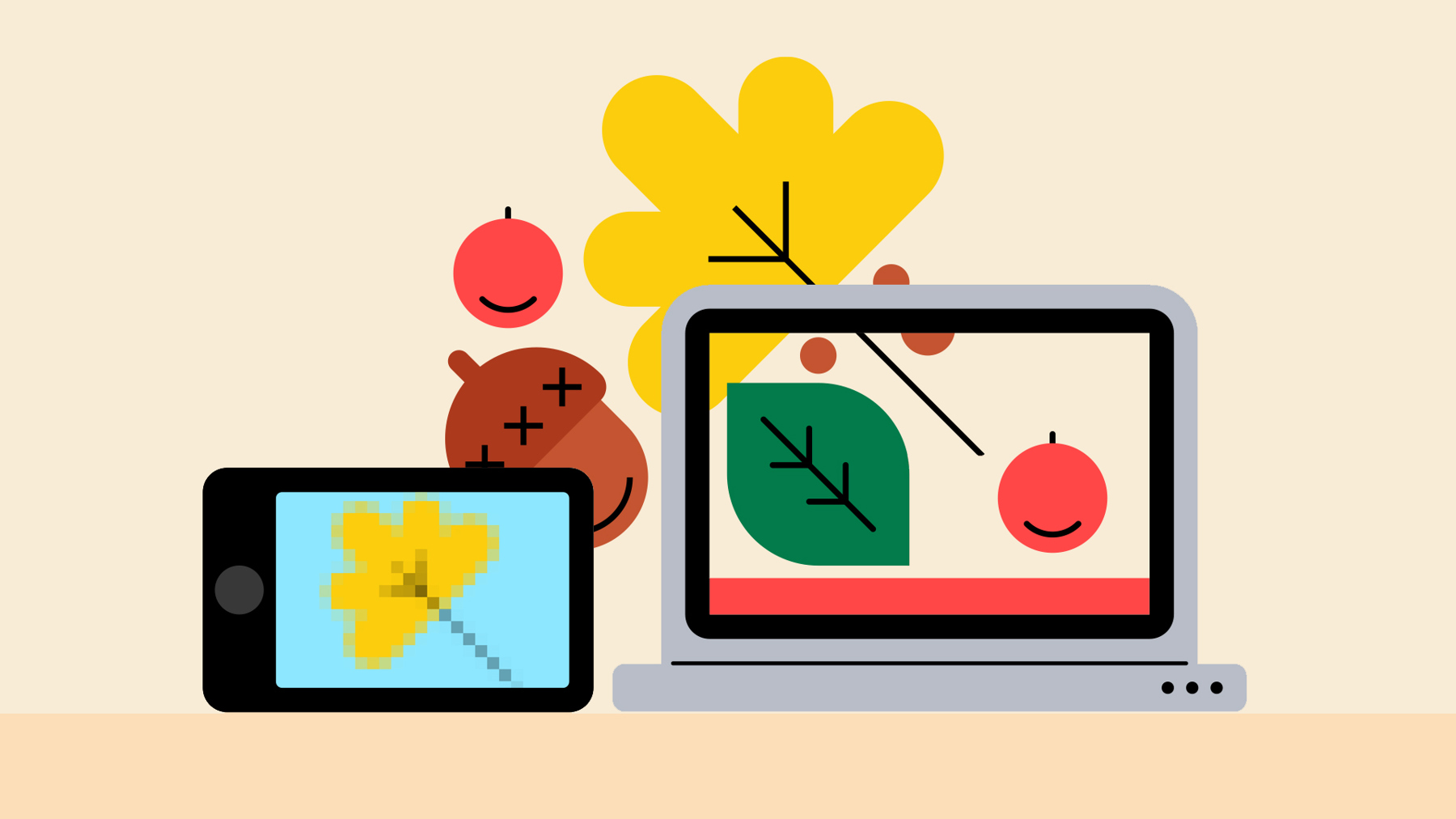 Before you begin
Don

't panic if you've never used (or have never even heard of) Scratch before. There's plenty of info below, and this activity's a great way for everyone to learn. It's a good idea to spend some time reading the information and practising before you lead the activity, though.

If you don't have enough computers for everyone to work in groups of four, you could run this activity as one base, so groups visit one at a time. You could also look in to visiting a local library or school to use their computers.

If you can, it's really useful to collect some leaves before the session – look at the 'Notes and handout' pack to see which would be most helpful.
Identify a leaf without tech
Everyone should get into small groups.

The person leading the activity should give each group a paper copy of the leaf identification guide (page three of the 'Notes and handout' pack) and some leaves.

Each group should use the guide to identify the leaves. They should use the 'yes' and 'no' questions, rather than just matching the leaves to the picture at the end!


Everyone should take note of any new words in the guide, for example, 'lobed' (with obvious parts that stick out) and 'compound' (made up of several parts joined to a single stem). 
Get to know the program
The person leading the activity should run a demo of the Scratch program here.
Anyone who's used Scratch before should share what they know about it. The person leading the activity should explain anything else people may need to know, using the information above.


Everyone should chat about how computers receive inputs and use them to select instructions to follow. When the user answers a question, the Scratch program hides all of the leaves that don't match the new criteria.
Everyone should get into small groups. Each small group should go to a computer and open Scratch.
Everyone should look at the code the program uses by clicking on 'see inside'.


Everyone should find the block that begins 'when green flag clicked'. They should read the block out out, and work together to understand it. They should run the program a few times to make sure they understand how it works.
Everyone should look at the whole code – can they see how the layout matches the lead identification guide, and that each script corresponds to a question?
Create your own programme
Each group should open the unfinished version of the project here.


Everyone should work together in their group to follow the instructions in the 'Notes and handout' pack and finish the project.
Identify your leaves
One person in each group should choose a leaf. They shouldn't tell the rest of the group what they've chosen.

Everyone should ask the first question and type the answer into their finished program. They should continue following their program until it identifies the leaf.

Each group should see if it matches – did the program identify the leaf correctly?

Everyone should swap until everyone's had a turn at choosing a leaf and answering questions.


Everyone should gather back together as one big group. They should chat about their code, and how they fixed any bugs.
Reflection
This activity was all about learning skills and solving problems. Can anyone think of other wildlife identifiers they could make, for example, birds? What problems might they face, and how could they overcome them? What other everyday activities could a computer program help with? Everyone should think of a project they could complete with everything they've learned in this activity – they may need to simplify their ideas to match the skills they have right now. What skills would people need to learn to complete more complicated project? Maybe they could learn them by completing other activities for a later stage of the Digital Maker Staged Activity Badge.
Safety
All activities must be safely managed. Use the safety checklist to help you plan and risk assess your activity. Do a risk assessment and take appropriate steps to reduce risk. Always get approval for the activity and have suitable supervision and an InTouch process.
Online safety

Supervise young people when they're online and give them advice about staying safe.

For more support around online safety or bullying, check out the NSPCC website. If you want to know more about specific social networks and games, Childnet has information and safety tips for apps. You can also report anything that's worried you online to the Child Exploitation and Online Protection command.

As always, if you've got concerns about a young person's welfare (including their online experiences), follow the Yellow Card reporting processes.