Attending international Scouts events
Attending an event organised by the World Organization of the Scout Movement (WOSM), either at world or European levels, is an enjoyable and very worthwhile experience.
The UK sends delegates to conferences, seminars and workshops in Europe and around the world to support the development of Scouts. Wherever possible these opportunities are advertised to all members of the movement.
Mostly, we take part in these events as part of a group: at Kandersteg or one of the hundreds of other Guide and Scout Centres in Europe and elsewhere.
Preparation for these activities is vital and your Assistant Area/County Commissioner (International), supported by the International Commissioner and office at Gilwell Park, will be glad to help.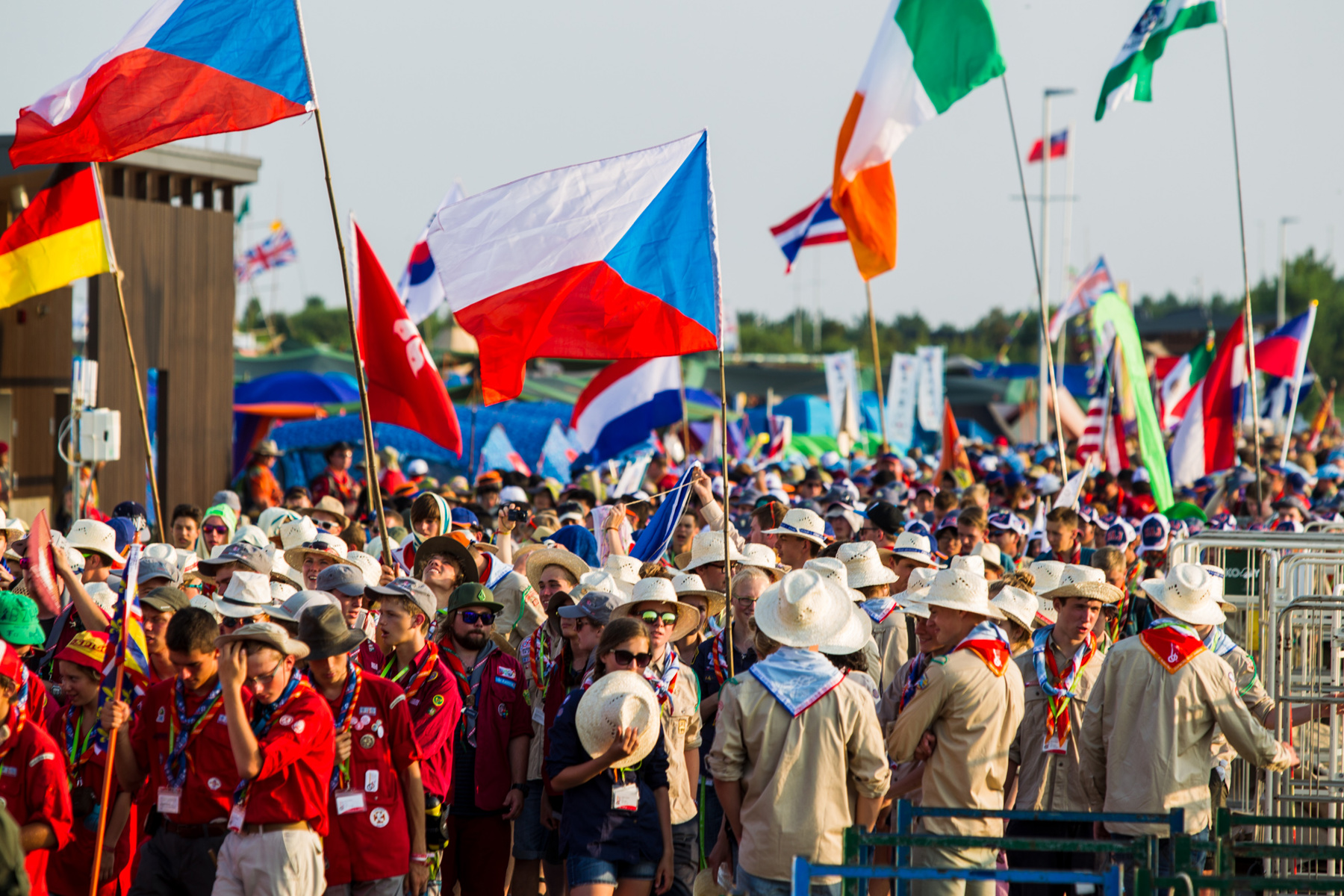 The worldwide Scout movement
Scouts began in 1907 in the UK, based upon Robert Baden-Powell's ideas and his book 'Scouting for Boys'. However, the book and programme had great appeal and the idea quickly spread world-wide. 
While Scouts' Purpose, Promise and Law are timeless and universal, the flexible programme adapts to meet the needs of each place's young people and their society in which they live.
Scouts is an educational movement of and for young people. The purpose of Scouts is to help young people to develop physically, intellectually, socially and spiritually. It's a voluntary, nonpolitical movement which is open to all and which is based on:
adherence to spiritual principles, loyalty to the religion that expresses them and acceptance of the duties resulting from them
loyalty to one's country in harmony with the promotion of peace, understanding and cooperation
responsibility for the development of oneself
participation in the development of society with recognition and respect for the dignity of all people and for the integrity of the natural world
a method of progressive self-education comprising programmes adapted to the various age groups and based upon a Promise and Law, learning by doing, working in small groups, a scheme of personal progression and activities taking place in contact with nature.
The World Organization of the Scout Movement (WOSM) is an international, non-governmental organisation which is composed of three principal parts: the Conference, Committee and Bureau.
The conference is the "general assembly" of Scouting, composed of all member Scout
organisations. Only one National Scout Organisation can be recognised per country (where there is more than one Scout Association in a country, a federation must be formed for world membership). The basis for an organisation's recognition and membership includes adherence to the purpose and principles of World Scouting.
The conference meets every three years.
The Committee consists of 12 people from 12 different countries, elected to represent the diversity of World Scouting, not their own national interest, in the period between the triennial conferences. Each person normally serves a sixyear term. Ex-officio members are the Secretary General and the Honorary Treasurer.
The Bureau is the secretariat, carrying out the instructions of the Conference and Committee. The staff of professionals works out of ten offices - the central office in Geneva, Switzerland plus regional offices in Chile, Egypt, Switzerland, Kenya, Philippines and Ukraine, with sub-offices in Belgium, Serbia and Montenegro, Senegal, South Africa and Russia.
The Bureau helps Scout Associations to improve and develop their Scouting by conducting training courses, development seminars, workshops, management courses, preparing publications and advising on organisation, financing, communications etc. The staff also helps to arrange global events such as the four-yearly World Scout Jamborees and acts as liaison between the World Organisation and other bodies, particularly other world youth organisations, organs of the United Nations and government departments, particularly where Scouting wishes to have more support from governments.
Bureau operations are financed partly by an annual registration fee, paid by Scout organisations on the basis of membership and GDP of the country. Other support comes from foundations, corporations, development agencies and individuals.
Support also comes from the World Scout Foundation which, while building a capital fund, uses the investment income to benefit World Scouting. The Honorary President is HM Carl XVI Gustaf of Sweden.
World Scout Membership
There are currently more than 31 million Scouts, both young people and adults, across 216 countries and territories.
There are 155 countries with internationally recognised National Scout Organisations. You can find a list of National Scout Organisations on the WOSM website.
There are 26 main territories where Scouting exists, often as overseas branches of member Scout organisations:
Anguilla
Antarctica
Aruba
Bermuda
Cayman Islands
Cocos (Keeling) Islands
Cook Islands
Falkland Islands
Faroe Islands
French Guiana
French Polynesia
Gibraltar
Greenland
Guadeloupe
Martinique
Montserrat
New Caledonia
Norfolk Island
Puerto Rico
Réunion
Saint Helena
Saint Pierre and Miquelon
Turks and Caicos Islands
Virgin Islands, British
Virgin Islands, U.S.
Wallis and Futuna
There are 33 countries where Scouts exists, either in early stages of development or widespread, but where there is no National Scout Organization that is yet a member of the World Organization of the Scout Movement. They are:
Afghanistan
Antigua and Barbuda*
Belarus
Cambodia
Central African Republic
Congo
Djibouti
East Timor
Equatorial Guinea
Eritrea
Guinea-Bissau
Iran
Iraq
Kazakhstan
Kyrgyzstan
Mali
Marshall Islands*
Micronesia, Federated
Saint Kitts and Nevis*
Samoa
Sao Tome and Principe
Solomon Islands *
Somalia
Syrian Arab Republic
Tonga*
Turkmenistan
Tuvalu*
Ukraine
Uzbekistan
Vanuatu*
Vietnam
States of*
Note: In the independent countries marked with an Asterix (*), there is a Scout Association which has a branch that is a WOSM member. 
There are 5 countries where Scouts, to WOSM's knowledge, doesn't exist. In some, Scouts wouldn't be allowed. These are:
Andorra
People's Republic of China
Cuba
Democratic People's Republic of Korea
Lao People's Democratic Republic
WOSM maintains official contacts with the Scouts of Macau, and French Polynesia, which are associate members of the Asia-Pacific Scout Region, and with the Scouts of the Netherlands Antilles, an associate member of the Inter American Scout Region.
World Scouting activities
Find programme activities to learn about Scouts around the world on our activity finder. 
Find programme activities