News | 31 May 2022
Shining lights: 87 Scout Groups prepare to light Platinum Jubilee beacons 
Thousands of Scouts from across the UK and overseas will be lighting their Platinum Jubilee beacons at 9.45pm GMT on Thursday 2 June.
From Hertford Castle to Upper Rock in Gibraltar, it's set to be a proud moment for them, and continues a great tradition, celebrating the 70 year reign of our Patron, HM The Queen.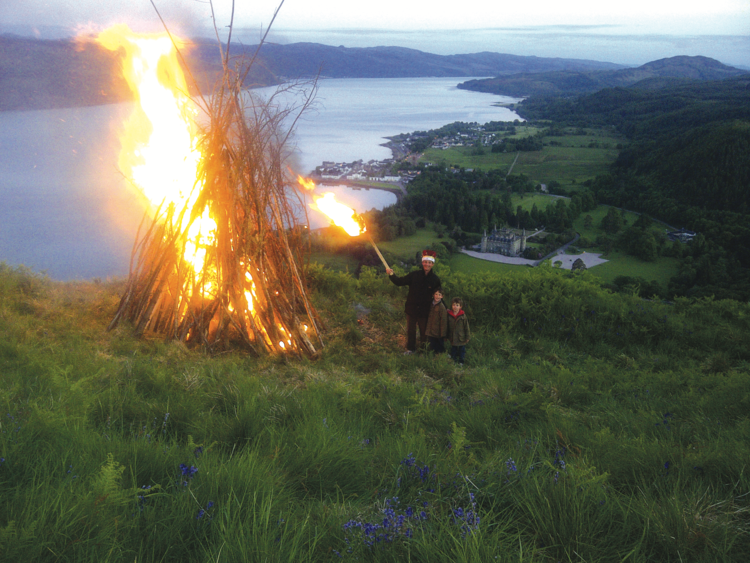 Fancy swimming in an open air lido at a quarter to ten at night with the jubilee flame flickering in the water? That's what a band of hardy souls are up to over at Brightlingsea, Essex (and there's still time to sign up). Or how about catching the dazzle of beacons as they light up Hadrian's Wall?
On the night of Thursday, 2 June, over 2,800 jubilee beacons will be lit across the UK and beyond to celebrate HM The Queen's 70 years as our monarch. They're in every location imaginable – from hilltops and castles, to town centres and quarries (as well as a fair few in the grounds of Scout huts).   
Scouts are proud to be lighting 87 of these beacons (at the last count) to celebrate the Queen's outstanding service to the country and the Scout movement. It's a fitting tribute to someone who's given so much encouragement and inspiration to so many, for so long.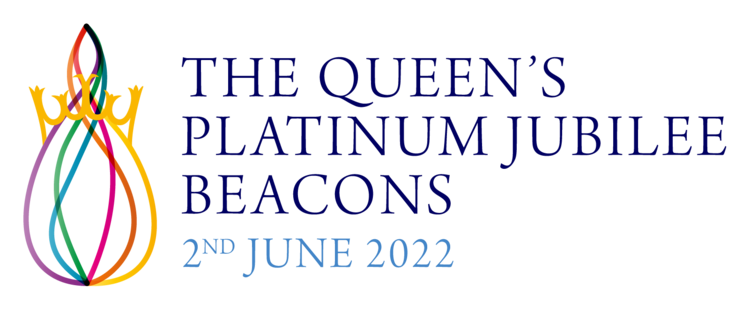 A historic moment 
Beacons were lit for HM The Queen's jubilees in 1977, 2002 and 2012, but the tradition dates back much further. It began with the Diamond Jubilee of Queen Victoria, our second longest reigning monarch (a mere 63 years on the throne) in 1897. Since the tradition was revived in the 1970s, beacons have lit up almost all of the Queen's significant milestones, including her 90th birthday in 2016.
Our Scout beacons will come in many shapes and sizes – from traditional free standing beacons, fuelled by gas, to the more ornate 'beacon brazier' to the good old fashioned bonfire. Scouts are no strangers to fire and didn't need to be asked twice to take part. We soon had the 70 we were aiming for (one for each year of The Queen's reign) and very quickly sailed past that target.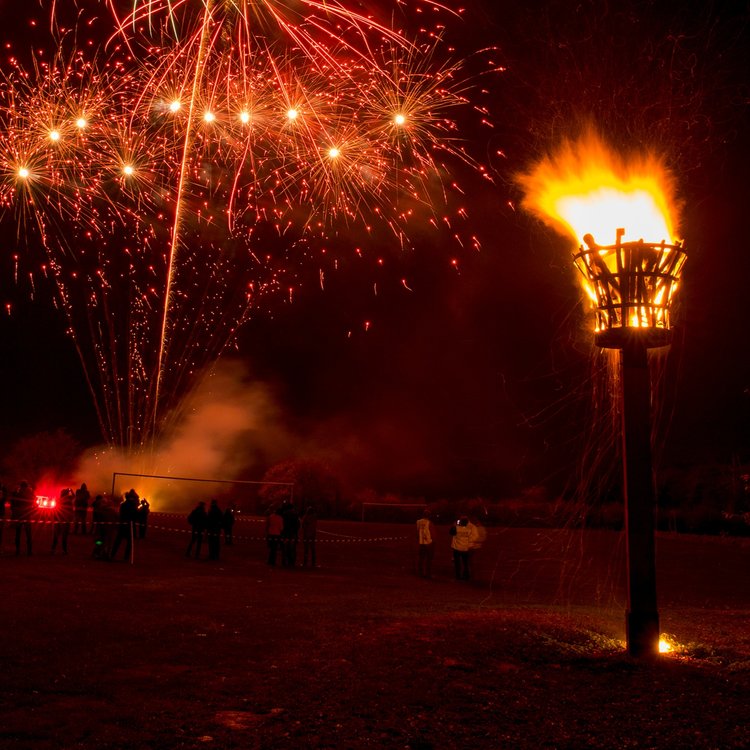 From the south coast to Stornaway
From Parkstone St Peter's Scout Group's beacon, in Poole, Dorset, close to where the Scout movement began back in 1907, to 2nd Stornaway up in the Highlands and Islands, Scouts will be shining bright for the jubilee the length and breadth of the country. Not to be outdone, 5th and 6th Merthyr Scouts will be joining forces for their beacon at Troedyrhiw. If you happened to be flying over on Thursday evening, the country will be twinkling like a World Scout Jamboree below you.
Scouts in Northamptonshire are just some of those getting ready for the big night. Malcolm Dyer, from the Overstone Scout Active Support Unit, said: 'We're proud to be part of this momentous celebration and mark 70 years of Her Majesty's services to communities across the UK.' Their beacon will be lit at the Overstone Scout campsite and Activity Centre. 
Meanwhile, 1st Wilton Scouts will be lighting their beacon at the Beacon Oak, near Salisbury, where the same group lit a beacon in 1952 to welcome the new Queen.
British Scouts overseas
We're especially delighted that Scouts from further afield will be taking part too, including Scouts Gilbratar, an overseas federated member of UK Scouts. Their beacon will lit as part of a four day jubilee camp, at the Governor's Lookout Scout Activity Centre in Gibraltar's Upper Rock, Nature Reserve. Pipe Major, Tarik El-Yabani from the Sea Scouts' Pipes and Drums will play 'Diu Regnare' to start the event.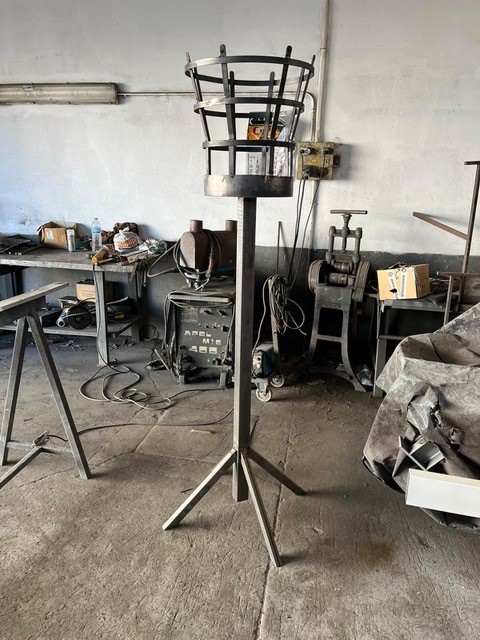 Iconic locations
This year, beacons are being lit at other iconic locations too – including the Tan Hill Inn in Yorkshire Dales (the highest pub in Britain), on the summits of the highest peaks in each country in the UK, and even on Sark, in the Channel Islands.  Not to be outdone, beacons will be lit at all the Queen's royal palaces too – from Sandringham and Balmoral to Hillborough Castle in Northern Ireland. The first beacon – the 21 metre Tree of Trees sculpture will be lit at Buckingham palace by a senior royal. 
None of this has happened by accident. The mastermind behind the event is Bruno Peek LVO OBE OPR, Pageantmaster of The Queen's Jubilee Platinum Beacons, who has been working on the plan for years. 'It's wonderful to see the range of support for beacon lighting,' he said, 'which will highlight both the diversity and unity of the nation and the Commonwealth. The Queen has lit up our lives for 70 years through her dedicated service and commitment. We would like to light up the nation and the Commonwealth in her honour.'
I'm so proud that Scouts will be lighting at least 70 beacons, one for each year of our Monarch and Patron's reign. HM The Queen is a shining light for young people
This Thursday, Chief Scout, Bear Grylls will be cheering Scouts on: 'I'm so proud that Scouts will be lighting at least 70 beacons,' said 'one for each year of our Monarch and Patron's reign. HM The Queen is a shining light for young people, helping them gain skills for life. Her outstanding example of service, dedication and kindness have inspired generations.'
In good company
Scouts will be joined by plenty of other community and youth groups too, including the Sea Cadets, Army Cadet Force and Girlguiding UK, whose Patron is also HM The Queen. All will be lighting their own beacons to help celebrate. Good luck to everyone who's taking part, (and thanks to our insurers, Unity who helped provide cover for many of these events). Stay safe and enjoy being part of history.
In the meantime, if you're running short of matches, now's the time to buy them as they'll be in as short supply as Union Jack bunting by this Thursday.     
Further reading
Related links