Blog | 04 October 2019
The Great Scout Chip Shop Survey
Words: Aimee-lee Abraham | Pictures: Liz Seabrook
It's not the most adventurous thing Scouts get up to, but it remains a firm favourite. On a sunny day this summer, we took a stroll with 4th Barry Beavers to take a bite out of every chip on the promenade, and find out why the Scout Chip Shop Survey remains so enduringly popular
How it works
The rules are simple. The rewards are plentiful and delicious. To conduct a Chip Shop Survey, young people put on their judging hats, assemble their clipboards, and hike from storefront to storefront, purchasing a single bag of chips from each, or bartering for freebies.
At the end, a winner is crowned based on a total score. Scouts rate things like taste, value and service, then hone in - assessing the degree of newspaper-stained sogginess in painstaking detail, or voting with their gut. Here's how the Barry Beavers got on.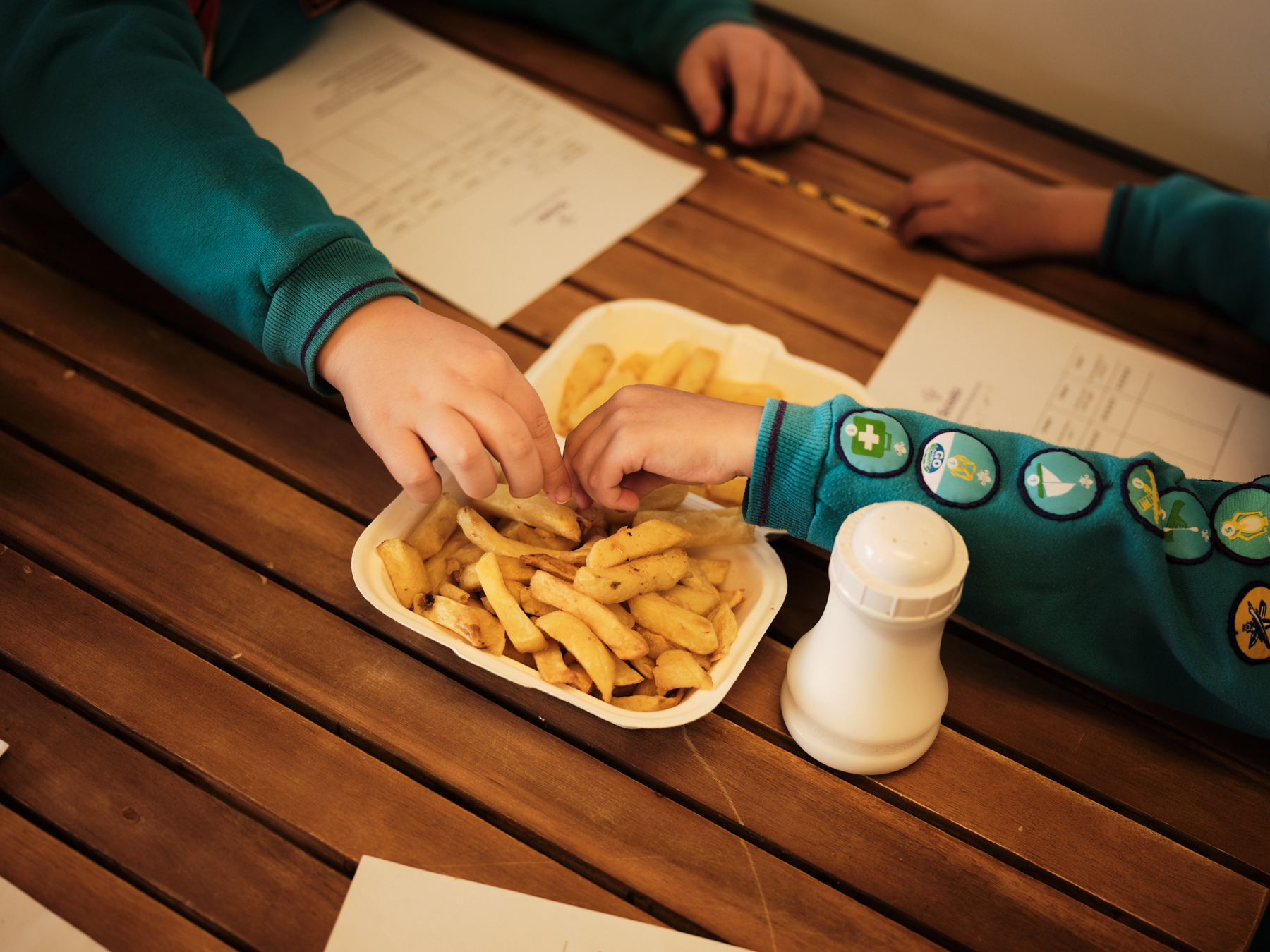 Chip shop no.1: O'sheas 
Established in 1946 by the current owner's grandfather, O'shea's is a local treasure. Just yards away from the beautiful sandy beach of Whitmore Bay, it offers uninterrupted views across the Bristol Channel. See for yourself by taking a look at their webcam.
Noah: The people who work here are very nice. The chips are really fluffy.
Ioan: I like them.
Saxxon: I love them.
Rhys: I hate them.
Verdict (Beavers): Friendly staff and a golden fluffiness that is almost universally praised. They get a bonus point for the eco-friendly packaging, but there's no sauce.
Verdict (adults): A strong start, but the chips are a little pale for our personal taste.
Rating (Beavers): 5/5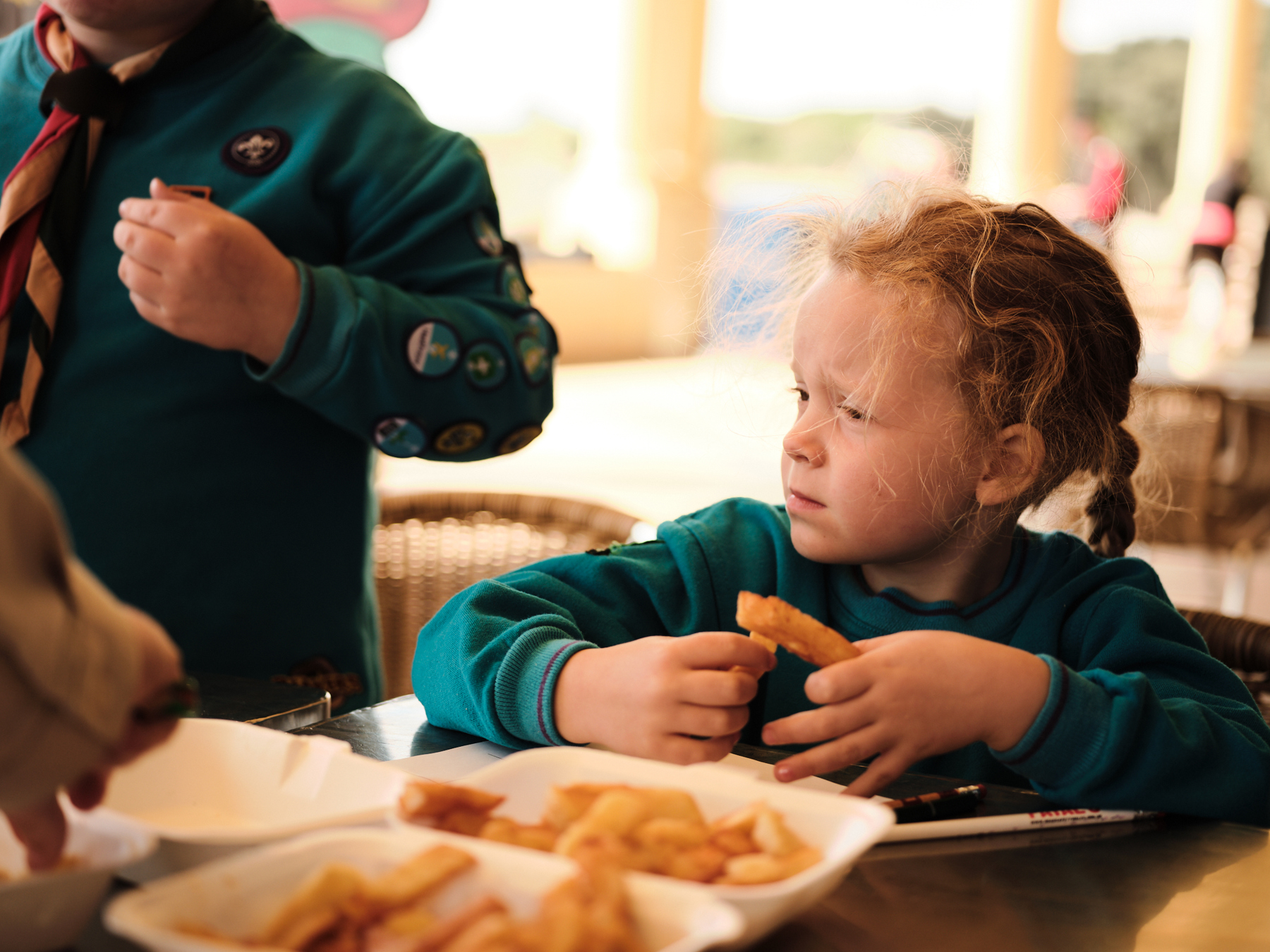 Chip shop no.2: Boofy's  
Run by a mysterious figure known as 'The Codfather', Boofy's was featured in the hit BBC sitcom Gavin and Stacey. Almost a decade since the show ended, it remains popular with the show's fans, who come from far and wide to sample their traditional curry sauce, then have a go on Nessa's neighbouring slot machines.
Noah: These are very nice, but way too hot. They burn your hands.
Saxxon: I can't tell the difference between these and the first ones.  
Noah: I know the difference! This place makes them crispier than the other place!
Rhys: I like both of them.
Noah: These are the nicest but the ugliest. They're a weird dark brown colour and there are lots of small crispy bits everywhere. Chips are supposed to be yellow.
Rhys: Imagine there was a battle between the two shops. Like if they had a fight!
Batty: There is a battle, Beavers. You decide who wins, remember?
All: What?
Verdict (Beavers): Questionable in colour and in temperature. Delicious nonetheless.
Verdict (adults): A delightful seaside view, unpretentious service and plenty of salty scraps to savour at the bottom of the bag. The Beavers don't seem to appreciate these as much as we do, but they gave them five stars anyway.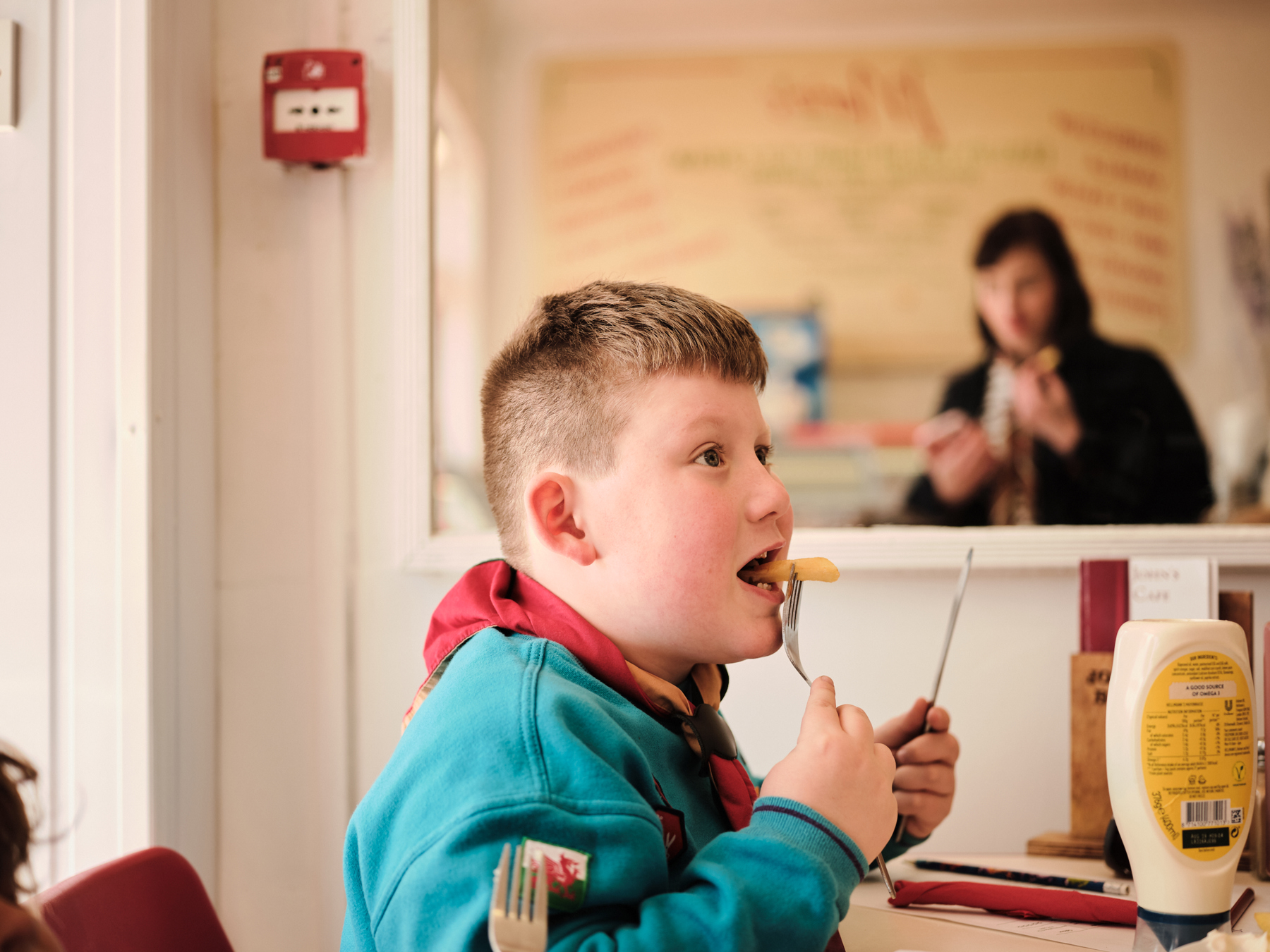 Chip shop no.3: John's Café
Famed for its ice cream sundaes with all the trimmings, John's first opened its doors in 1927, and is one of the oldest cafes in Wales. In 2014, it made national news when the letter 'e' disappeared from the storefront during a storm, forcing the owner's to temporarily trade as 'John's Caf' until the signage was replaced the following summer. 
Noah: These are the best ones. They give you a fork, which is good. I kept burning my hands on the others ones. Way too hot!
Rhys: Mayonnaise!
Hafwen: These ones are fluffier. But they're slippery.
Tigger: Slippery? Do you mean that they're a bit greasier than the others?
Saxxon: We didn't get sauce earlier. Here, you can have as much as you want. And everyone's nice.
Rhys: I like the sauce, but you can't eat them outside. Chips are nice on the beach. If the seagulls come, we'll karate chop them. I used to do kickboxing but now I do karate instead. I've done three matches. My mum's a black belt, you know. Nobody messes with my family.
Verdict (Beavers): Mayonnaise, freebies, forks. These details might seem insignificant, but they give John's an edge over their competitors.
Overall verdict (adults): Generous portions and cheering atmosphere. Gingham tablecloths. Proper napkin holders. It's comforting, like walking into your Nan's house, but give us takeaway boxes and sand in our shoes any day.
Rating (Beavers): 5/5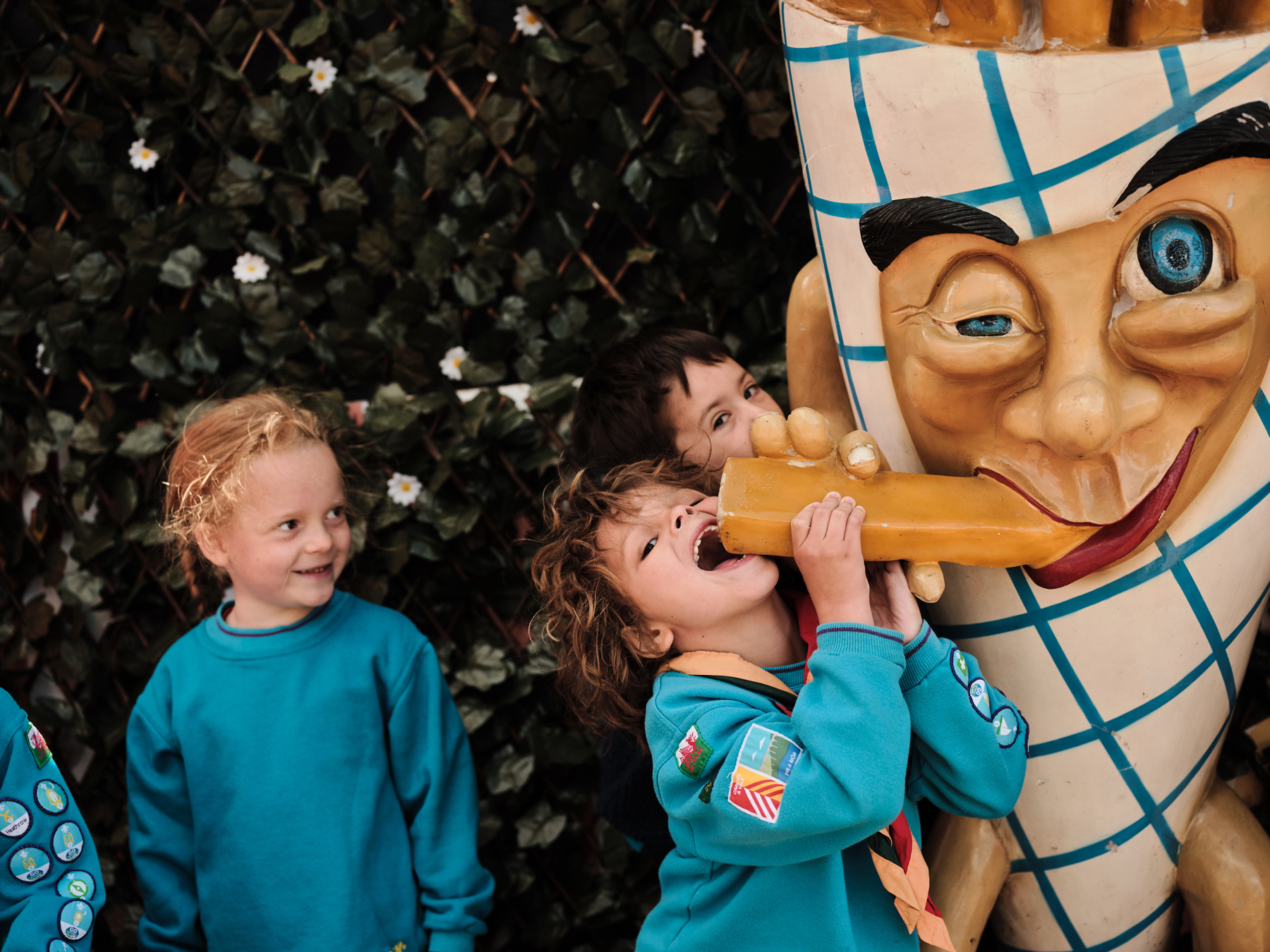 Chip shop no.4: Finnegan's Inn
Located opposite Barry Island's legendary pleasure park, Finnegan's Inn was first established as a nightclub in 2000. Today, it's a bustling bar and restaurant – home to world-class cabaret acts, and proud sponsor of the Glastonbarry festival.
Ioan: These took forever.
Noah: In Boofy's it was burning my mouth. The fat chip I was eating was the fattest one in the bag. It was even hotter than the rest of them. These are really nice. They're a better temperature, I think.
Rhys: These are nice but not my favourite. When I went on holiday I went to Toky. We tried everything like today, but with sushi instead of chips. I ate a deadly pufferfish. Luckily, the chef knows where the toxic bits are so I didn't die. I like chips, but they're a bit boring compared to pufferfish.
Verdict (Beavers): They might have taken too long to cook, but they were gone in micro-seconds, despite being the last on the list.
Verdict (adults): Finnegan's is a pub that serves chips, not a chip shop. This caused immediate scepticism among the adults, but we were wrong to judge.
Rating (Beavers): 5/5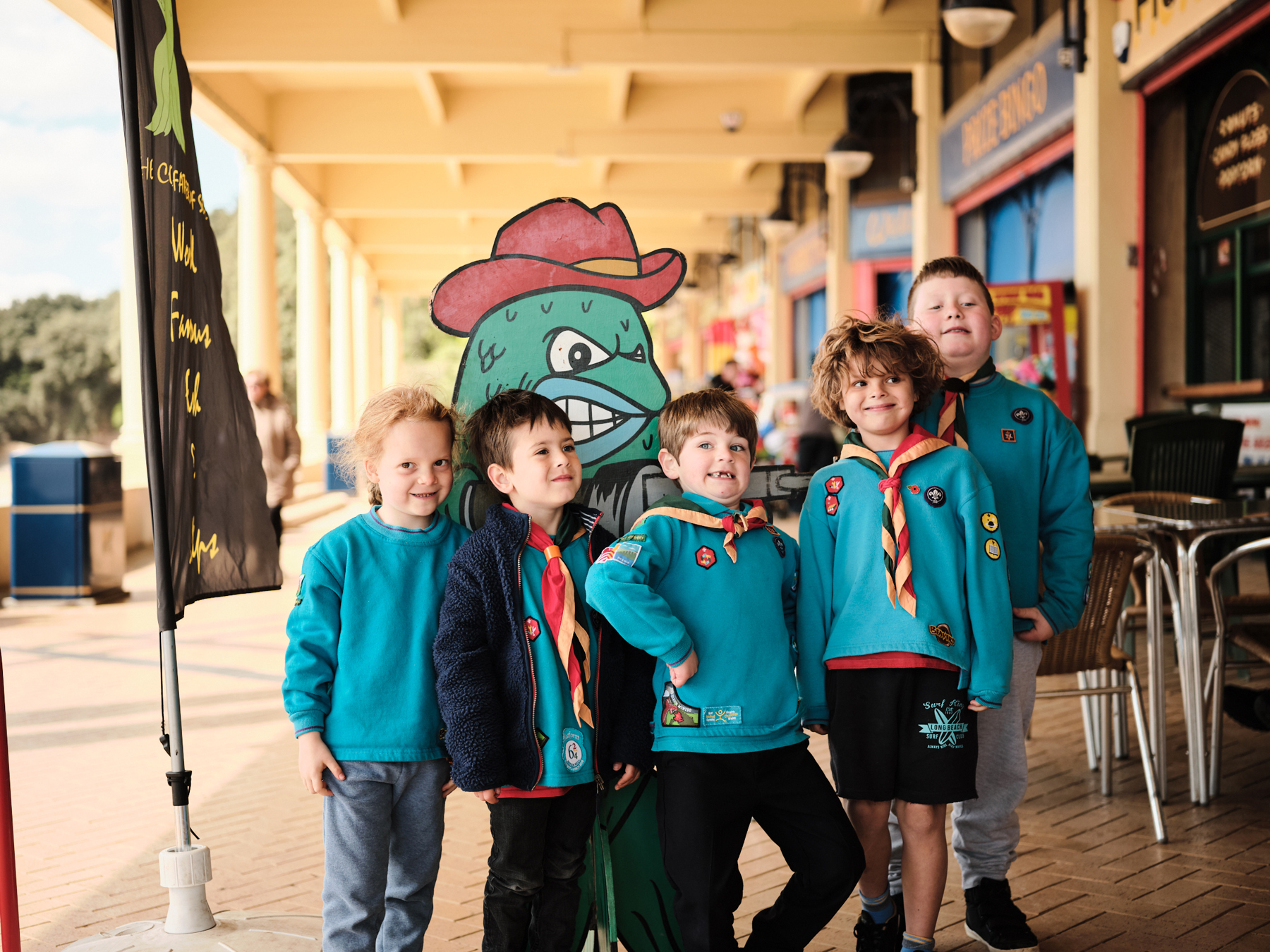 So, what makes the best chip?
Exact chip shop preferences are a highly personalised thing, like a toothbrush or a fingerprint. But there are some criteria almost everyone can agree on...
We consulted Ella Risbridger – award-winning food writer, cook, and chippie connoisseur – for some tiptop advice on what Scouts should look out for. 
On the ideal vessel
Chips taste best wrapped in paper, but a small cardboard box is acceptable if seagulls are likely to pose a problem. No cones, ever. It's too hard to get the crispy bits out of the bottom.
On atmosphere and presentation
Atmosphere is more important than presentation, and details matter. My ideal chip shop is small and slightly dirty, with one of those electric lights that zap flies, and regulars who linger to talk cryptically about local gossip. 
On condiments 
I recommend salt, vinegar (sparing but present), and ketchup. In that order. What can I say? I'm a traditionalist. 
On proper chippies vs improper chippies
There's a quantifiable difference between chicken-shop chips and chippy chips, and blurring the lines between them will skew the results. Stick with the institutions that serve only chips, for fairness. And never eat-in. Chips are an outside food. They should ideally be eaten while looking at the sea, wearing two fleeces and sitting on a raincoat. 
On temperature 
Eat the chips as soon as they're put into your hand. Cold chipshop chips are an acquired taste. Reheated chipshop chips are unspeakable. If you ever meet somebody who likes reheated chipshop chips, run. 
Ella's debut cookbook Midnight Chicken – published by Bloombsury – is available now.
Further reading
Coming Soon
Related links
Coming Soon