Blog | 17 October 2019
A Million Hands four years on
In the summer of 2015 we launched A Million Hands, our social action programme to give half a million young people the support they need to tackle the issues they care about and to make a positive impact in their communities.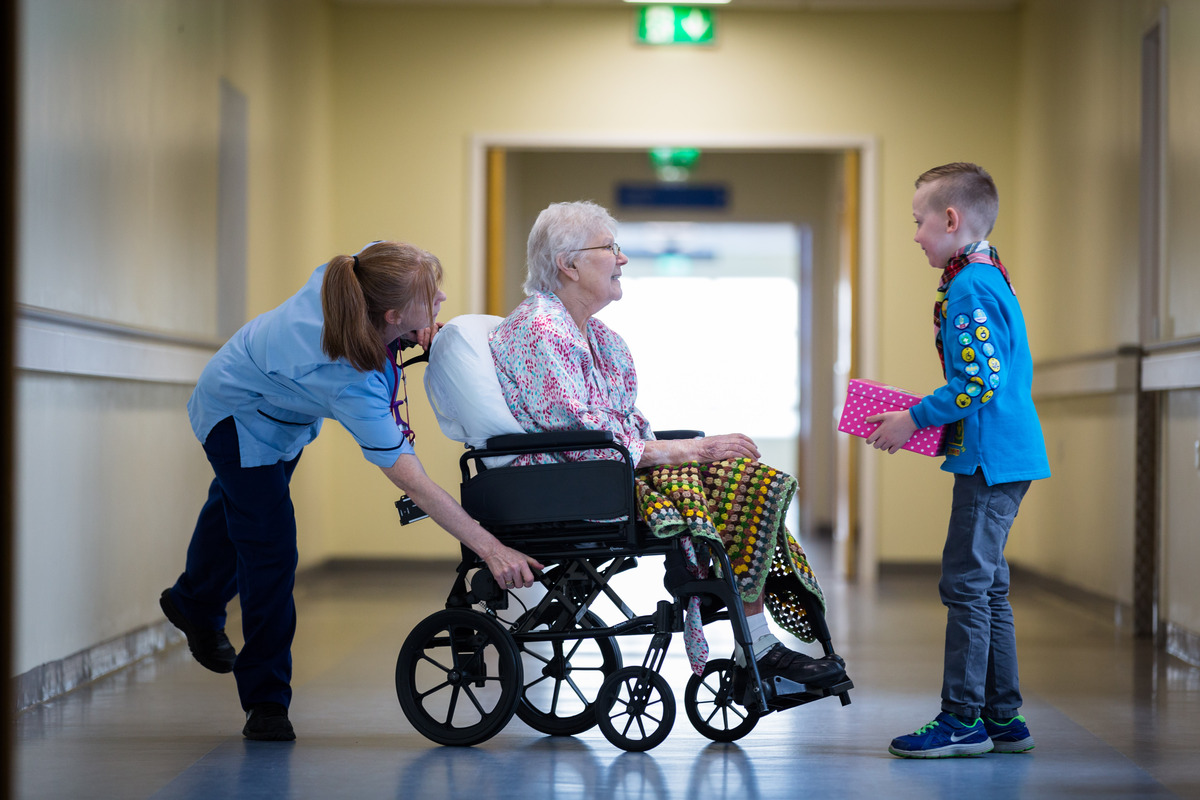 Our members chose the issues they most wanted to work on, and we partnered with a fantastic group of charities to create resources and provide support: clean water and sanitation with WaterAid, dementia with Alzheimer's Society, emotional wellbeing with Mind, disability with Leonard Cheshire and Guide Dogs, and assisting with all of these themes was the Canal & River Trust. The work was aligned with the existing Community Impact Staged Activity Badge, and was broken down so that young people could understand an issue, plan action, take action, learn and do more, and tell the world. 
At the end of this month we officially launch our new themes and partners, but before we do, we want to take a moment to reflect on the incredible stuff our young people have achieved over the past four years. Because, honestly – they're amazing. We're beyond sticking-it-on-the-fridge proud, and into the realm of we-made-a-scrapbook-and-everyone's-sick-of-seeing-it proud. We're the most annoying parents at the school gates, and we don't care. Because look at this:
Over the course of the partnerships, over 135,000 Community Impact badges were ordered (as of June 2019) representing over 960,000 hours of action. That's almost a million hours spent helping people.
The number of young people getting involved has continually increased. Data shows a significant increase in groups taking part in a community impact project, from 25% in 2015, to 56% in 2017.  
Data from our 2018 A Million Hands summit showed that 4,703 Scout groups were registered. That's over a quarter of a million (250,200 to be exact) young people.
Over 1,100 pieces of media have been published on the various projects so far, reaching an audience of over 110 million people (more than the population of the Philippines!). 
A Million Hands has been the winner of two Charity Times Awards: Best Cross Sector Partnership in 2016, and the Community Award in 2018.
Of course, these are just the headlines: it's difficult to capture the impact that Scouts must be making on the ground. One thing we can do is pull an example from each of the issues though, to get a better understanding of how young people are using A Million Hands to make a difference.
Clean water and sanitation
1st Tackley & Heyford Scouts chose this theme for their project. They managed to get their Beavers, Cubs and Scouts all learning about the work of Water Aid, and how lucky we are to have clean, safe water and toilets in our homes. They also did a 'Walk for Water' together: a 5-mile route carrying large bottles of water. They said, 'We had several five litre bottles of water that Beavers, Cubs and Scouts took turns in carrying so we could get an idea of how children in other parts of the world might feel. Five litres gets heavy very quickly.
Although it was a long walk, we all had fun and helped each other out. Everyone who took part did brilliantly, and we have raised an amazing amount already.'
Young people can still explore and take action on this issue. You can go to wateraid.org/uk to find out more.
Dementia 
Over 23,000 Scouts have become Dementia Friends and have taken action to support people affected by dementia through A Million Hands. 6th East Kilbride Beaver Scouts took it one step further by visiting Hairmyres Hospital's Memory Lane room, a room that helps older people – especially those living with dementia – to feel more at home during their stay. The room is decorated in authentic 1940s style, and the visiting Beavers spoke with a number of elderly residents and filled memory boxes using materials that related specifically to each person's life story. One of the patients they met, Thomas McCready, used to be a taxi driver, ferrying partygoers to and from the city centre. In his memory box, the Beavers included photos of the popular Glaswegian dancehalls he may have frequented, maps of the roads he might have driven, and audio samples of the most popular rock and roll hits of the era. Since Thomas is the hospital's resident sweet tooth, they also made sure to pack plenty of sugar mice into the box, alongside bars of nougat, and enough of the traditional Scottish sweet known as 'tablet' to sink a ship. Reminiscence through familiar objects can unlock memories, accessing a part of the brain that can help to restore personal identity and reduce some of the symptoms of dementia, like memory loss, co-ordination and challenges around communicating.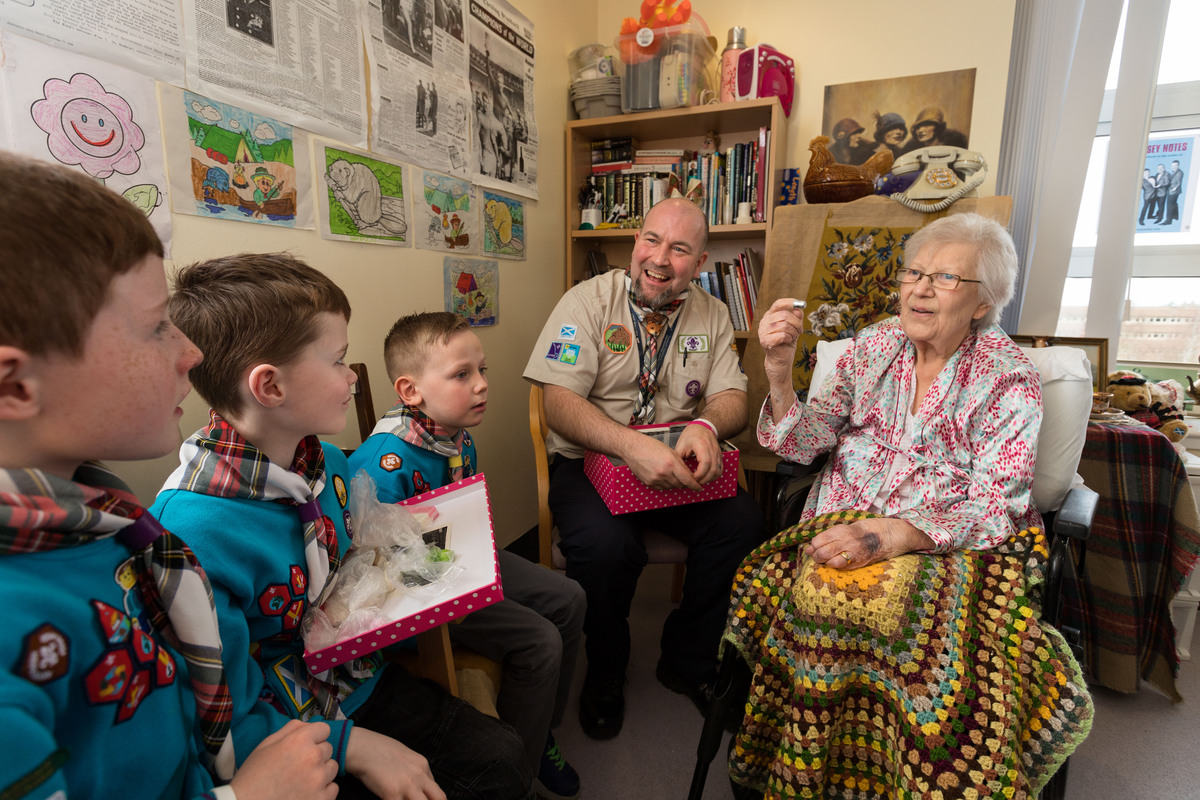 As well as handing out the boxes, the Beavers shared stories, visited the wards with some sweets, and took part in arts and crafts. After the visit, they put on an intergenerational, dementia-friendly, screening of The Wizard of Oz at the local cinema. On the night, volunteers put up dementia-friendly signage and Beavers acted as traditional ushers and usherettes, handing out choc ices and sweets during the intermission. Their leader Andrew said, 'You can see their whole body language change when they realise they're having an impact on the people they meet. You can see them thinking, "Wow, I can really do something here, and I'm only seven!"
You can still get involved with this issue, including requesting a Dementia Friends Information Session for your group. Find out more at alzheimers.org.uk/youngpeople.​
Mental health and wellbeing
A mental wellbeing project undertaken by 1st Lickey Cub Scouts has had an impressive scope, reaching over 28,000 individuals. The Pack began their project by discussing what is meant by mental health, with many Cubs giving examples of their own experiences of feeling stressed, worried, sad and happy, before making stress balls together. 
Next, they held an open evening at their meeting place, inviting parents, relatives, friends and District Leaders. Guests at the evening made their own stress balls, saw displays that explained A Million Hands and the Pack's planned project, and learned about a petition the Cubs were putting together to send to their local MP, the Right Honourable Mr Sajid Javid. The guests were then asked to sign and decorate a plaster each so it could be added to the petition. The Cubs were also asked to think and write down a creative way they could present the plaster petition to really get the attention of the MP. The session ended with tea, cake and a chat, which fitted perfectly with one of the five recommended ways to maintain and improve mental wellbeing: staying connected. 
The winning petition presentation was a life-size poster of a mannequin, which the Cubs stuck the plasters onto. The 1st Lickey Cubs posted their petition to Mr Savid Javid and were featured in their local newspaper. They received a 3-page response letter from Mr Javid, who also re-tweeted the news article on the project to his 80,800 followers. Mr Javid said he was very pleased to read of the support being given to this campaign and thanked the Cub Scouts for the fantastic way they had attracted his attention. He said the petition of signatures on plasters was a 'wonderful piece of artwork', and it's now on the door of his Westminster office. 
Mind have been re-chosen as a supporting charity of one of the new A Million Hands themes – better mental health for all – so it's easy to get involved if you'd like to work on this issue. Go to scouts.org.uk/what-scouts-do/help-others/community/.
Disability
From Sept 2015–Feb 2019, more than 860 Scouts volunteered at Leonard Cheshire's services. Their speaker network began towards the end of 2017, and in 2018/19, they received 67 requests from Scout groups.
89th Fife (North Glen) Scout Group in Scotland is one of the groups that have helped out at the local Leonard Cheshire Centre: their work includes painting garden furniture. Andrew Crumpton, Group Scout Leader said: 'I am so proud of the work our Scouts have done to help their community. We encourage our Scouts to do more, be more and share more and I think our group is a great example of going the extra mile to help bring your community together.'
Niamh, a 14-year-old Explorer Scout said: 'I have made great friends and learned new skills at the same time as serving my community. And there's always a welcome for other young people who think of others before themselves.
37th Ormskirk (St Anne's) Scouts chose to do their disability project with Guide Dogs. Their leader Anne Gilham said: 'One of our Scouts is registered blind and he spoke to all sections, detailing what it means to him to be blind and also what it means to him to be accepted into Scouts. In total, 100 Beavers Cubs and Scouts heard him speak and asked very relevant questions. The best one being 'What is the best thing you have done during your time in Scouts?' He said, 'being allowed to chop wood with an axe and to use a saw.' We then had a visit from Guide Dogs and then the young people voted on which Guide Dog Puppy they wanted to sponsor. They set about raising £2 each, by whatever means they could, mostly doing odd jobs. We raised the £200 within two weeks and adopted a Guide Dog puppy called Felix. We get a regular 'pupdate' about his progress.
We want to dispel myths around disability and hope that our young people will grow up caring about all members in society, and understand that everyone has a place and a part to play.'
You can still get involved with Leonard Cheshire – use their resources in your section or request a speaker. Find out more here.
Or, invite a Guide Dogs speaker into your section and use their resources to learn more.
Canal & River Trust
Young people were able to take action on a few of the issues though engaging with their local waterway. They were also able to take action on plastic pollution via a project funded by Defra (Department for Environment, Food & Rural Affairs). Together, Scouts, Canal & River Trust and Defra all launched new resources on plastic pollution in April 2019. In total, the resources have been downloaded 5,716 times.
4th Crosby & District Scouts decided to 'adopt' a length of their local waterway, the Leeds & Liverpool Canal in Litherland, Sefton, for their community impact project. The Scouts wanted to focus on using their section of the canal to promote metal health awareness, so they involved the mental health charity Mind. The group wanted their stretch of canal to become a place where people could come to relax and enjoy the surroundings, improving their mental health and making life better by the water. 
The initial plan for the garden included clearing the area of any litter, and cutting back and clearing vegetation to make space for planters. Next, they built planters from scratch with instruction from Start Creative CIC, an arts and creative social enterprise based in SAFE Regeneration Ltd.
4th Crosby Scouts are continuing to improve this area – they have plans to add a noticeboard with contact details for 'Mind' and description of this A Million Hands project.
You can still get involved in your local waterway here: canalrivertrust.org.uk/get-involved. 
…
Building on this phenomenal success, A Million Hands is re-launching in this year with new partners. We can't wait to see what's achieved next.