Blog | 19 November 2019
Insider insight into the early years pilots – a District Commissioner shares his thoughts
Our pilots to test Scouts for 4 and 5 year olds is now well under way. Daniel Fiander, a District Commissioner in Sheffield Norfolk, is supporting the 'Scout-led model' pilot in his area so we chatted to Daniel to find out how they're going.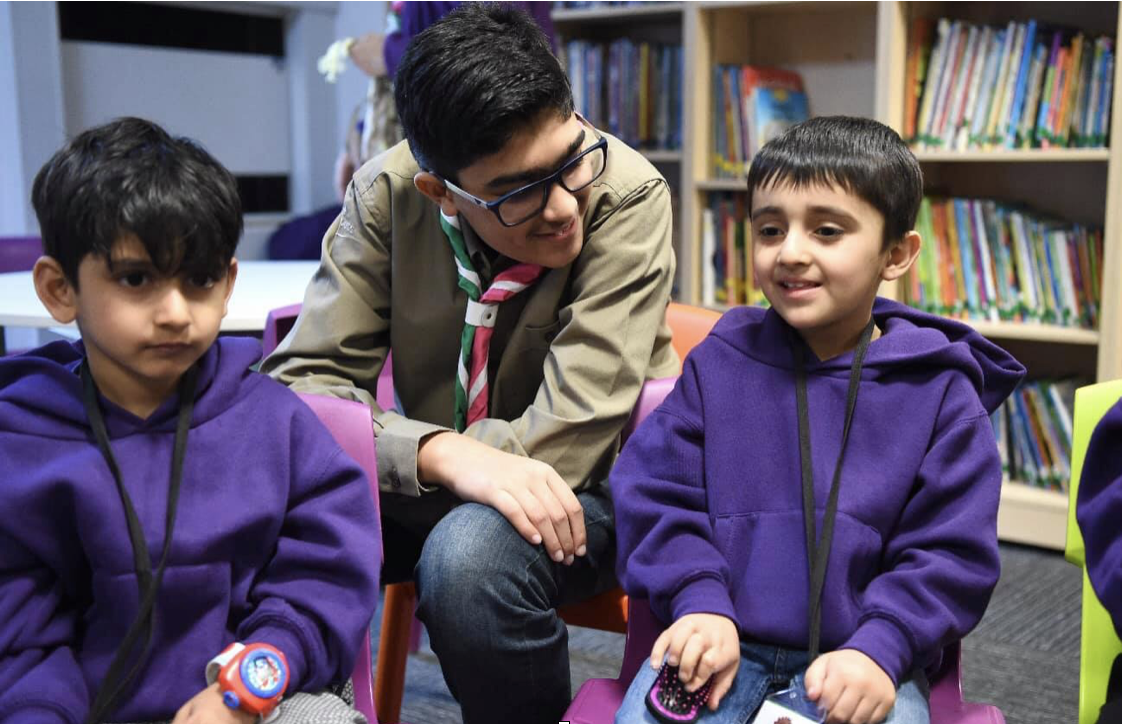 Daniel, what were your concerns before the pilots started?
My main concerns were whether we could effectively get enough leaders? Would the programme feel like Scouting or a playgroup? And were there any other issues that we needed to prepare for? We needed to examine all of these challenges upfront.
Did your pre-pilot concerns change at all once they were up and running?
The potential problems we identified in advance, actually turned into solutions. We asked parents if there was anything we needed to be aware ofand this then resulted in parents offering to stay and help out. Our ability to recruit parents was much higher than expected because of the age of the children, many parents hadn't yet handed them over to be looked after by someone else – so they were much keener to get involved. It doesn't feel at all like a playgroup, it's much more structured and active.
What surprised you most about the section programme?
I'm really impressed with the quality and structure of the programme. It starts with a story followed by activities that relate to the moral of a story. This works really well with this age group as they know that story time means quiet time, so they focus and engage well.
For instance, there's the Tree Trolls activity where the children are read a story about Tree Trolls and then they go foraging in their local green area for things like twigs, mud and leaves to then bring back to the venue to create their own trolls. It's exactly the right level for them, engaging them through storytelling while being an outdoor active activity. 
What techniques did you use to find enough volunteers to run the pilots? 
Rather than asking a whole room of people to take on a task, we asked individuals to do a specific task which resulted in more people saying yes – rather than just hearing from the most confident 'yes person' in the room. It's about adapting how you communicate and using short and straight-forward messages. 
What do you think motivated volunteers to get involved?
Some areas in Sheffield have increased levels of crime and low income households so our volunteers are aware that early years fills a massive gap. There's no affordable, positive activities for children of this age to get involved with.
Whilst parents do get involved, we've also had interest from people within Scouts and outside of Scouts as they believe in what Scouts can do. For instance, one lady was a former Group Chair but stepped in to work with the early years pilots as she wanted to work with younger children. We also have one lady who works in childcare in her day-role – the meeting times seem to work really well for people in that industry.
Have you seen any differences in the adults involved in the pilots?
A lot of our volunteers were completely new to Scouts so it took some time to find their feet as there wasn't anyone to pass on skills or recommendations. Now, the adults have got to know the young people and how to best run the meetings, and I think they've realised it's OK to delegate and ask for help.
Have you or others experienced anything challenging about the section programme?
The skills gap is quite vast, with children aged 4 needing considerably more support than those aged 5. However, we've seen considerable developments in the children's dexterity and motor skills. Many come to us shy but when they lose their inhibitions it becomes fun and play, and the enthusiasm that young people bring is great to see.
How would you describe the programme for 4 and 5 year olds?
It's absolutely fantastic! There's quality and depth to the programme with varied activities fitting around programme zones. It feels like Scouting.
How did you manage waiting lists or joining requests?
As the early years pilots are focusing on areas underrepresented in the Scouts we approached a local social mobility charity to find people in the community that needed help. Parents also put young children on a joining list for Beavers around age 4 so we invited the young people on this list to join. We focused on the children who would benefit most.
What are you still concerned about if we went ahead with early years?
Leaders throughout Scouts of course know how to create a programme well, however if early years goes ahead, I think early years would need a full set of programme activities because this requires a different skill – not everyone is a creative storywriter.
If the pilots are successful, would you recommend other District Commissioners to consider opening sections for 4 and 5 year olds, and what advice would you give?
Yes, I would recommend it. It really does feel like Scouting. Don't be afraid of it. It's just like opening and supporting any other section. We're providing support to the Leaders and they're delivering the activities to the young people, just like we would with Beaver, Cubs, Scouts and so on. You need to recruit the right people who are ready to face those challenges and will be there to support them to find the solutions.   
To find out more about the early years pilots, sign up to the webinar on 5 December or check out the FAQs on the strategy page.