Fundays: The Games
Go for gold with this year's Olympics-themed Fundays. Saturday 8 June and Sunday 9 June 2024 at Gilwell Park.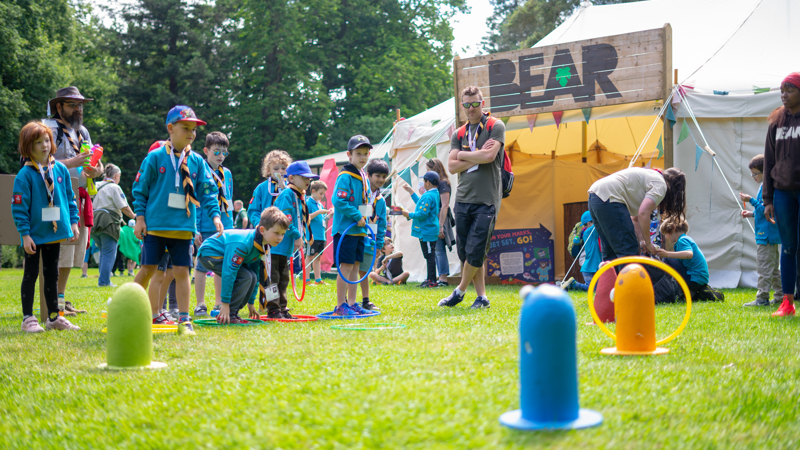 Let the games commence!
Go for gold with this year's Olympics-themed Fundays. Join us on Saturday 8 June or Sunday 9 June 2024 at Scout Adventures Gilwell Park.
 A day of activities for Squirrels, Beavers and Cubs based on sport, international and friendship.
Online bookings will open from January 2024. Talk to your group about dates, transport and who wants to come so you're ready to book! 
Young people
Saturday or Sunday day tickets are £26.00. Weekend tickets are £52.00 and include free Saturday night camping. 
Adults
Entry to the event is free of charge for accompanying adults.
Badges
All tickets include a Fundays 2024 badge, which you'll collect at check-in.
Catering
Make your day hassle-free. Book a lunch on Saturday or Sunday for just £8.00 per person. 
Camping
Make your stay a little longer. Add Friday, Saturday or Sunday night camping for £5.00 per person. Saturday night camping is included free of charge with weekend tickets.
Gilwell Park will open from 08:00 on both days for arrivals. 
All vehicles will be parked on-site, and our Traffic Management team will be there to help you. Please follow signage and their directions, and most importantly, do be patient with us.
To save time and resources, we won't be using paper parking permits this year. We'll collect vehicle registrations ahead of the event, both for security and in case we need to get hold of you.
There'll also be a drop off/pick up area available - the driver will need to stay with the vehicle. 
If you have accessibility needs, please let our Traffic Management team know on arrival and they'll work with you to find a suitable parking space.
We recommend arriving by 09:30 to give you time to check-in and make your way to the activities by 10:00. 
We'll have a picnic area available where you'll be able to set up gazebos, chairs etc. if you'd like a base for the day. You'll need to carry everything from your vehicle, so be prepared and pack light!
No stoves, BBQs, open fires etc. are permitted.
Please keeps paths, marked emergency access and other signposted areas clear. Leave a distance of 1m clear between tents, and 3m around buildings. 
Check-in will be located at Scout Adventures reception, and will open from 08:30 on both days.
Only your group leader needs to come to check-in. They'll collect your group's wristbands and badges. The rest of your group can wait in the picnic area. 
You must check-in as soon as you arrive and before starting any activities. Young people won't be able to access activities without their wristband. 
If you have an outstanding balance on your booking, please be ready to pay by card. Unfortunately, we're unable to accept cash or cheque.
We're aiming to run our programme from 10:00 - 16:00 each day. Activities will break for lunch, with live entertainers in the picnic area. We'll confirm timings soon.
We'll be packing the weekend full of activities, focusing on our Olympic theme. Think global, sport and friendship. 
Get active, challenge yourself, meet others, be creative or use your brain. There'll be flavours of fun for everyone.
We'll be joined by a host of partners and activity providers, alongside Scout Adventures led activities, suitable for the different age groups.
We'll tease you with more details as we get closer to the date, but some highlights from last year included:
Bungee trampolines
Fairground rides
Drumming workshops
Bouncy inflatables
High ropes activities
S'mores station
Circus skills
Some of our most popular activities may have restrictions to allow everyone to take part and to prevent large queues. Unfortunately, adults won't be able to take part in activities unless required to do so for safety reasons. 
Make the most of your visit by adding camping on Friday, Saturday or Sunday night.
Camping pitches will be available from 16:00 on your booked day, until 13:00 on your departure day.
Find more information about camping at Gilwell Park in our Everything you need to know download.
We'll check you in for camping and give you your pitch when you check in to the event.
Camping on Saturday night is included free of charge for weekend tickets.
If you've only booked event tickets for Saturday or Sunday, you'll only have access to Fundays activities for this day.
Make your day a bit simpler by booking lunch with us, prepared by our in-house catering team in the Adventure Kitchen.
Lunch will be a packed lunch style selection. 
You'll just need to provide any dietary requirements when booking. 
Scout Adventures reception will be open throughout the weekend for anything you need. We'll also have a Lost Child point and First Aid point. 
We'll have additional welfare and safeguarding resources available during the event, but volunteers are responsible for the young people in their care.
Please ensure all adults are familiar with the Young People First code (Yellow Card).
A charging point for mobility scooters and medical equipment will be available, as well as a fridge for any medication that needs to be kept cool.
It's really helpful to ensure that young people have their group name along with their group contact's mobile number so we can locate them as quickly as possible if we need to. 
Please wear your wristband throughout the event. Keep it friendly if someone asks to see yours - everyone is entitled to check.
This helps us to identify who, and more importantly who shouldn't, be on-site. 
If you lose a wristband, please make your way to the help point and we'll replace it for you.
The centre is 108 acres of open land with a public footpath and various access points. Please remain vigilant and report anything suspicious to a member of staff.
Keep valuables at home if you can, and keep anything you do bring in-sight or on your person.
Our on-site shop, The Providore, will be selling small souvenirs, gifts, sweets, cold drinks etc.
We hope to have an ice cream van again too - watch this space!
Don't forget that you'll need to bring your own food with you if you haven't booked catering.
We're hoping to have merchandise available to buy from Scout Store. We'll have more information soon.
A Fundays 2024 badge is included with your ticket, and will be available to collect at check-in. 
No pets, other than assistance animals, are permitted on the centre.
Smoking is not permitted in front of young people, and only in designated smoking areas. No alcohol is permitted into the event.
Bins are located across all areas of the centre. Please help us to recycle by putting dry, clean mixed recyclables into the large green bins; and any other waste in the black bins or litter bins.
Toilets will be cleaned regularly by our team, and hand soap and toilet roll is provided. Accessible toilets are available.
There are no fridges or freezers available to store food and drink.
Please be considerate of others wishes when taking photos. No drones may be flown over Gilwell Park without express written permission from the event management team.
Most networks give good signal at Gilwell Park, and WI-FI is available across much of the centre.
Gilwell Park will return to hosting other groups on the Monday after Fundays, so please help us give a good impression of Scouts by leaving your pitch and other areas of the centre you use as you found them.
The majority of our event staff are volunteers who have given up their time to make your visit to Gilwell Park safe and enjoyable. Please keep the Scouts values in mind when interacting with others. We have a zero tolerance approach to any type of abuse – you will be removed from the centre and details shared with your Lead Volunteer and/or the police.
If you need a hand
Scout Adventures reception will be open throughout the weekend, clearly sign-posted and marked on the map. You'll find staff wearing Scout Adventures uniform or an event staff necker.
For emergencies or urgent out-of-hours help, contact the Duty Manager on 0788 576 5074.
Lost children
We'll have a Lost Child point, with staff trained to take appropriate action to reunite them as quickly as possible.
First Aid
First Aid will be available throughout the weekend. 
Defibrillators are located in the staff car park and at Wilson Way car park. The code to access these is available from the Duty Manager or the ambulance service.
In the event of an emergency
Immediately inform a member of staff. They will take appropriate action and call for help.
Follow all directions issued by staff.
All calls for emergency services should be made by the Duty Manager (0788 576 5074), except where a delay would be life-threatening.
Discovery of a fire
Activate the fire alarm or use a fire bell if present and warn people in the area.
Try to control small fires using fire buckets or an appropriate extinguisher until help arrives. Don't put yourself at risk – if in doubt, leave it alone.
Evacuate the area immediately.
In the event of a terror attack
In the event of a terrorist attack, follow the government run, hide, tell advice.
RUN to a place of safety. This is a far better option than to surrender or negotiate. If there's nowhere to go, then…
HIDE It's better to hide than to confront. Remember to turn your phone to silent and turn off vibrate. Barricade yourself in if you can. Then finally and only when it is safe to do so…
TELL the police by calling 999.
Centre evacuation
In the event of a full evacuation of the centre, staff will marshal you to the chosen Assembly Point using the safest route. Follow their instructions and do not leave the centre until instructed.  
Check our last year's Fundays
To watch in full screen, double click the video
Bookings open soon
We'll launch bookings in early 2024 - watch this space or join the Scout Adventures mailing list to be the first to hear!
Join mailing list
Volunteer with us
Greeters, face painters, tea makers and activity leaders. Our events wouldn't happen without fantastic volunteers giving up their time. Volunteer staff applications for Fundays will open early next year.