Gilwell Fellows
Join the Gilwell Fellows so Gilwell Park can continue to be a hive of activity and a hub for Scouts across the world.
Who are our Gilwell Fellows? 
Our Gilwell Fellows are passionate supporters who care deeply about Scouts and how it changes the world! Gilwell Fellows make an invaluable contribution to making sure that the Scout programme continues for future generations.
This support means that Scouts continue to learn practical skills for life, while also developing lasting friendships and having unforgettable outdoor adventures.
Being part of the Gilwell Fellowship
The Gilwell Fellowship recognises a number of different donation levels within the programme, beginning with £2,500 and an initial donation of £500 for Young Fellows.
Gilwell Fellows can join the programme from anywhere in the world and are encouraged to visit Gilwell Park to see for themselves the impact their donations are having on this special place.
100% of all contributions from the Gilwell Fellows programme go directly towards the Gilwell Park development fund.
HRH The Duke of Kent
Dedicated to working with you all to make this a fellowship to be proud of, the Duke of Kent is pleased to be Honorary Chair of the Gilwell Fellows. The Duke of Kent looks forward to meeting our fellows in due course and has shared a personal statement for you.
"Gilwell Park has reached a remarkable milestone. For 100 years it has been the spiritual home of Scouting, inspiring countless thousands of adult volunteers and young people to go out into the world equipped with skills for life. Gilwell Park is a place of great beauty and character; a place where friendships are born and where memories are made.
"As President of The Scout Association I am delighted to also be taking on the role of Honorary Chair of the Gilwell Fellows. It is important that we preserve the spirit and legacy of Gilwell for future generations, and I am looking forward to seeing how plans for this will be decided during what will be a memorable 'Gilwell 100' centenary year. I would like to thank you for your generous support as we look back on our rich heritage and ahead to a promising future."
Join the Gilwell Fellow community
If you'd like to become a Gilwell Fellow or require any further information, please contact the Fundraising Team at Gilwell Park by emailing fundraising@scouts.org.uk.
Become a Gilwell Fellow
To become a Fellow and join our international group supporters, get in touch today at fundraising@scouts.org.uk.
Gift Aid it!
If you're a UK taxpayer, help Scouts claim an extra 25% from your donation by completing and returning this Gift Aid declaration form.
Gilwell Fellows leaflet
Fancy a bit of light reading? Take a look at our leaflet for more.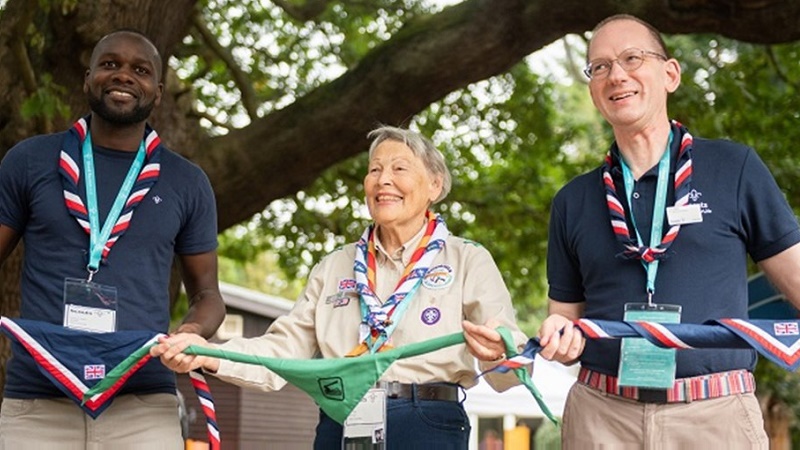 "For many like me, Gilwell Park is the spiritual home of Scouting. It embodies my late grandfather Lord Robert Baden-Powell's dream of a dedicated training centre for Scouts.
With your support and generosity we can continue to preserve our wonderful rich heritage for many years to come.
Thank you on behalf of Scouts Worldwide for your valued support of the Gilwell Fellows programme."
Gill Clay, Gilwell Fellow