Community Impact Group
A group of Scouts from across the UK who help to lead and set the strategic direction for Community Impact across the country.
To watch in full screen, double click the video
Emily Baker
Emily is an Explorer Scout from Luton. She's been a Scout since she was 6 and has never looked back. At the 2019 World Scout Jamboree in West Virginia, she loved being part of an international Scouts experience. Emily is also a Young Leader in multiple Groups across Luton, wanting to teach as many young Scouts as possible. She's also a member of the Young Spokesperson Group in her town and loves capturing everyday adventure. In her free time, you'll find her planning her next adventure.
Emma Woolley
Emma is from Hitchin and is currently a Network member. She was brought up in a Scouts family so has been involved in Scouts her whole life. She's gone through all the sections and been a Young Leader with Beavers. During Emma's time as a Young Leader and Network member, she's played an active role as a first aider in her District and County. After completing Rescue Emergency 2 (REC 2) and outdoor first aid qualifications through Scouts and College, she assisted in delivering evening and taster sessions of first aid to each section. Emma then went on to provide first aid cover at events and camps, and assisting in the running of the qualifications she did herself at both District and County level. Emma has also had an impact in her District as a Young Leader, helping to promote youth involvement in decisions and events run by the local support unit.
Liyan Hmidan
Liyan is a Beaver Scout Leader at 11th St Marylebone Scout Group, which she joined as an Explorer. Liyan has been involved with Scouts since she was born, as both her parents were involved leaders. She believes this helped her become an enthusiastic team player and natural leader. During her time as a Beaver Leader, she also volunteers with the Muslim Scout Fellowship at many of their events and is part of the Explorers team, where she's planned various camps and hikes for over 300 explorers. Liyan is now focused on trying to achieve her Wood Badge as soon as possible. She's studying Law at SOAS University and working hard to become a successful solicitor.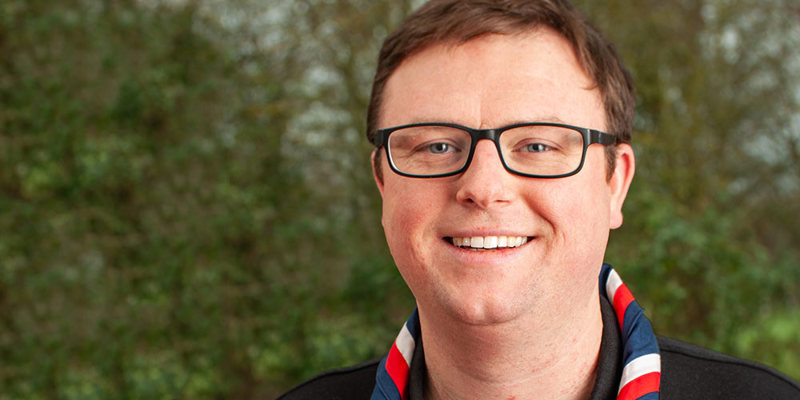 Rob Murray
Rob is the UK Advisor for Community Impact and as part of this role provides support and guidance to the Community Impact Group. He has been involved in Scouting as a youth member and has moved through the movement taking on a variety of roles including District Commissioner, Scout Leader and Unit Leader at the 24th World Scout Jamboree. In a professional capacity Rob is CEO of a Scottish Cancer Charity.
Rob is passionate about ensuring young people have the tools to ensure they can be positive agents for change within local communities. Rob believes that young people have a real ability to influence change and as a movement we can facilitate the positive change required to make our communities fairer, sustainable and more welcoming of difference.
Ellie Broome
Ellie is from Kent and is currently an Explorer. She joined Scouts when she was 10 and has encouraged many people to join Scouts, including her parents! As well as a member of the Community Impact Group, Ellie is a Young Leader in multiple Districts. When Ellie isn't at Scouts she enjoys climbing. She has a NICAS level 1 qualification, is studying Computer Science at school, and has ambitions to go into the Computer Science industry.
Samuel Murphy
Sam is currently a District Youth Commissioner (DYC) from Salisbury, and a member of a newly established Network group. Sam joined Scouts as an Explorer Scout, and quickly signed up to be a Young Leader, working across most sections with his local group. Since doing this, he's become passionate about youth-led Scouts. Since becoming a DYC at the age of 18, Sam's been involved with District events including St. George's Day and the annual District Pantomime. He enjoys being part of the District team and always offers support and ideas where needed. Sam's currently living in Portsmouth and studying Sociology at University. Since then, he's joined the Student Scout and Guide Organisation (SSAGO) and has continued his role as an Assistant Cub Leader. Other than being involved with District and UK Scout events, Sam enjoys travelling
Marc Sermanni
Marc was born and raised in a countryside town called Lochwinnoch, Scotland and he's been in Scouts since Beavers. Marc is now an Explorer in his local area, and with his Young Leader Training has assisted in the running of camps and section nights. Marc is now pushing himself to get his kayaking certifications in order to help run water sport activities for his District, working closely with his District Leaders to do so.
Charli Clement
Charli is a Cub Scout Leader with the 32nd Birmingham Scout Group and is also a member of Spektrum Network. She has been in Scouting since she was 10, becoming a Young Leader in 2016 and has achieved her Young Leader award. She enjoys running sessions on topics including disability awareness and UK Parliament Week. Charli is passionate about young people understanding the wider world they live in and how they can help to make it better. She also loves being a part of her District Gang Show.
Having moved to university to study History and Politics, she has recently become the Vice-President of Lancaster SSAGO and aspires to increase accessibility within the society. Charli is also a national #iwill Ambassador for her activism work around mental health, disability and LGBTQ+ rights and encouraging volunteering; she is a keen blogger and firmly believes that young people deserve to be listened to.
Luke Patterson
Luke is a Young Leader and Explorer Scout from Belfast, Northern Ireland. After joining the movement at 11, he progressed and developed into an individual with a keen enthusiasm for Community Impact. As a Young Leader with 81st Belfast, Luke's been involved first hand with the delivery of an A Million Hands project, mobilising Beavers to become Dementia Friends and supporting them as they created memory books and boxes. He's also been involved in a WaterAid project with 109th Belfast. As a Young Leader, Luke is passionate about making sure young members have a say in their programme by delivering YouShape activities. He's also part of the NI Young Leader Training Team. He attended the 24th World Scout Jamboree in 2019 as part of Unit 87. Outside Scouts, Luke is passionate about improving people's lives. He is the Member of Youth Parliament for South Belfast, working with local politicians and leading campaigns for young people's rights. He has campaigned in areas such as Mental Health Reform, LGBTQ+ rights and Women's Rights.
Yasmine Boumaraf
Yasmine is a Beaver Scout Leader at 11th St Marylebone Scout Group, which she joined at the age of 8 as a Cub Scout. Yasmine was the first female Explorer from her Scout Group to receive a Jack Petchey Award for being an enthusiastic team player and natural leader. During her time as a Beaver Leader, she also volunteers with the Muslim Scout Fellowship at many of their events. Yasmine is now pushing herself to complete all her training modules in the first year of her time as a leader in order to earn her Wood Badge.
Huw Howells
Huw started Scouts as a youth member and in 2014 joined the – then newly formed – Community Impact Group. Since becoming an adult leader Huw has held roles including Assistant Cub Scout Leader, Area Administrator and Deputy Commissioner for Wales - Programme (Community Impact) – his current primary role. In this role, Huw leads the development and support of the A Million Hands' partnerships, as well as the wider community impact activities of Groups around Wales. In his professional life, Huw is undertaking a PGCE to qualify as a secondary school Science teacher, following the completion of his Physics degree.