Blog | 15 February 2023
Aneeshwar's passion for protecting the natural world
Alanah Reid, Creative Content Producer
Meet Aneeshwar. He's a Beaver Scout and young conservationist. He's sharing his passion for the planet and encouraging other young people to help protect it.
Aneeshwar loves everything about the outdoors, from gardening to bird spotting.
You might recognise Aneeshwar from ITV's Britain's Got Talent 2022, COP27: Six Ways To Save The Planet on Sky Kids, or Teeny Tiny Creatures on Cbeebies. 
From litter picking in his community, to poetry and public speaking, Aneeshwar's sharing his motto, 'Please save the animals and make sure the world looks beautiful', with millions of people. He's busy doing all he can to encourage people to look after our planet.
At just seven years old, his passion for the natural world has won him many awards. Most recently, he became a Guinness World Record holder for being the youngest documentary presenter.
We caught up with him to find out more.
Hi, Aneeshwar. Can you tell us what you're up to?
I love the outdoors and spending time in nature, especially bird spotting. I was sad when my teacher showed us a picture of a whale that died from plastic pollution!
After seeing that picture, I wanted to help all the amazing creatures getting hurt because of what we're doing to the planet.
I'm on a mission to share the beauty of wildlife, no matter how small or big, strong, or weak they are. Every creature's doing their part and helping the planet in one way or another. I believe every animal has its own special superpower.
I think humans have superpowers, too. We are smart and need to do our bit to help! What if we're kind enough and respect nature the way it is, rather than destroying it?
With my art, poems, and documentaries, I want to make a difference by bringing more children into the area of conservation, as it is very important. It's lots of fun, too!
You recently got a Guinness World Record, well done! How did you get it?
I became the youngest documentary presenter in the world when I presented the COP27: Six Ways To Save The Planet documentary on Sky Kids. 
In the documentary, there were six young people from six continents who set out to explore and find ways to fix the huge problems facing our planet. I was so happy to win.
How did your family, friends and fellow Beavers feel when they found out about your record?
All my friends, Beavers and family were so kind and I got lots of nice messages from all over the world. My family are really supportive, and they're pleased to see so many other people supporting me too.
Can you tell us about more about your documentary?
The documentary is cool. It shows how we can save our planet in simple and different ways.
I thought being in this documentary would be good to show the world how the small changes we make can reduce carbon emissions. This means we can then control global warming better, and protect wildlife and humans from the effects of climate change. I'm hoping it'll inspire lots of other children to learn about the planet as well.
The best part was visiting sewage treatment works, a solar farm and greenhouse, and finding out how green energy can help in our day to day lives. An important part is about how we can grow our food locally, rather than transporting food from thousands of miles away, which isn't good for the environment.
What do you enjoy most about Beavers?
My first day at Beavers was brilliant. I made new friends and found out why they love Scouts. I love learning at Beavers every week with all my friends. It's important for me because I can have fun learning and get badges at the same time.
I think Scouts is about being a good, helpful and kind person. I've learned all these things from Scouts. Beavers taught me to be confident and calm, which really helps me when I speak in front of lots of people.
Some of my favourite memories are getting invested, and getting my first ever reading badge. I read all six books in one week and got my Book Reader badge.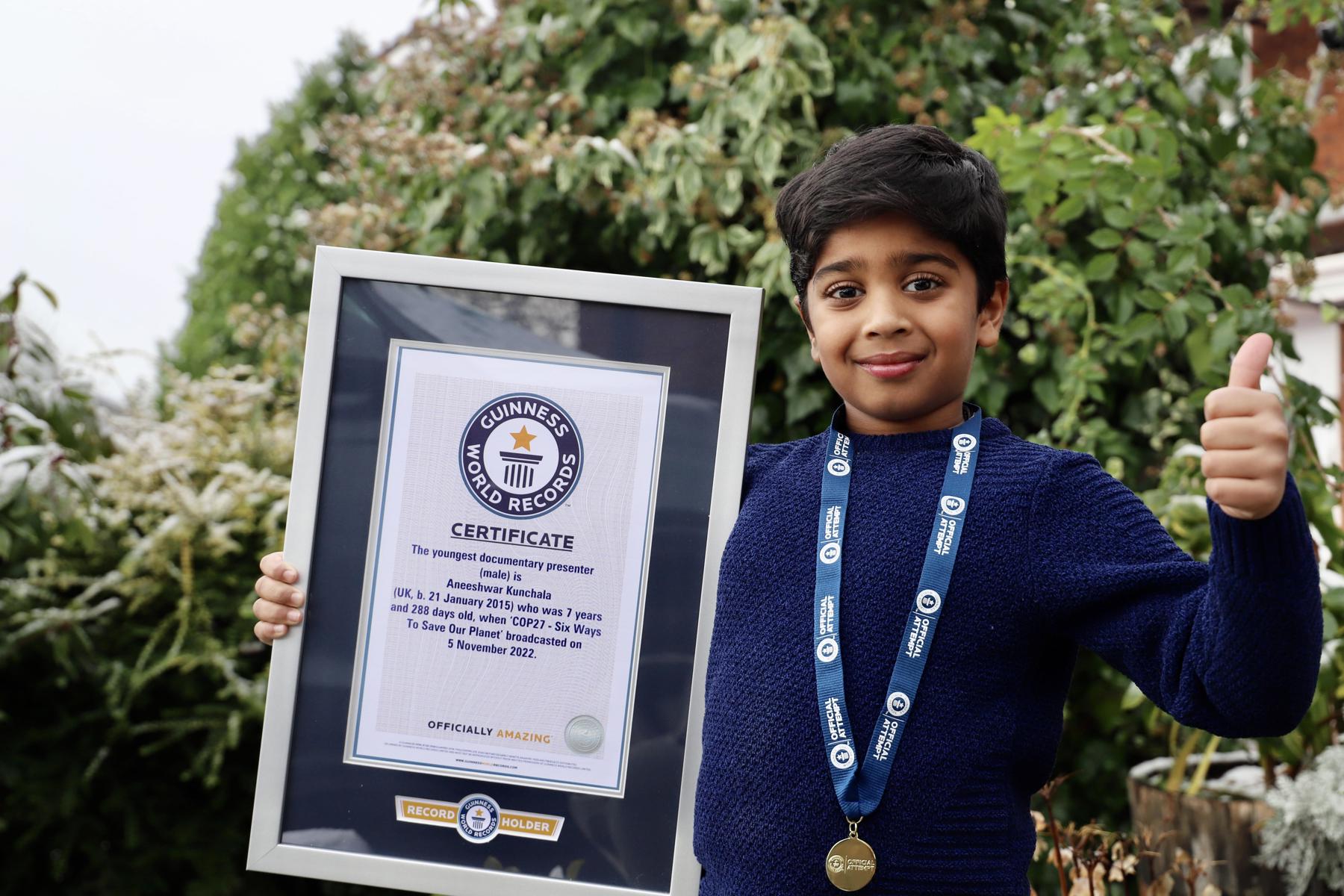 What have you enjoyed learning about at Beavers?
I've enjoyed learning lots of things, such as different types of knots, making crafts, making a sling with my necker, and what to do when the fire alarm goes off. I've also visited interesting places, like the police museum.
I love my one-year badge and can't wait for my next badges. It was fun getting my Space badge, too.
I also get the chance to teach others at Beavers, as well as learn, when I shared a message about helping the environment at Kent Jamboree in 2022.
What would you like to do next?
One day I'd love to present a wildlife documentary in the Amazon rainforest showing my favourite animals, Jaguars, and Caimans. 
Being in a documentary with my heroes, Sir David Attenborough, and Steve Backshall, would be amazing. I'd love to show our beautiful planet with them.
I'm soon moving up to Cubs and I'd love to meet Bear Grylls, too. When I'm even older, I want to be a Palaeontologist and work at the Natural History Museum.
Well done, Aneeshwar! We're so impressed by all your inspirational, environmental messages and your well-deserved awards. Your passion for the planet really shines through. We can't wait to hear what you get up to next.