UK Space Agency
UK Space Agency support our Scouts Astronautics Activity Badge.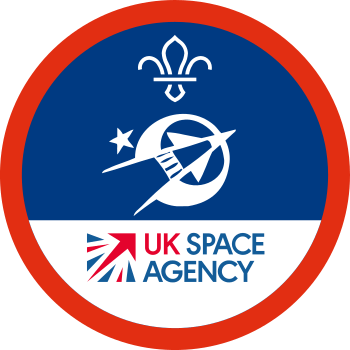 International Observe the Moon Night - 16th October
The Royal Astronomical Society (RAS) and UK Space Agency (UKSA) invites everyone to join our celebration of NASA's International Observe the Moon Night, where they join a global community of lunar observers with a live event for the whole family!
RAS will host a live stream remote telescope observation of the Moon from Cyprus, with guest lunar scientists from the University of Manchester and the European Space Agency (ESA). You can view and learn about the Moon, learn from the RAS Deputy Executive Director how to observe it from your own home, hear from a space artist on how to sketch craters and features and then share them, and hear about fascinating lunar science and exploration missions coming in the future.
To take part you can sign up here: International Observe the Moon Night
Space videos
---

About UK Space Agency
The space sector is predicted to grow rapidly over the next decade as satellite technology, space exploration and other practical benefits of space are realised and developed. This growth will create a whole range of interesting careers for young people. The practical and problem-solving skills developed through scouting, along with the enthusiasm for science shown by scout leaders, could be instrumental in encouraging this future generation of space scientists and engineers.
The government created the UK Space Agency in 2010. One of the agency's aims is to inspire our next generation of UK scientists and engineers by motivating young people to study STEM and space. Find out more about the UK Space Agency here.