UK Space Agency
UK Space Agency support our Scouts Astronautics Activity Badge.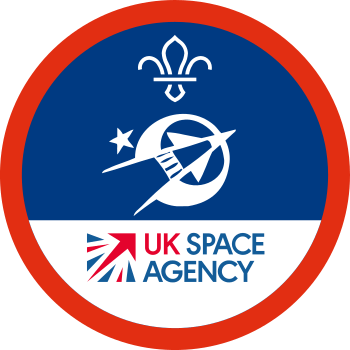 Spacescapes: Postcards from our Solar System
From the 20th August 2021 to the 8th October 2021 the UK Space Agency have partnered with the Royal Geological Society to exhibit Spacescapes: Postcards from our Solar System. Take a journey through our solar system where you can explore the ways in which understanding the Earth can help us uncover the history of planetary bodies across our solar system and beyond. The exhibit is open now to the public and would be a great day out for Scouts interested in Space! Find out more here: Spacescapes: Postcards from our Solar System. 
Space videos
---

About UK Space Agency
The space sector is predicted to grow rapidly over the next decade as satellite technology, space exploration and other practical benefits of space are realised and developed. This growth will create a whole range of interesting careers for young people. The practical and problem-solving skills developed through scouting, along with the enthusiasm for science shown by scout leaders, could be instrumental in encouraging this future generation of space scientists and engineers.
The government created the UK Space Agency in 2010. One of the agency's aims is to inspire our next generation of UK scientists and engineers by motivating young people to study STEM and space. Find out more about the UK Space Agency here.