Blog | 20 October 2020
Get ready for our #RaceRoundTheWorld
Deputy UK Chief Commissioner Kester Sharpe introduces our biggest ever fundraiser to help the 500+ Scout Groups hit hardest by the pandemic.
What a year. We've had more ups and downs than an Alton Towers' rollercoaster (and no, I'm not a big fan – they make me feel quite queasy these days).
We've had to adapt and change the way we do things, constantly trying new approaches.
But through it all, I've been so proud of the way we've shown our values – proving how much we care and how well we can work together, even when we're apart. As Scouts, when we see a challenge, we tackle it head on. That's what we did when the pandemic first struck and we're still doing it now.
I watched in awe as the total rose for #HikeToTheMoon and we helped communities who needed it most. I was wowed by the sheer number of you who camped at home; who took part in our #TGIWeekender and first ever online Reunion. You don't need to tell me how incredible our movement is or how it rises to a challenge. We proved it to the whole world.
Now we're asking for one more massive effort, for something really close to home.
Why groups need our help
COVID-19 has had a devastating impact on communities, and Scout groups haven't escaped this. I've seen first-hand how upset and unsettled young people have been missing out on face-to-face meetings.
I know, from experiences within my own group as an Assistant Group Scout Leader, how tough it's been keeping our groups going when money's tight and we're short on volunteers. Over 500 of our Scout Groups, made vulnerable by the pandemic, are now facing closure. Many of these were already struggling before the virus struck; the pandemic has made things much worse.
They're struggling to pay their rent. Some parents who might be out of work or have been furloughed can't afford the subs. We're not talking huge sums of money – but if groups are running on a shoestring, a few pounds can make the difference between staying open and closing.
If these groups close, that's not just a tragedy for the community, it's a tragedy for the young people who'd miss out on the friendship, experiences and skills they need for the future. If these groups close, then a door closes on these young people – impacting their mental wellbeing as well as their prospects in an uncertain world.
But together, we can stop this.
Announcing our #RaceRoundTheWorld
On 29 October, we're launching #RaceRoundTheWorld. It's an epic challenge for our whole movement to rally round and raise funds to support groups who need it most.
And the best thing about it, is that it's easy. Here's how it works:
Travel a mile or more, wherever you are and however you like
Get sponsored for it
Log your miles (and help your team get all the way round the world!)
Tag us on social media to show us how you're doing (and help spread the word far and wide!)
We've got four teams, each led by two of our brilliant ambassadors.
Beavers – led by Ellie Simmonds and Tim Peake
Cubs – led by Helen Glover and Steve Backshall
Scouts – led by Ed Stafford and Saray Khumalo (our brilliant new ambassador)
Explorers and Network + - led by Dwayne Fields and Megan Hine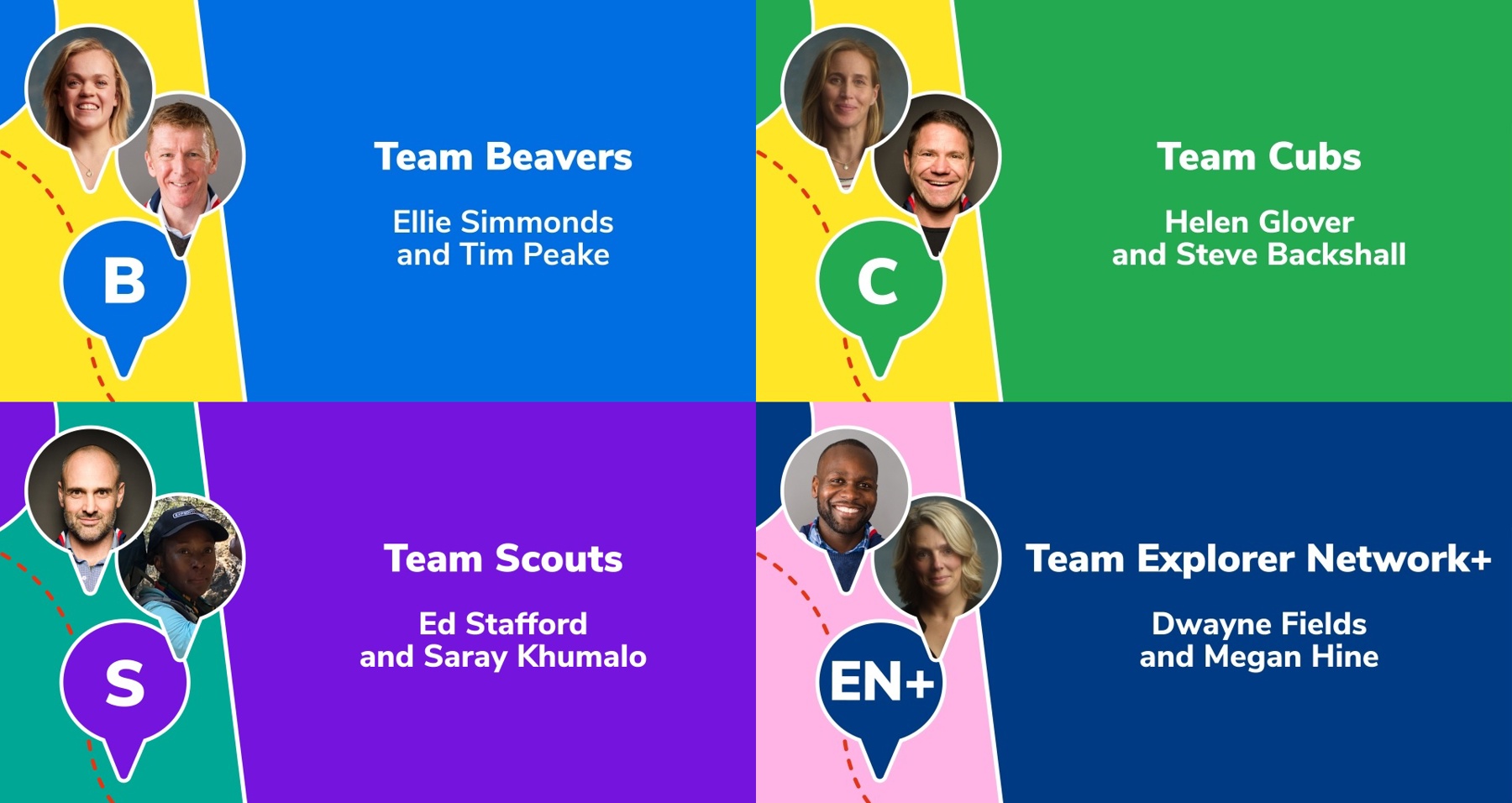 We'd like all young people to have the chance to get involved, and volunteers and parents can join in too, of course. If you're a Beaver Scout Leader, or the parent of a Beaver Scout, then your miles will be added to Team Beavers. All volunteers not in a section role will be racing to support the Explorers and Network + team.  
On 29 October, Chief Scout Bear Grylls will officially start the race and we'll share the links where you can sign up – either as a section within your Group or as an individual. This is something that can be done either at home or during a meeting.  
Brilliant programme support 
This has also been a year when so many of us have been unable to travel and see the world. Jamborees have been cancelled, as have expeditions. That's why we wanted to give our race a global theme. And to help bring this to life, we've put together some brilliant new international activities that will help young people learn about new countries and cultures, and gain their badges and awards. These activities include ideas that can be done at socially distanced meetings or delivered as part of an online meeting.  
When the race begins, you'll be able to see your route round the world on a digital map on the #RaceRoundTheWorld homepage. Then, as the miles mount up, you'll be able to track your team's progress on a digital map and see which countries you've got to. The programme ideas will relate to the countries you're passing through.  
Shiny new badges! 
Oh, yes, there will be new badges, too (I love a badge as much as the next Scout!). 
 It's my absolute pleasure to reveal – for the first time ever – our official #RaceRoundTheWorld badge, as well as our team badges.   
Any young person or adult who takes part can earn of these. Every penny from the badges sales will be added to the grand total and used to support groups who need our help most. We'll soon be sharing information about how the funds will be distributed on our #RaceRoundTheWorld pages.
At the end of the race, there'll be team and individual awards too – for the most miles travelled, best team spirit and biggest fundraisers and so on. See our pages for more details.
But regardless of which team gets round the world first, the real winners will be the groups that can stay open and the young people who'll be able to keep on enjoying all that Scouts has to offer.
So, please join me on the starting line!
What I'd like to you to do next…
Look out for the email on 29 October when the race begins
Sign up as an individual or as a section
Tell your young people about the race and encourage them to sign up, too
Travel your mile or more
Plan in a session between now and 12 December to do one of the #RaceRoundTheWorld programme activities
Thank you to each and every one of you – you really are incredible. And yes, let's say it again…
What a year.
Further reading
Coming Soon
Related links
Coming Soon