Blog | 21 October 2020
Advice from a Scout leader about getting back together safely
Sean Stacey's a Scout Section Leader and full-time primary school teacher in Wales. Having spent lockdown in front of their devices so they could carry on Scouts through Zoom, 1st Pentwyn Scouts started the new term face-to-face. We caught up with Sean to find out what it's been like since then.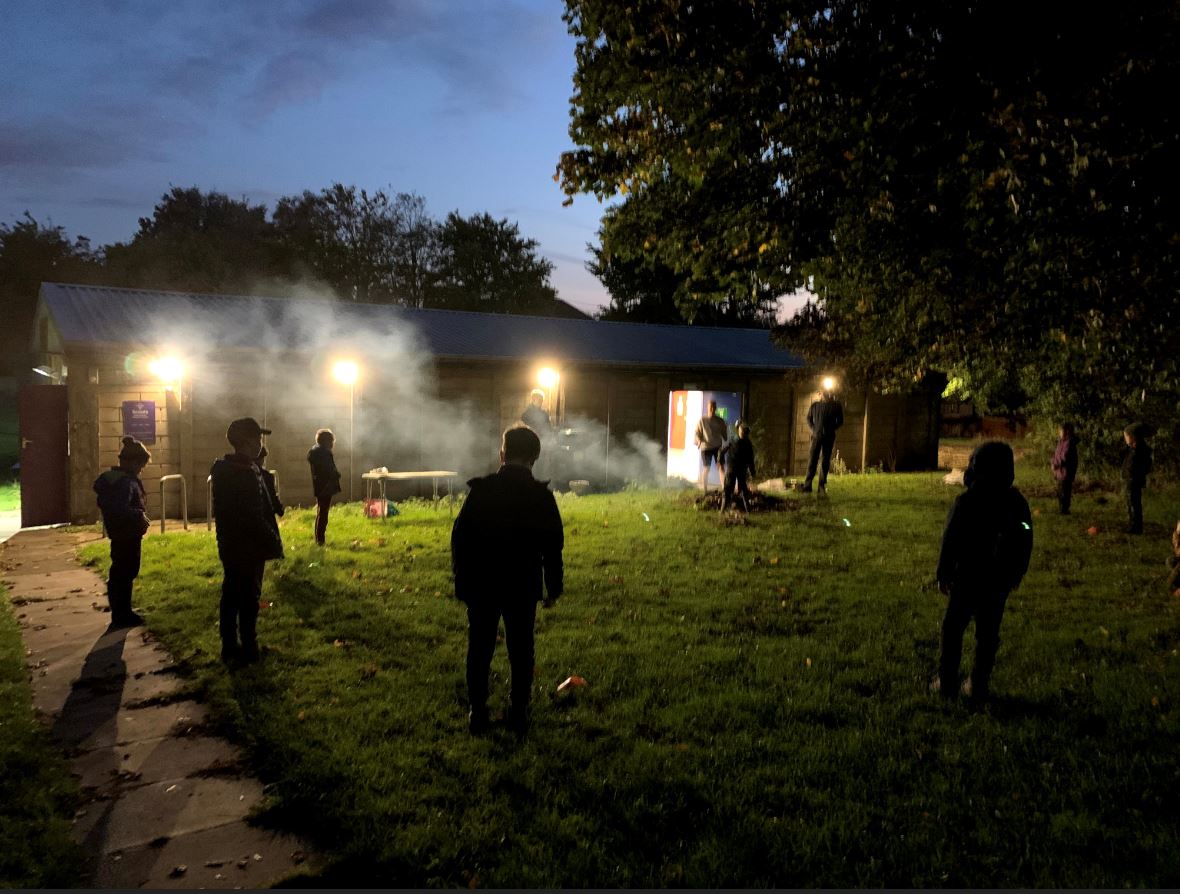 How did you get prepared to start again given the guidelines in your area?
Fortunately, we have our own meeting place so we've got outside space that we can use. We were lucky enough to get a communities grant, so we spent that money on lighting and shelters outside.
Getting ready was slightly stressful, but it's worth it once you've got the kids back together and you can see that they're really enjoying it – it reminds you of why you've spent so long getting ready for it.
Have all the young people come back?
Some young people didn't engage with our Zooms at all, but interestingly, since we've started again, they've all come back. Our Beaver Colony has even had new members who aren't siblings or anything – when they heard we were back and doing things outside again they got some new members, which was fab!
What activities have you been doing with your troop?
We've seen it as an opportunity to really hone their typical Scouts skills. We've focused a lot on fire lighting and the skills of using the equipment to do that, as well as thinking what we can do with a fire. We've done a lot of backwoods cooking and building camp structures – our thinking is to treat it as a night at camp. We're also thinking of doing some other things like an outdoor cinema. We're being as creative as we can, making sure we use this time wisely to develop their skills so that when we can go camping again they'll all be in a good position to pick it up.
Where did you get the ideas for the activities from?
We're lucky to have quite a breadth of experience within our leadership team. I started as a Cub and stayed with the group all the way through to being a young leader and then a section leader when I was 18, and I've got some older volunteers with me which is great. When the resources came out from Scouts UKHQ, we did have a look through those and think about what the young people would enjoy. We also did one online forum, where we asked the people what they wanted to do. That was really interesting because it showed me their maturity – they understood that we need to socially distance so that impressed me.
How have you adapted the activities to work within the guidelines?
We had to be quite frank with people that we didn't want to put them in hula hoops, for example, because they were mature enough to maintain the distance. Level with your young people and they get it.
Did it feel different to a usual Scout meeting?
It has, to be honest, as the structure has changed. We usually start with a game and just pick one off the top of our head, but now we're thorough in our planning as there's no wiggle room to go wrong.
We've had to change the timings of our meetings to another evening and Saturday morning, as it was going to be too dark if we did it after Beavers and Cubs like normal. We asked our young people what they preferred – although some said they could come one day and not the other, they're now coming to both because they love it so much.
Do you have any top tips about the risk assessment process?
Don't overcomplicate it – keep to the basics of what you need to do to keep everyone safe.
What do you think you'll do when the weather gets really bad?
Once our local lockdown restrictions have been lifted, we're still going to aim to be outside as much as possible – when we're inside we'll still have to wear masks and our building isn't that big, so it'd be quite hard for everyone to distance. We'll do a rotation if needs be, but everyone's pretty prepared for being outside most of the time. If the weather was horrific, we've got a load of back up Zooms that we can do.
What advice would you give other leaders about getting back together?
Just because you're a section leader, it doesn't mean that you have to bear the brunt of taking on all the paperwork – you could delegate it out to someone who's better at it. If you're worried about how the kids will react to the new restrictions? I'd say that they've dealt with it very well and they understand the rules are there to keep each other safe.
Keep a youth focus and see what the young people want to be doing. If an activity works well, don't be afraid to roll it out again; we've done backwoods cooking twice as they loved it and came up with loads of other ideas. Finally, be flexible – have a bank of ideas so that you can pick and choose depending on the weather.
Further reading
Coming Soon
Related links
Coming Soon