Blog | 21 October 2020
A leader's experience of restarting Cubs safely
Sam Shackleton's an Assistant Cub Section Leader at 19th Durham (Neville's Cross) Scouts. He's helped out with Cubs in his hometown of Wolverhampton during lockdown, delivering meetings through Zoom. Now he's back in Durham for his final year of university, he's been helping to lead his Cub Pack face-to-face for the last three weeks. We spoke to Sam to find out what it's been like and how his Pack have dealt with the challenges the world's thrown their way.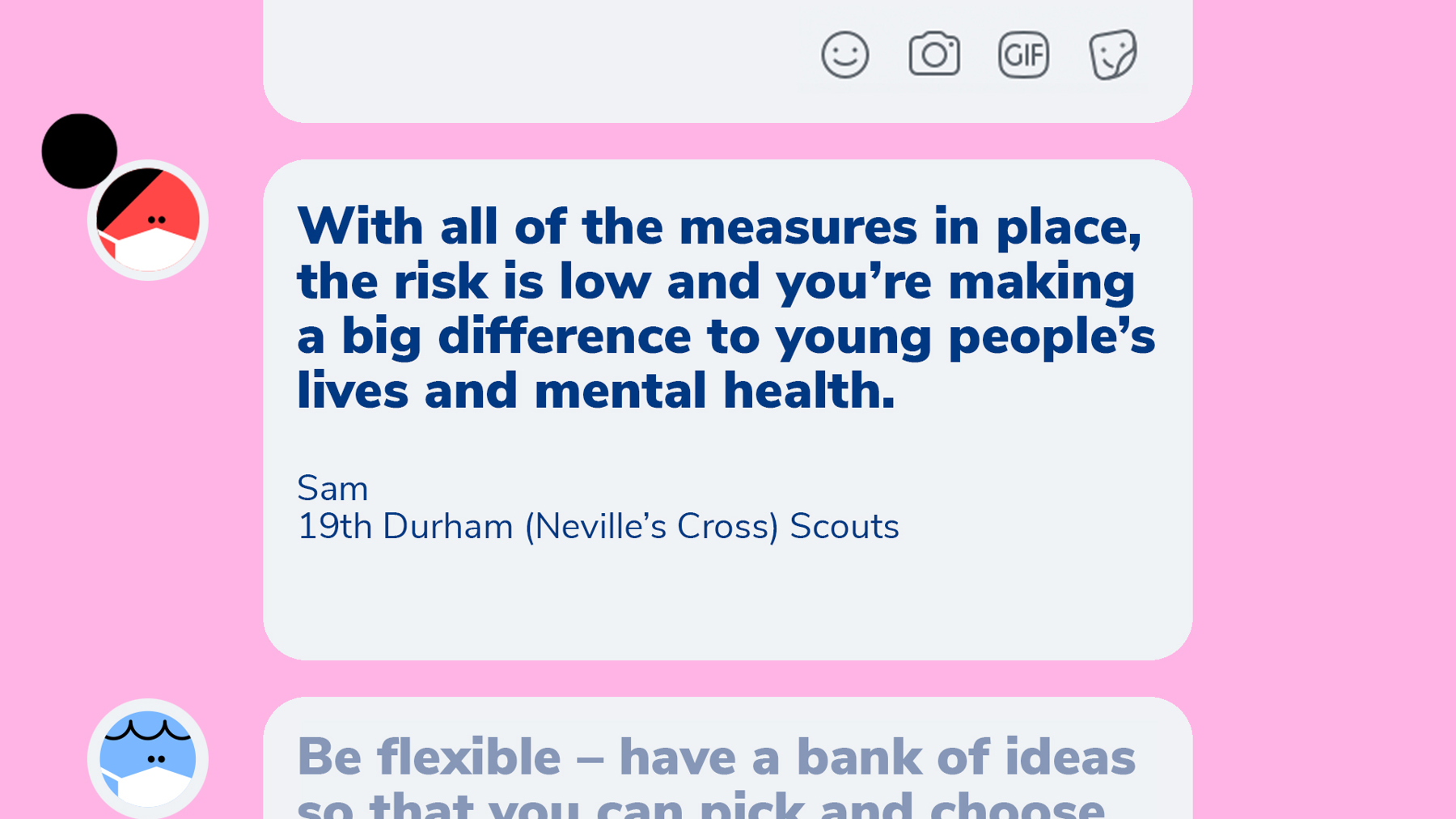 When we chatted to Sam, his area was at readiness level amber meaning that sessions could take place indoors and outdoors with up to 15 young people and 5 leaders per group. Check out the information on getting back together safely to find out what you need to do to restart face-to-face Scouts where you are.
How have you set up your meetings?
We've got a Scout hall, but we've been using the fields next to it since we've been back. We've got 26 young people, so every week we split them and the leaders into two groups and run them at the same time (staying at least 25m apart). It's all been outdoors so far, so we've brought our meeting time half an hour earlier and fitted new lights on the outside of the hall because of the darker evenings. Everything has been planned to account for the two metre distancing; we've done the risk assessments, we're outside, and we've got hand sanitiser – so I felt pretty comfortable starting again.
Has it been hard to keep the young people distanced?
No not really, they've taken it on board really well. When we've done static activities we've given them a cone to stay by so they've got a fixed point of reference. We haven't done so many dynamic activities, but when we have we've just reminded them to keep apart. There's obviously a bit of tendency for those who go to school together to want to get a bit too close so we need to reinforce it a bit more in those cases. This can also be the case with siblings but we're keeping them distanced too so it's the same with everyone.
What activities have you been doing?
We did a lot of getting to know you games in the first week as we had some new members, as well as collecting wood for the next two weeks In the second week one group did fire safety, fire lighting and marshmallow toasting, while the other did some communications activities like passing on messages, string phones and Morse code with torches when it got dark. The groups then swapped over to do the other activity in the third week.
Where did you get your ideas for the activities from?
We took some of the game ideas from the COVID-19 safe resources on the Scouts website. We also adapted games and activities we'd normally do, considering what would work outside and in the dark – so that's where things like fire lighting and Morse code came into play. 1st Virtual Scout Group on Facebook is also really useful for online meeting ideas.
Did you have to adapt the activities much?
A little bit. We've given them their cone and we have to speak a bit louder with them being spread apart. You want to get them moving as it gets colder, so next week the groups are split between a hike and caramba dancing.
Does it feel different to a usual Cub meeting?
No not really, only aside from the fact that you're split up a bit so I'm only working with certain leaders – you're almost operating as two separate Packs. We're still doing normal activities, just bearing in mind all of the measures in place.
How have the young people found it?
The young people are really happy to be back. We're doing the things they enjoy the most anyway – all the outdoorsy stuff. People stuck with it throughout lockdown doing online meetings and it was perfectly suited to the situation – it was the only time they were seeing friends. But now they're coming back and they're enjoying it – everyone's kept coming back week on week since we've been back.
What will you do when it's cold and wet?
Our meeting place could only fit half of the Pack socially distanced. What we'll probably start to do is have one of the groups inside one week and the other outside then swap over the following week. A little bit of a drizzle is fine, but if it's really bad weather we'll call if off by lunchtime and switch to a Zoom meeting – we're ready for the blended approach.
What does your term ahead look like?
We've planned just a couple weeks ahead and haven't done anything past half term as we don't know where we're going to be. However, we've got a bank of activities that we can roll out either by Zoom or in person.
What was the risk assessment process like for you?
We used the templates from the website, and found two examples on the Scouts UK – Leaders Facebook group that other people had uploaded so we picked and chose what worked for us, and adapted them for our situation. If you've got any questions, it's best to speak to your District team or other groups that have already started, so that you can pick up any bits you didn't think about originally. There's another Facebook group that's useful too – Scouting Risk Assessments.
What advice would you give to other leaders?
Going back face-to-face has got to suit everyone's circumstances. First and foremost, all of the adults have to be comfortable with it. I would say though with all of the measures in place, the risk is low and you're making a big difference (hopefully) to the young people lives and mental health. I've found it to be very normal and very enjoyable. You might have a bit of extra work with the risk assessments and programme planning, but it's worth it to get back to face-to-face.