Blog | 19 May 2020
How we hiked to the Moon, helping people along the way
By UK Chief Commissioner, Tim Kidd
When we came up with Hike to the Moon, our fundraising campaign to support those in need during this current crisis, it seemed like a wild and outlandish idea. After all, no one's been back there since the last Scouts (Gene Cernan and Harrison Schmitt) left in 1972.
But then we thought again. Our movement can do extraordinary things when we work together. Think about our international camps and centenary celebrations. Think of the funds we raised after the Indian Ocean tsunami in 2005. These have been such galvanising moments for us.
Our promise to help other people
When the COVID-19 crisis hit, we knew we had to do something to support the communities and people most affected. After all, as Scouts, we make a promise to help other people.
That's why, when BBC Children in Need and Comic Relief came to us and asked if we could help, we jumped at the chance. The fact that the focus of the fundraising effort was The Big Night In on 23 April (the day many of us traditionally renew our Promise) only confirmed that instinct. The timing was perfect.
We flew into action. A team of staff and volunteers got together and looked at what needed to be done. A web page needed to be built, a badge designed, JustGiving links set up and communications prepared – all in just four days. With a little help from MS Teams and fuelled by Deputy UK Chief Commissioner Graeme Hamilton's seemingly limitless energy and enthusiasm, we were finally ready for launch.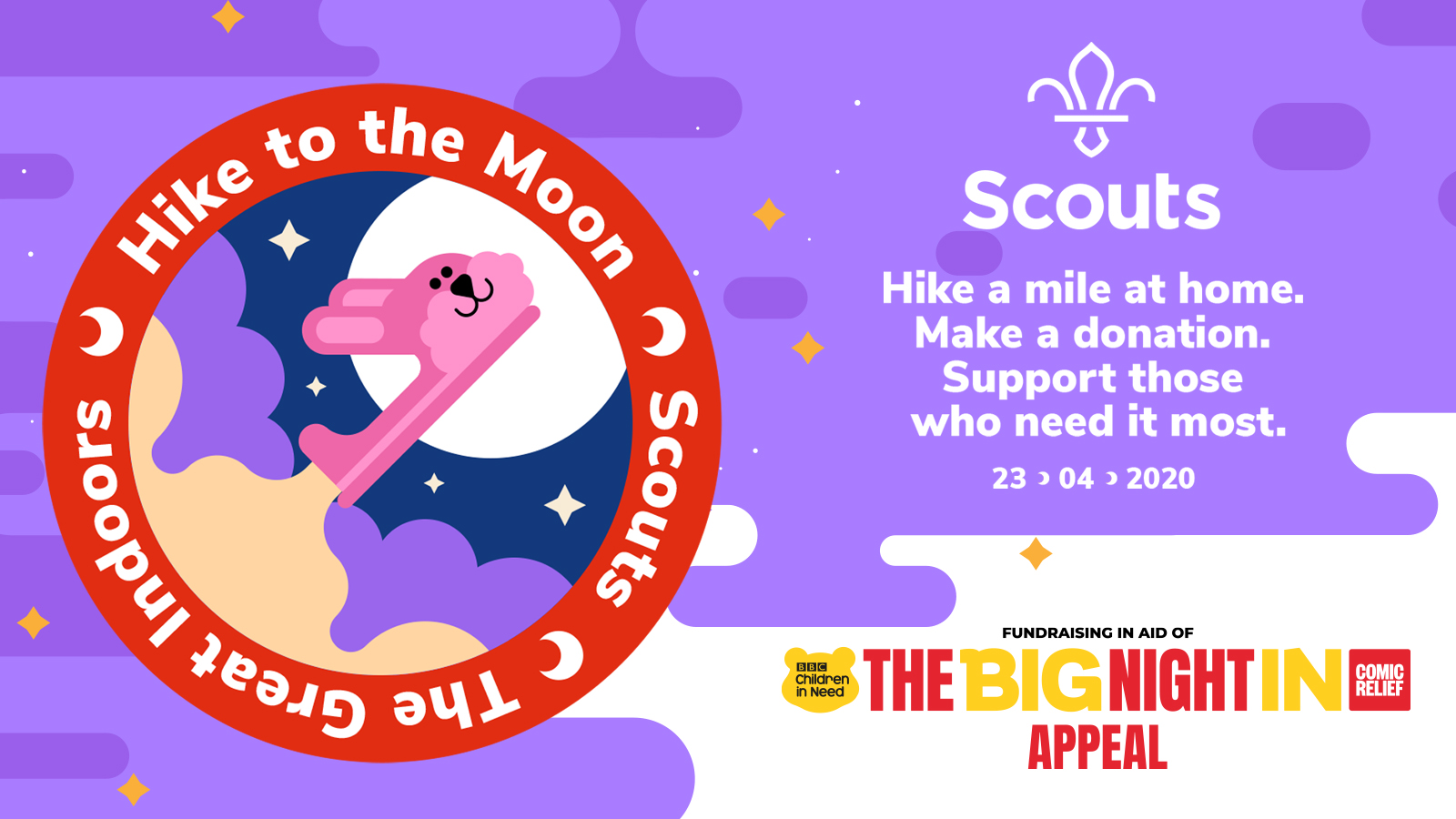 The countdown begins
We announced Hike to the Moon on the evening of Friday 17 April, then held our breath. Had we misjudged the mood? Was our target of 240,000 miles (the distance to the Moon) and £240,000 just too ambitious? Eleven of the twelve people to have walked on the Moon were Scouts. But would this total increase? There was some nervous refreshing of the JustGiving page as the total crept up very slowly that night and the following day.
Then something extraordinary happened. Moon fever swept the movement. Beavers wrapped in tin foil and wearing steel colanders on their heads were seen doing laps of their garden. Whole families were hiking the length and breadth of their houses. One fantastic Scout from Sheffield, Alex, completed his mile despite having difficulties walking, due to cerebral palsy. We had people doing Mission Control activities too – taking part in complementary activities if hiking wasn't their thing. We were going to the Moon together, and we were leaving no one behind.
A welcome boost
Before long, our total had reached five figures. Then, if you pardon the pun, the campaign took 'one giant leap' forward. Chief Scout, Bear Grylls, and Scout Ambassador and ESA Astronaut, Tim Peake, appeared together on BBC Breakfast to announce that they were also taking part in the project – Bear by hiking lengths of his garage, and Tim by climbing his stairs two hundred odd times (because he felt it was important 'to gain some altitude' – and well, he should know).
From there, we never looked back. The £100,000 mark was celebrated with some fanfare, but there was still quite a way to go. Would it all fizzle out? The short answer was no. Scouts were setting themselves up as fundraising teams. Whole Groups were clubbing together to rack up huge numbers of miles. Young people, volunteers, parents and carers were hiking forwards, backwards and sideways – dressed as astronauts, aliens and even planets. It was genuinely inspiring.
Amazing numbers
Just as mindboggling were the numbers we achieved. By 19 May, we'd hit £344,000 with another £32,000 raised through badge sales. The government has pledged to match the funds, meaning we'll contribute over £750,000 in total. We've hiked not just the 240,000 miles to the Moon, but the 440,000 miles to the Moon and back.
The hashtag #HikeToTheMoon has been seen 32.8 million times on social media. With our own posts, we reached over 973,700 people across Facebook, Twitter and Instagram, and the Hike to the Moon landing page was visited 157,000 times.
But most importantly, we helped people. Beaver Scout, James Thorp (aged six), says it best: 'Hike to the Moon was so much fun. My brother Oscar and I made our way round the garden in as many ways as we could. Rolling was our favourite. We put our spacesuits on and went for it. We raised £50 and it was great that everyone supported us, so we could help everyone else.' Well done, James and Oscar, and every single one of you who helped us get to the Moon.
A giant thank you
Time and again during this crisis, I'm bowled over by members' and staff's enthusiasm, dedication and generosity. I'm in agreement with Kester, our tireless Deputy UK Chief Commissioner, when she says: 'I've never been so proud to be a Scout.'
Thank you. You're all amazing.
You can still donate and record your miles here, until 23 May.
Further reading
Coming Soon
Related links
Coming Soon