Which was the first Scout troop?
It's impossible to say with certainty which was the first Scout Troop to be formed.
Robert Baden-Powell, who started Scouts, had not initially planned to start a separate Scout Movement. It took a while for the infrastructure of the organisation to be formed, but in the meantime Scouts was taking off all over the country.
For the first 11 years of Scouts, local associations were registered at HQ and troops were registered locally. This was the same for Cub Packs from 1914 onwards. It wasn't until 1919 that troops and packs were registered at Headquarters. This means that evidence of early troops and packs can be difficult to find and verify.
Returning in 1901 from the war in South Africa, Robert Baden-Powell found that his book, 'Aids to Scouting', was being used by youth organisations all over the UK. 
The book had originally been written for soldiers. Urged on by Sir William Smith, Founder of the Boys' Brigade, Baden-Powell decided to rewrite it with an intended readership of young boys.
Before doing so, however, he wanted to try out some of his ideas. It was with this in mind that he brought together 20 boys at a camp on Brownsea Island in Poole Harbour, Dorset, during the first week of August, 1907.
Having tried out his ideas, Baden-Powell set about writing his handbook.
He had selected Pearson's as the publisher having been impressed with the charity work Arthur Pearson, who ran the company, was already involved in. 
Pearson's saw the great potential in the Scouts and, prior to publication, Baden-Powell travelled the country raising awareness and anticipation in advance of the launch. For this reason, some Scout Patrols were started before the handbook was even published.
The first issue of 'Scouting for Boys' went on sale in January 1908. It was published in fortnightly parts for fourpence a copy, sometimes known as a groat or fourpenny bit. Its sales were terrific.
Soon Scout Patrols, as suggested in 'Scouting for Boys', were emerging all over the country.
On the 24 January 1908, Baden-Powell publicly announced the launch of a specific Scout Movement. This occurred during a publicity visit to the Birkenhead branch of the YMCA. 
In April of the same year, a special office had to be set up to deal with the large number of enquiries coming in concerning Scouts.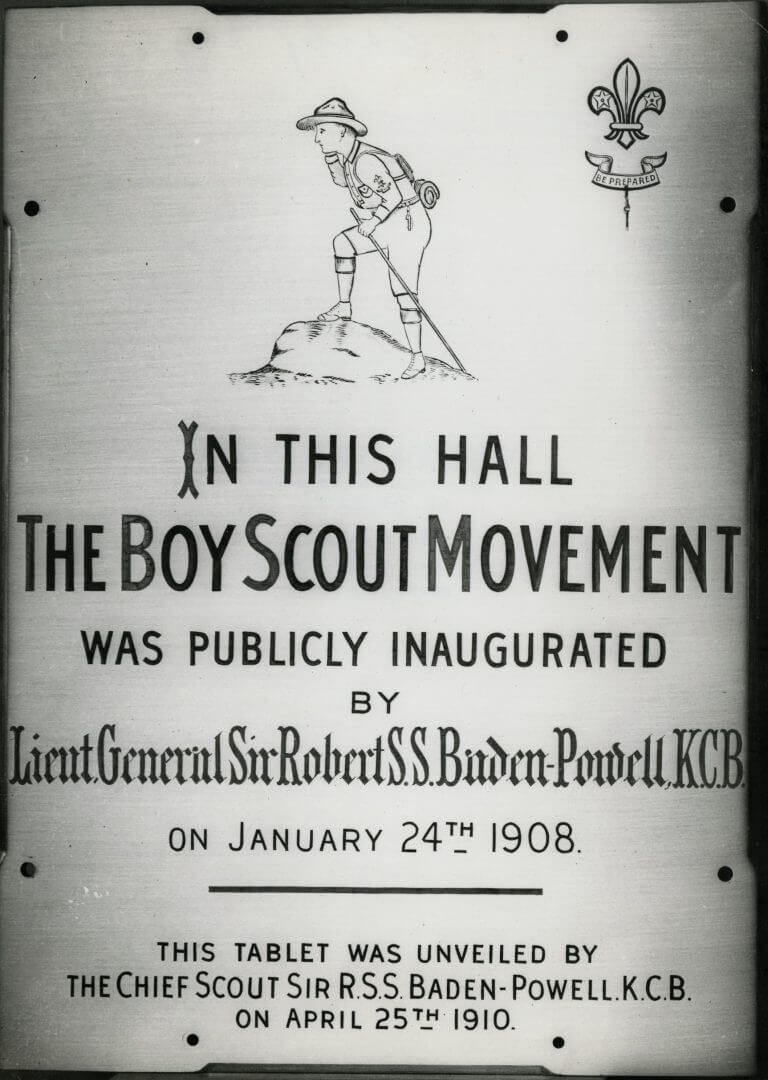 The following extracts from 'Twenty-one years of Scouting' by Mrs E.K. Wade, who was for many years Secretary to the Chief Scout, records the first Troop that Robert Baden-Powell visited.
It references to other early Troops. Another 'first Scout Troop' to compete for the title was the 1st Glasgow Scouts, which has in its possession a registration certificate dated January 26, 1908. It was founded by Mr Robert Young.
In another entry in his diary, the Chief mentions that, on February 4 1908, he arranged for the starting of three Scout Troops in Nottingham. They were created under Mr Hemmingway of the YMCA. Therefore, the Nottingham Scouts are close to the Sunderland and Glasgow groups in the matter of 'firstness'.
The Hampstead Troop, known as 'The Firsts', was another Troop very early in the field. With their Scout volunteer, Captain Colbron Pearce, they took part in the first inter-Troop competition to be held, alongside the 1st SW London Troo,. This took place on Wimbledon Common in May 1908 and involved competitions in cooking, tent-pitching, fire-lighting and tree-felling.
These factors all prove how difficult it is to say exactly which was the first Troop to be formed.
The spectacular growth of Scouts, from a handful of boys at that first camp on Brownsea Island in 1907 to a world membership of around 50 million Scouts, is a phenomenon unequalled in world history. The Movement has grown so fast that hours could have separated the formation of first Troops and records may not have kept pace with these developments.
A list of troops who are thought to have started in 1908
1908 foundation - Current status (2019)
1st Birkenhead (YMCA) - Registration cancelled, April 1983
8th Stockport - Cancelled 2009 
8th Southport - Registration cancelled, date unknown
1st Henley-on-Thames - Active, Thames Chiltern district
1st Newport (The Old Guard) - Active, Saffron Wealden district
1st Parkstone (Lady B.-P.'s Own) - Active, Poole district
1st Reading (YMCA) - Active, Reading central district
1st Nottingham (YMCA) - Cancelled 2007
6th Eccles (1st Worsley) - Active, Ellesmere, Greater Manchester West
1st Hunts (Hartford) - Active, Hinchingbrooke, Cambs
1st Wolverton - Active, Milton Keynes
1st Cheadle Hulme - Active, Cheadle,  Manchester East
1st SW Leeds (St. Luke's) - Registration cancelled, date unknown 
3rd Epping Forest South (originally registered as 1st Woodford) - Registration cancelled 2011
11th North London (1st Stoke Newington) - Registration cancelled, date unknown 
151st North London (1st Bounds Green) - Registration cancelled, date unknown 
3rd Sunderland (Vaux's Own) - Registration cancelled, 2009
1st SW Herts (Countess of Clarendon's Own, Watford) - Active, now 1st Watford South (Countless of Clarendon's Road), Watford South
3rd Portobello (St. James' Church) - Active, now 3rd Edinburgh North East (St James') - South East Scotland 
1st Don & Dearne (Goldthorpe) - 6th Barnsely (Goldthorpe) registration cancelled 2005
1st Bishops Latimer (107th Birmingham Central) - Registration cancelled, date unknown
13th Lanarkshire (1st Larkhall) - Registration cancelled, date unknown
1st Arundel (Earl of Arundel's Own) - Active, Arundel Littlehampton district
2nd Kensington - Registration cancelled, date unknown
2nd SW Leeds (Wortley Parish Church) - Registration cancelled, date unknown
3rd Grimsby - Registration cancelled, 2005
2nd Bristol (1st Ashton) - Registration cancelled, date unknown
1st North Devon (Barnstaple) - Active, North Devon district
1st New Cross (The Greys) - Active, Lewisham district
1st Colchester - Active, Colchester Estuary district
1st Jarrow (St. Pauls) - Registration cancelled, date unknown
1st Romsey - Active, Romsey district
1st Croydon - Active, Croydon district
1st Streatham Common - Active, Lambeth district
1st Hednesford - Active, Cannock district, Staffordshire
5th Wolverhampton - Registration cancelled, date unknown
Weybridge (Brookland's Own) - Active, Walton and Weybridge district 
3rd Glasgow (Waverley) - Active, South Western district
1st Hirst (Ashington, Northumberland) - Active, Wansbeck district
1st Rochdale (St. James) - Active, Pennine district, Greater Manchester North 
1st South Lambeth (Blackstaves, West Norwood Brotherhood) - Registration cancelled, date unknown
89th Lanarkshire (1st Coatbridge, Garturk) - Registration cancelled, date unknown
1st Toxteth (8th Liverpool, YMCA) - Registration cancelled, date unknown
3rd Wallasey (Emmanuel) - Active, Wallasey district, Merseyside 
1st Hanwell (St. Mary) - Active, Ealing and Hanwell district, GLMW
Duckworth Street Congregational - Registration cancelled, date unknown
1st Chiswick - Registration cancelled, 2002
2nd Chesterfield - Registration cancelled, date unknown
1st Hythe - Active, Folkestone and Hythe district
90th Lanarkshire (2nd Coatbridge) - Active, Calder, Clyde area
6th Lanarkshire (1st Carluke, St. John's) 1st Isleworth - Registration cancelled, date unknown
1st Stirlingshire - Active, Stirling and Trossachs district, Forth area
1st Dereham - Active, Central Norfolk district
1st Shanklin (Isle of Wight) - Active East Wight
4th Woking (Christchurch) - Registration cancelled, date unknown
3rd Fulham - Registration cancelled, date unknown
1st Wigan - Registration cancelled, date unknown
1st East Putney - Active, Wandsworth district, Greater London South 
1st Cleethorpes - Active, Grimsby and Cleethorpes district
1st Westcliffe (Essex) - Registration cancelled, date unknown
1st Market Harborough - Registration cancelled, 2009
9th Edinburgh - Registration cancelled, 2009
1st Buxton - Active High Peak district
1st Plymouth - Registration cancelled, date unknown
1st Islington - Registration cancelled, date unknown
2nd Islington - Registration cancelled, date unknown
3rd Islington - Registration cancelled, date unknown
4th Islington - Registration cancelled, date unknown
5th Islington - Active, North London district
12th North London - Registration cancelled, date unknown
23rd North London - Registration cancelled, date unknown
1st City of London - Active, North London district
20th/28th Paddington - Registration cancelled, date unknown
1st Malvern  Link - Active, The Malverns district, Hereford and Worcester
1st Attleborough, Nuneaton - Active, now 1st Nuneaton (Attleborough), Nuneaton District, Warwickshire
1st Tonbridge - Active, Tonbridge district, Kent
1st Formby - Active, Formby district, Merseyside
1st Elstree & Borehamwood - Active, Esltree, East Herts
1st St Marylebone - Active, City of Westminster district
1st St. Helen's YMCA, Merseyside - Active, St Helens district, Merseyside
1st Cheshunt - Active, East Herts district
1st Forest Hill - Lewisham, registration cancelled 2009 
1st Norwich Sea Scouts (Captain Bower's Own) - Active, Southern Norwich district
24th Birmingham / 1st Sparkhill - Active, now 24th Birmingham (Manor Farm), Cole Valley South District
2nd / 8th Stockport - Registration, cancelled 2009 
1st Cheltenham (Highbury) - Active, Cheltenham, Gloucestershire 
1st Longford (18th Manchester) - Active, 1st Stretford (1st Longford), Stretford, Greater Manchester West
3rd Macclesfield (Upton Priory) - Active, Macclesfield and Congleton, Chesire
8th Holborn (Lady Peat's Own) - Active, North London district
1st Keynsham (St. John's) - Active, Wansdyke district, Avon