Equipment, appliances, ventilation and cylinders
Equipment, appliances, ventilation and cylinders
Equipment
The owner / user of all LPG appliances and equipment is responsible to ensure that all their kit has been specially designed for use with LPG and thus ensure they can give long and reliable service to the user provided they are correctly operated and maintained.
It's essential that sensible safety precautions be followed with any appliances using butane and propane gases which are considerably heavier than air and highly flammable; and because of these facts, we list here simple safety measures which should always be adopted when using the appliances.
Failure to observe these could result in a serious accident.
It's very important that whoever is going to use the equipment knows how to operate it and never allow anyone other than a competent person (someone with a good level of experience) to connect or disconnect appliances and regulators.
You might need to be trained in this by a technically competent person.
Appliances
With new appliances, read the instructions provided, taking particular care to ensure that the gas type is
correct and the supply can provide sufficient gas for the appliance and any other appliances drawing on the same supply.
Ensure that the regulator provides gas at the correct pressure for your application;
Site the appliance so that it cannot overheat any surfaces and cannot cause an accident;
Ensure the table you use for cooking burners has a heat resistant cover or surface such as thin metal plate;
Set up away from mess tent / dining shelter sides as far as reasonably practicable.
For older equipment, ensure that the appliance has an adapter and regulator already attached for the type of gas bottle you are going to use. If the equipment does not have the connector on, do not guess at the type required, get advice from a manufacturer or supplier. Do not change the connector or regulator unless competent to do so.
The appliance should burn cleanly without the formation of soot. If it does not, turn it off and ensure any maintenance is carried out by a competent person before re-using.
Most appliances operate at high pressures (i.e. in the range 0.35 to 2 bar) since this gives the hot compact flames required for lights and portable heating equipment.
Ventilation
Fixed installations:
All LPG equipment consumes oxygen and emits carbon dioxide and carbon monoxide in use so that when using un-flued equipment in an enclosed space it is important that there is adequate permanent ventilation and adequate free space surrounding it. These requirements are laid down in various British Standard Codes of Practice.
When using appliances in mess tents, party type tents or marquees, there must be open doors and the ventilation meshes must be open at all times the equipment is connected up to the cylinder.
Gases are heavier than air and closed tentage in the case of gas leaks would entrap a layer of gas at low level. (See section on carbon monoxide poisoning).
Cylinders
Make sure the cylinder is large enough for your requirements. Cylinders must be sited away from any heat source, in a well-ventilated place and must stand in a stable upright position. Never put a cylinder in an area below ground level such as ditch, as LPG is heavier than air and any leak will allow gas to pool and become a greater risk from naked flames.
Cylinders should be placed upright and outside the confines of the cooking tentage so the cylinder valve is more accessible in the event of a fire. Allow enough hose for this. Bottles should not be kept under a cooking table as, should a fire start, you cannot get to the bottle to turn off the supply without going under the fire itself. If required, a suitable lightweight weather cover can be used to protect bigger cylinders (e.g.47Kg Propane) against excessive wet weather or the heat of the midday sun if this is deemed a risk factor.
Storage
A well ventilated and secure space should be used to store gas.  Ideally, a dedicated gas cage, sited outdoors, if that is possible within your resources and facilities. Very small numbers of small gas cartridges can be stored indoors, but preferably near floor level and in a well ventilated spot, well away from any potential ignition source.
Some helpful guidance can be found at Calor's website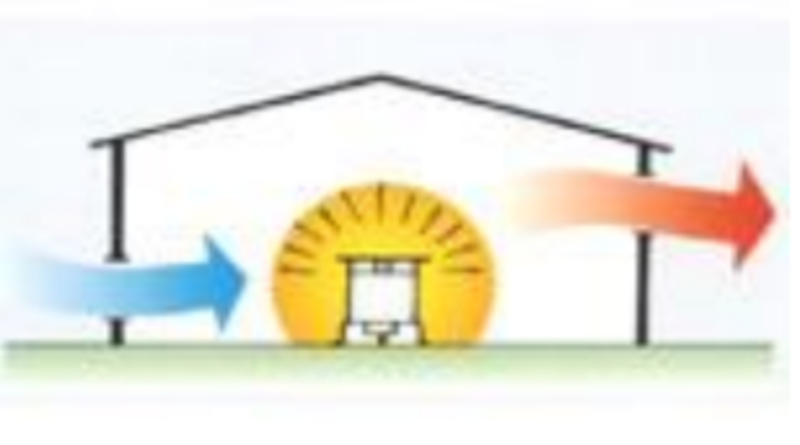 Ventilation