Connecting to the gas supply, use and transportation
Connecting to the gas supply, use and transportation
Regulators
Regulators change the pressure of the gas so that it arrives at the equipment at a suitable level for it to use.
Regulators must be marked BS3016 or BS EN12864

Appliances should only be used in conjunction with a British Standard regulator. It is important to check that the regulator:
 gives the correct pressure for the appliance;
 is suitable for the gas being used (check also that
the gas is suitable for the appliance);
has a large enough maximum flow for the appliance.

For propane cylinders, and for butane cylinders with
screw connectors:
 always, before connecting a regulator to a cylinder, ensure that the mating parts are clean, free from dirt and undamaged, and, in the case of butane regulators, check that the washer is in place on the spigot of the connector and is in good condition;
the connecting nut of the regulator must be hand force spanner tightened to the cylinder valve. (Note: The thread is left-handed.) Do not over tighten. For butane cylinders with 'switch-on' or 'clip-on' connectors: Consult your dealer on the type of adaptor or regulator you require and fit in accordance with the manufacturer's instructions
Screwed connections
Note that all nuts with notches on the hexagon have a left-handed thread.
Hoses and clips
British Standard hose only must be used for passing these gases as LPG attacks and corrodes natural rubber. There are no fixed lengths but it is good practice to keep hose lengths as short as possible for your needs and they must be securely attached with suitable hose clips to the ends provided.
Low pressure certified hose, (which should show the number BS.3212/1 and the year of manufacture) must only be used for regulated pressures up to 50mbar.
 High pressure certified hose (which must show the number BS.3212/2) can be used for all pressure up to 17.5 bar.
Hose and clips should be regularly inspected and replaced if corroded, rusty, worn or otherwise
damaged.
Make sure that the hoses are kept clear of 'hot spots' and inspect them from time to time.
Replace any hose that shows signs of wear, cracking, corrosion, rusting or other damage.
Keep hose lengths as short as possible for your particular set up.
Hose or tubing with an internal diameter of 8mm or greater and operated at a pressure of up to, but not exceeding, 50mbar may be secured using either crimp clips or swaged fittings or worm drive clips.
Hose or tubing with an internal diameter of less than 8mm and hose operated at a pressure exceeding 50mbar should always be secured by crimp clips or swaged fittings and worm drive clips should not be used. Only crimp clips of the correct size.
If Worm drive clips are used to secure the hose or tubing do not over tighten so as to damage the hose.
Hoses and Tubing
Hose and tubing does not generally have a time limited in-service life (if in any doubt, it is recommended you replace hose after 3 years) but it is essential that LPG hose/tubing and end connections are regularly inspected by a competent person and replaced if showing signs of:
Physical damage such as - cuts or abrasion, cracking, stretching, flattening, kinking and, where
fitted, missing/worn sealing washers, damaged cylinder connections;
Environmental deterioration such as - stiffening, cracking, de-lamination of outer covering, chemical degradation i.e. softening of outer coating by contact with oil.
Hose service failure such as - blistering, soft spots, rupture and, for pre-assembled end fittings, corrosion or loosening of swaged fittings attaching hose.
It's good practice to always check hoses at the beginning of the camping season and also immediately before setting up for use and to make a record of formal inspections. Ideally, record the dates that you fit new hoses so you can track time in use, and mark the hose accordingly.
Leaks
After connecting appliances/regulators, etc., check that there is no leak of gas before using. Propane and butane have a distinctive smell and a leak can usually be detected immediately by this fact.
If a leak is suspected, extinguish all naked lights and close the cylinder valve. NEVER look for a leak with a naked flame, but trace it by smell and confirm by brushing suitable leak-detecting fluid over the suspected joint. Equipment must not be used until any leak is eliminated.
Turning off

After using a portable appliance it is IMPORTANT:
that the cylinder valve is closed first thus allowing
the gas in the system to burn off;
that any valve fitted to the appliance is then closed
to ensure that when the appliance is again used the
turning on of the cylinder valve does not allow gas
to escape from the appliance before being lit.
Problems

If you're in any doubt about the operation of the appliance please consult your dealer directly. You can get technical and safety advice and there is a comprehensive set of industry recognised Codes of Practice available.
Transporting gas bottles for camp
The transporting of gas is often forgotten on the risk assessment we undertake for a camp. Gas bottles should be transported and stored upright and secured in position whenever you travel, rather than lying down. With gas or another liquid fuel, containers should always be of an approved type.
It's good practice not to mix people with gas bottles on your transport. If possible carry the gas in a gas tight bulk head. If not, ensure good ventilation in the vehicle.
Carry suitable firefighting equipment to tackle a fire. A flammable gas sign should be displayed on the vehicle.
There is helpful summary about transporting gas in a work situation at the BGCA website.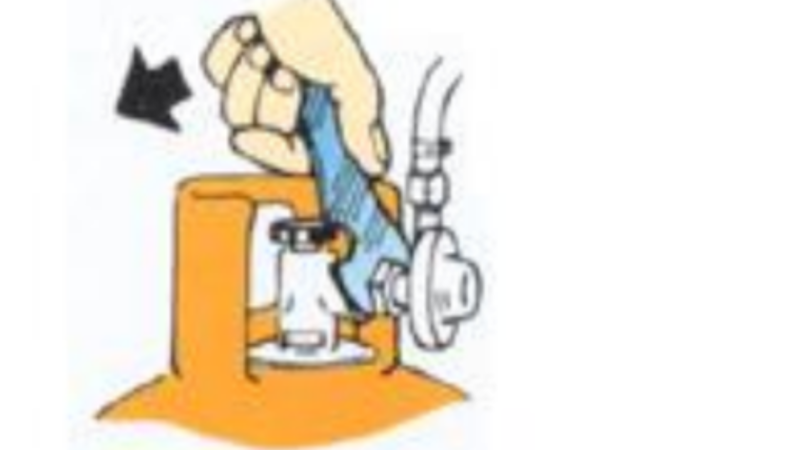 Screwed connections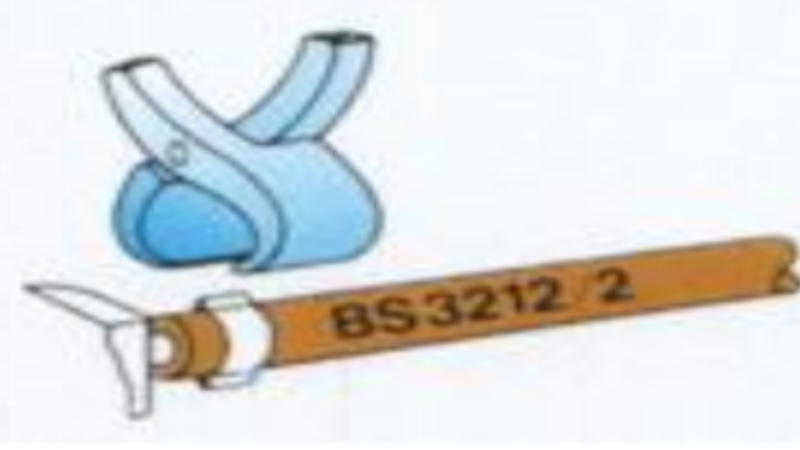 Hoses and clips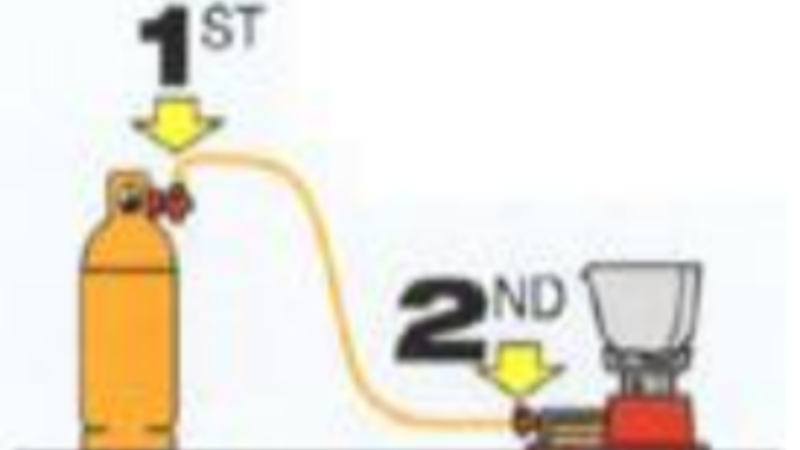 Turning off appliances