Hike to the Moon
We're hiking to the Moon (and back!) to raise money for BBC Children in Need and Comic Relief, supporting those most affected by COVID-19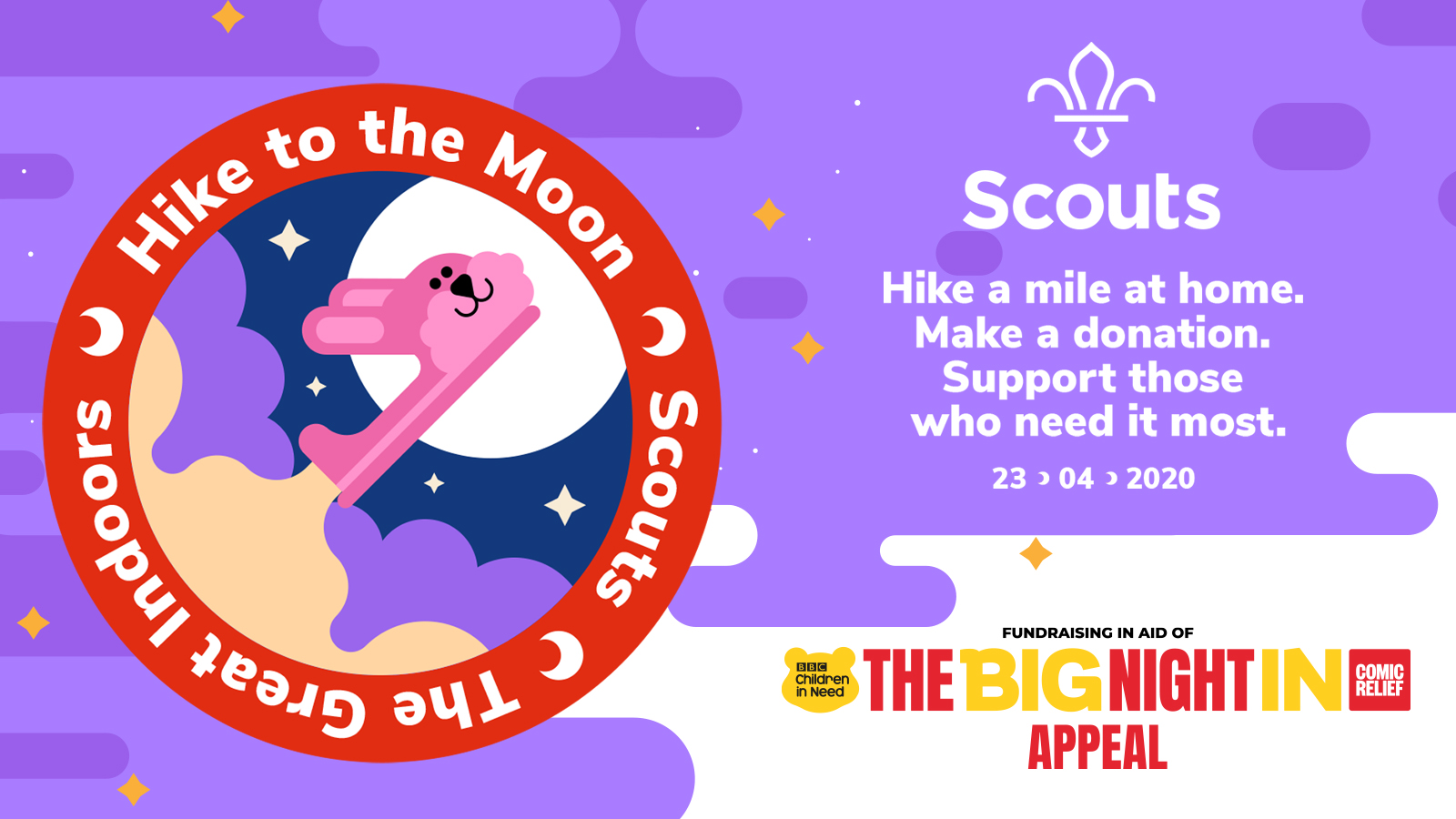 Hike a mile at home. Make a donation. Take a giant leap to support the people who need it most.
We're already helping families across the UK with The Great Indoors. Now, we've got a chance to go one step further.
On 23 April, BBC Children in Need and Comic Relief got together for their Big Day In on Radio and their Big Night In on TV. This was a massive fundraising special to celebrate the incredible people making a difference in communities across the UK, and to support people who need it most during the coronavirus crisis. Scouts, along with friends and family, collectively walked more than 240,000 miles (the distance to the Moon), raising hundreds of thousands of pounds for the event.
Now it's time to go the extra mile (literally!). We want to keep going and keep raising funds to help people. If we all hike just one mile each – about 2,000 steps or 20 minutes walking on the spot – then together, we can make an even bigger difference to people affected by COVID-19.
To hit your one mile target, you can hike around your home or your garden (if you've got one) but please be safe and stick within government advice – you don't need to leave your homes to be part of this.  
Hear from Bear and Tim on Newsround... 
Just like the real Moon landings, there are loads of actions that'll help us to reach our goal.
If hiking's not for you, why not try out some of the suggestions below or come up with your own? For every action you take, log a mile.
Mission control miles – Act as a mission controller and create paperchains to display (why not add a thank you NHS message?). Just like in a real mission control room, lots of individual parts need to come together to form one whole.
Captain's log – Why not create a captain's log, ringing your friends and family and asking them to take part? You can then add up all their distances together, crunch the numbers, and log them.
Radical rocket – Design a 'radical rocket' of the future and show the world your creative talents. Why not record a short vlog to talk through your radical rocket and share it with the world?
Whatever action you decide on, please remember to record your miles and make your donation at our Just Giving page. 
A huge thank you to all you Scout astronauts who are making the epic journey. As we continue on our journey, here are three great ways to get us into lunar orbit.
Please make sure you follow these fundraising dos and don'ts
Make a donation
We've hit £240,000 – but we're not stopping there! Make a donation (or get your hike sponsored) to raise funds for BBC Children in Need and Comic Relief. By helping each other, we can get through the coronavirus crisis.
Donate now >
Get the badge
The Hike to the Moon badge has landed. Head over to Scout Store to pre-order your badge – it'll make a stellar addition to any camp blanket.
All profits from the sale of this badge will go towards supporting The Big Night In Appeal.
Find out more >