Update | 16 November 2020
Making Census easier with OSM
Through OSM you'll be able to send your Section's youth data for the 2021 Census in just one click if you have gold-level membership.
From January 2021, a button will be available in OSM to submit your aggregated youth data for the Census. This means that you won't need to enter the data twice, saving you valuable time. Of course, please double check your data on the Census platform at the same time as you are completing the rest of the Section return.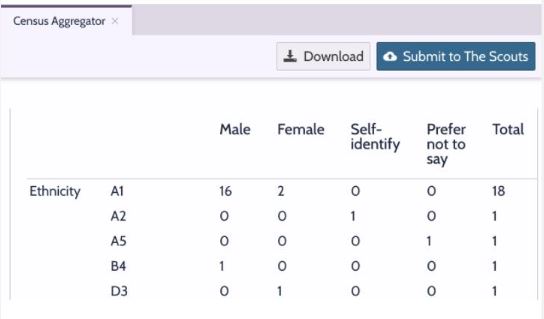 So, if you haven't already opted-in to the partnership, all you need to do is get approval from your Executive Committee, update your privacy policy (and tell people about the update), then head to your OSM Settings > Section Settings > The Scouts Pilot Partnership.
You can only access the Census Aggregator button to submit your data if you have Gold level membership with OSM and have opted into the pilot. 
New guidance and support to help you conduct the Census this year, considering the current climate, is coming soon.
Scouts and OSM
We're working with OSM on a data sharing project as part of a pilot partnership.
Find out more
Census guidance
Take a look at the existing guidance about how and why we do an annual census.
Read it here
Further reading
Coming Soon
Related links
Coming Soon