Blog | 18 February 2020
Looking into Scouts for 4 and 5 year olds through the partner-led model
The pilots trialling Scouts for 4 and 5 year olds are being tested out using three different models. The partner-led model is when a group is run through an early years partner such as a nursery or school. We visited a partner-led pilot at a school in the West Midlands to see how they're getting along.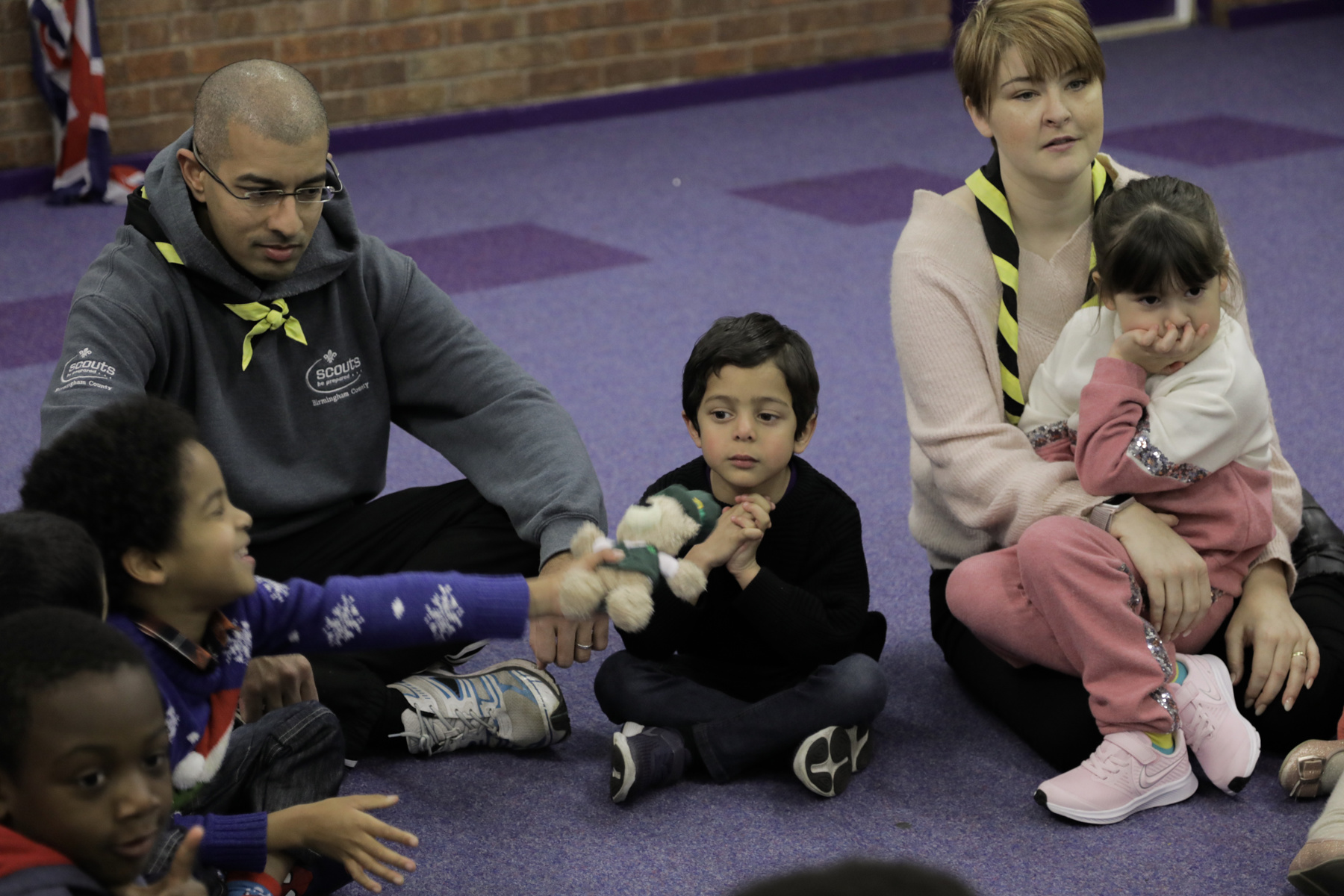 It's a grey afternoon in Sandwell and about twenty 4 and 5 year old boys and girls are sitting in a circle in a classroom. School's over for the day and they've changed into their Scout t-shirts. They've made their Scout Promise, reflected on last week's activities and they appear eager to begin.
'Today', says Helen, 'we're going to be reading a story about a parachute.' There's a collective gasp of excitement. 'Once upon a time there lived Mr and Mrs Cool,' Helen reads aloud. 'What does cool mean?' she asks. Yusuf flings up his hand. 'Something like a Lamborghini,' he says, 'something like a cool car.' Now that that's cleared up, Helen continues.
Storytelling is embedded into the Scouts for 4 and 5 year olds pilot programme. Here at Christchurch Primary where a group of young people from the school's foundation stage were invited to take part in the Scouts pilot, it's no different. As the meeting progresses, the story about Mr and Mrs Cool who love to parachute evolves into an activity session of crafting straw characters who waft in the air from tissue paper parachutes. The activity progresses into an outdoor game, where together the children wave a great colourful parachute-like sheet in the wind, working in a team they struggle to get a small ball into a hole in the middle and when they finally manage it, they let out a huge small-voiced hurrah!
Yusuf says making parachutes has been one of the best things he's made in Scouts. The other thing he's liked making? Friends. When asked who he's made friends with, he lists the whole group.
How did the group get started?
'Partner-led groups are slightly different from conventional Scout Groups, in that the adult volunteers don't necessarily have a Scouts background, but it seems to be working anyway,' explains Mark, the local County Commissioner. The adults here are schoolteachers and they're very good. Very switched on and obviously working with the young people day in and day out they know them perfectly well.'
This particular pilot kicked off in the last term of 2019 and will run until July 2020. The group meets once a week after school, moving from their regular classroom to one down the hall, so it feels like they're going somewhere new.
The young people were selected by staff in the foundation stage who specifically earmarked children from a deprived background and those they believed would benefit most. Many have Special Education Needs (SEN) or are pupil premium students.
Around the time the pilots were being planned the school were looking for an after-school club. The timing seemed perfect and so the pilot partnered with the school to see how it would work out.
How are they going so far?
Tracey, one of the teachers running the programme in the school, says with a daughter who'd been a Beaver she knew the personal skills and life skills that Scouts nurtures, and she says the pilot has proven to be 'amazing. Really good.' She says 'after-school clubs often start and then fizzle away, but with this the children have come every single week. Lots are from disadvantaged families that have never heard of Scouts. So it's been really powerful, I think for the parents as well.'
She thinks it has something to do with the sense of 'belonging' that the programme nurtures: 'They've got their t-shirts and they're little books and they do the promise and then the activities, and they get the chance to be with us, and we get a chance to play with them instead of it being very teacher-led all day – you know, doing phonics and stuff like that all day.'
The sessions are full of things the children enjoy: making things and playing in the garden, which Tracey says the children obviously enjoy. 'It's more play-based, more activity-based, there's more all playing together. They're not just seeing it as an extension of school, it's something completely different. Many of these children wouldn't even think of going to Scouts so it introduces it to them as well.'
A reception teacher who's also involved, Helen, agrees. She says 'the children are much more talkative here than in school. You can really see a different part of their personality. It's been good for the confidence of the children.'
From the teachers' perspective 'it works well as an afterschool club because the staff know the kids already so it feels comfortable. Because they're so young.' They say it's not often children in reception get offered an afterschool club so it feels like something different. They also love the resources. Helen says 'after a full day of teaching and week of teaching and thinking of your own ideas it's nice to just be able to implement whatever's written and planned for us without thinking too much.'
Potential drawbacks
Although the model definitely has advantages, Mark explains – 'the groups have a venue, the teachers know the young people and we've already got a cohort of young people that'll be able to benefit from Scouts' – it's not without its drawbacks. He says the potential downsides he can see are around 'training and getting the teachers to come to District events, and joining locally within the District. Should it go ahead, training would be the main concern.'
Another potential issue he mentions is that 'there are school rules and Scout rules and is there always a cross-over?' Although it hasn't been an issue at this pilot, he says they've seen this come up in another District. Mark says, 'If Scouts for this age group were to go ahead we'd need to iron that out so we can clarify the cross-over between our rules and procedures. So people know that if it happens with this then it's under our remit, if it happens with that it's under their remit.'
From the perspective of the local District Commissioner, Dawn, 'because there aren't older Scout sections for the group of young people to see in this setting, there's no one to look up to or model yourself on.' At the end of the pilot she'd like to broach the gap between the young people who may be interested from the school and the Beaver Scouts in Sandwell by arranging a presentation at the end of the pilot to tell the group what Beavers is all about.
In their observations of the-partner model, our external evaluator, the Centre for Research in Early Childhood (CREC) echoed some of these concerns. In their view, despite the partner settings making use of the resources, they found them 'less identifiable as Scouts sessions, particularly compared with the Scout-led and Family-led models .'
Their research resulted in queries about 'how the model can engage the children (and parents) in the broader Scouts movement (rather than merely completing Scout written activities in their usual early years environment); and how the Scouts could implement and oversee monitoring and quality assurance processes, particularly with regard to quality early years best practice, when working with a partner organisation.'
Although they too found the sessions to be having a positive impact on children – enhancing their confidence, social skills and language – they found little evidence of involvement and impact on parents.
Do the benefits outweigh the concerns?
Helen says 'sometimes the children get so excited, they're like "is it today?" And it's like "no, it was yesterday". They're always waiting for the next session. They're also able to bring their knowledge from Scouts back into school, and since they learnt how to tie knots, they're all tying their laces now.' With the young people who are involved so happy, their classmates are now asking when is it their turn?
At the end of the session, the young people put their parachute stickers in their books, they say their Scout Promise, and get a letter to take home to their parents, filling their families in on what they did that day.
The teachers say they keep getting requests from parents about when they'll be accepting the next cohort and when we run into a parent on our way out, she says 'are you from the Scouts?' When we nod, she says her daughter turned down the original offer to take up a place in the group but now she sees all the fun they're having. 'Will it run again next year?' she asks. We shrug. 'Well if you do,' she says, 'you'll have at least one. Crossing fingers.'
Where we are in the decision-making process
In July 2020, the Board of Trustees will make a decision about whether or not to go ahead with Scouts for 4 and 5 year olds. This may mean giving the nod on rolling it out, continuing the pilot programme to gather more information before a final decision is made or deciding against it. The research is still underway so we don't know what the Board will decide. Should it go ahead, it'll be opt-in, and the roll out will be phased and limited. There won't be any growth targets or goals for adoption, so there's no need to worry.

Remember, you can't offer early years Scouts locally – groups don't have permission to start early years provision outside of these pilots. Unofficial provision is against our rules, it could affect the pilots, and it wouldn't be insured. The existing Squirrels programme, run under a Memorandum of Understanding with Scouts NI, isn't affected by the pilots.
If you have any thoughts or feedback about the early year's pilots, you can let us know here.