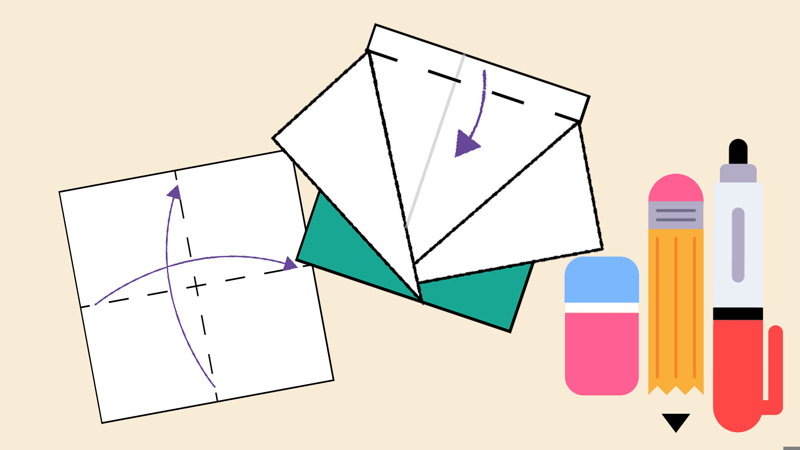 You will need
Scissors
Camera or phone
Coloured pens or pencils
Sheets of paper, at least 15cm square
Illustrated instructions (To foldly go)
PDF – 214.3KB
Before you begin
Make sure you have enough paper and scissors for everyone to use. You'll need paper and scissors too so that you can demonstrate for the group.
Run the activity
Everyone should get into small groups. The person leading the activity should place themselves somewhere they can be seen and heard easily. Each person in each group will need a piece of paper. Groups should also have a pair of scissors to share between them.
With their piece of paper, the person leading the activity should show everyone how to fold their piece of paper to make the uniform. Give out copies of the 'Illustrated instructions' sheet to each group for additional reference.
Begin by folding the paper in half horizontally and then vertically. Then unfold. There should be a slight crease in the paper running up and along.
With the paper flat, fold the bottom of the paper up to within one centimetre from the top. Then turn the paper over.
Fold the sides of the paper into the middle. It's okay if the sides overlap slightly.
The top flap of the sides that were just folded should then be folded back on both sides. This should leave you with a right-angled triangle (or 'lapel') shape on both sides, with the narrowest points at the bottom in the middle.
The strip of unfolded paper along the top should now be folded down. Tuck it behind the right-angled triangles. Then turn your paper over.
With scissors, carefully cut down the crease that runs from the centre top to bottom. The cut only needs to be about an inch long. Fold down the two sides of the cut to make a 'collar' shape. With the arms poking out from the back, you should now have your shirt shape.
Everyone should decorate their shirts however they please. Each shirt should be a uniform for the group to wear. Groups may wish to make uniforms that are the same to remind them who they were with for this activity, or people may like to make one all of their own design. Give out coloured pens or pencils for them to do this.
 If there's time, everyone could share their shirts with those in their groups. If you have a camera phone handy, use perspective (ie by standing back and having the person hold their shirt out in front of them) to take photographs of people wearing their shirts.
Reflection
People in Japan have been doing origami for many hundreds of years. It's a traditional pastime that is said to relieve stress, though it can be difficult to master the complex designs! What kind of instructions do you find easiest to follow: written instructions, pictures, diagrams or videos? How could you master origami and how could you show others how to do it too?
Safety
Phones and cameras

Make sure parents and carers are aware and have given consent for photography.

Scissors

Supervise young people appropriately when they're using scissors. Store all sharp objects securely, out of the reach of young people
All activities must be safely managed. Do a risk assessment and take appropriate steps to reduce risk. Always get approval for the activity and have suitable supervision and an InTouch process.