Tennis tops
Showcase your creativity in this design challenge and create your own wicked Wimbledon tennis top.
You will need
Coloured pens or pencils
Printed copies of the tennis shirt template
Design A Tennis Top Template LTA
PDF – 519.2KB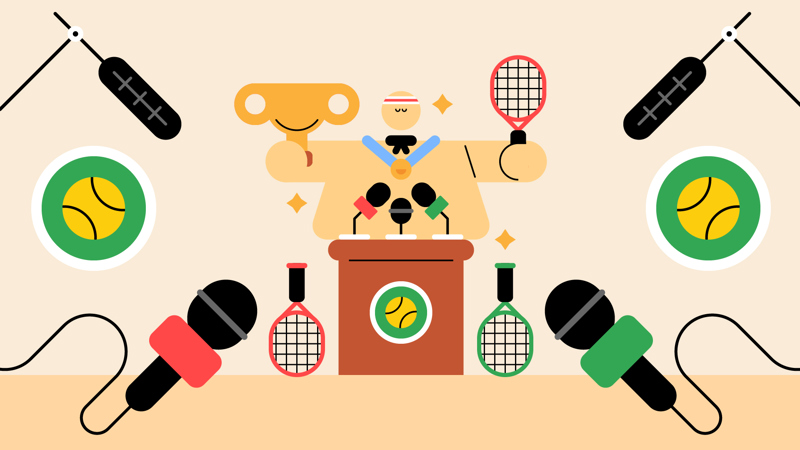 Competition time!

Scouts are teaming up with the LTA to run a fun competition, and you can win some top tennis kit for your group!
We're all familiar with the 'tennis whites' dress code at some tournaments, but

 
now
 Scouts and the LTA
want you to redesign the kit to create your own fun, silly and imaginative tennis top. 
Your new top should pay tribute to your local area, your Scout group, your family or wherever you draw your inspiration from! 
To enter the competition, download the template above and create your own wild design. Entries are open to young people from Beavers, Cubs, Scouts and Explorers - just make sure you include your name, your group's name and your grown up's contact information when you submit your entry. 
10 winners will be chosen and winning entries will receive 12 tennis rackets for their group.

Entries close at midnight on Sunday 8th May 2022.
To enter, please submit your entries via
this online form
or post them to:
LTA Competition, 
The Scout Association
, Gilwell Park, Chingford, E4 7QW. Postal entries stamped on or before 8th May 2022 will be included.
Before you begin
Use the safety checklist to help you plan and risk assess your activity. Additional help to carry out your risk assessment, including examples can be found here. Don't forget to make sure all young people and adults involved in the activity know how to take part safely.
If you can, print enough copies of the 'Tennis shirt template' for everyone. It's best to have a few spares too, just in case. You could also print one or two copies of the shirts onto card and then cut them out for people to draw around them as templates.
Don't worry if you don't have access to a printer – everyone can copy the template by hand, drawing their own shirt outline for their design to go on.
This activity works well as part of a tennis themed session, for example, alongside Tiny tennis tournaments.
Play the game
Everyone should decide whether they'll create a tennis shirt for a real or imaginary tennis player. For example, they could create a shirt for Emma Raducanu, Andy Murray or even themselves.
Everyone should choose the main colours for their tennis shirt. The colours of the kit could be linked to the Scout group, where they live or even where their family is from.


Everyone should design a crest and draw it on the front of their shirt. A crest is a coats of arms that can be used to represent a team or group. Historically, they were worn on kits to pay tribute to the history of the place where the team or group came from. The crests could include the area's industries or landmarks.


Everyone should finish off their design by colouring in any gaps. What colours will they use for the background? Will it be a plain colour or have a pattern, such as stripes?


Reflection
Everyone developed skills in this activity. They had to think about the reasons for choosing different aspects of their design, such as making sure that fabrics and shapes help the players perform well, making sure the kit is recognisable, and making sure that it represents the club or group. How did people capture the identity of their player in their design?
Safety
All activities must be safely managed. Use the safety checklist to help you plan and risk assess your activity. Do a risk assessment and take appropriate steps to reduce risk. Always get approval for the activity and have suitable supervision and an InTouch process.