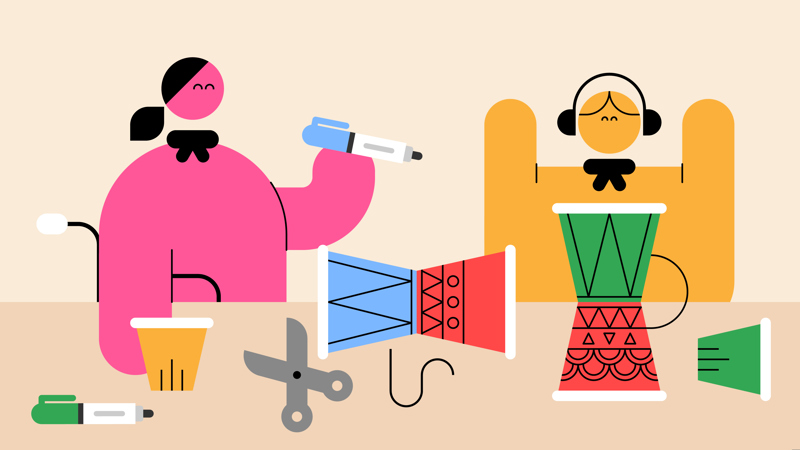 Press play and go: djembe drums
Learn about djembe drums from west Africa, make a djembe drum, and perform some freshly-learnt songs for an audience.
Plan a session with this activity
You will need
Scissors
Elastic bands
String
Masking tape
Paper cups
Old plastic bag (with no holes)
Script for leaders (Djembe drums)
PDF – 79.5KB
Start the meeting
You've probably developed your own routines to start online Scout meetings, but here are some ideas:
It's a good idea to start with something familiar to help everyone get into the Scouts mindset and to reassure them that it's still Scouts – it just looks a little different right now. This may mean an innovative flag break or a virtual Grand Howl.
Why not give everyone the chance to chat to their friends? Online meetings don't always give people to chance to reconnect; giving everyone the chance to catch up at the start helps everyone get engaged and makes it more likely that they'll feel comfortable speaking up throughout the session. Ask everyone to tell you something good about their week or answer a question like 'what's your favourite kind of music?'. Don't forget to use the mute button so everyone can hear the person speaking.
You could get stuck into a quiz or focusing game to capture everyone's attention and help them focus on the activity. You could try Letter tower.
Do the activity
It's up to you whether you play the video where Gabe talks everyone through each step or whether you play the video without a presenter. We've included some ideas for what you could say if you decide to present it yourself.
Whichever video you choose, feel free to pause the video as often as you need to let everyone catch up, share their creations, or help each other problem solve.
If you'd like to make this video full screen on a desktop, double click on the video once you have pressed play.
If you would like to download this video, or play it full screen on mobile, you can watch the video directly on Vimeo: Djembe drums on Vimeo
If you would like to see the video without the presenter, this is also available on our Vimeo: Djembe drums on Vimeo
Reflection
You probably have your own ways of reflecting and ending meetings and you can borrow questions and ideas from the original activity too.
In this activity, people had the chance to learn about how music can bring people together and help them learn about different cultures. Think about whether your reflections help young people understand what they've learned during the activity. The whole point of reflecting is that it helps everyone think about what they've learned and how they could apply it to other situations in future.
Are people comfortable sharing their ideas during the reflection? No one should feel put on the spot or forced to talk, but it's good to give everyone a chance to have their say. You may want to revisit how you start your meetings to get everyone used to speaking up.
It's worth giving people the chance to share what they've created during the reflection. It's always nice to see what everyone's made, but sharing their work will also help them describe the activity in their own way and make it more memorable.  
It's also useful to chat about how people could take it further. You could think about how people could build on what they've learned or set them a simple, creative challenge before your next session. For this activity, you could think about how else people could learn about different cultures or when else they may have to take a deep breath and step up to perform. If you set a challenge, don't forget to check in when you next meet.
Safety
All activities must be safely managed. Use the safety checklist to help you plan and risk assess your activity. Do a risk assessment and take appropriate steps to reduce risk. Always get approval for the activity and have suitable supervision and an InTouch process.
Scissors

Supervise young people appropriately when they're using scissors. Store all sharp objects securely, out of the reach of young people.

Rubbish and recycling

All items should be clean and suitable for this activity.

Online safety

Supervise young people when they're online and give them advice about staying safe.

For more support around online safety or bullying, check out the NSPCC website. If you want to know more about specific social networks and games, Childnet has information and safety tips for apps. You can also report anything that's worried you online to the Child Exploitation and Online Protection command.

As always, if you've got concerns about a young person's welfare (including their online experiences), follow the Yellow Card reporting processes.