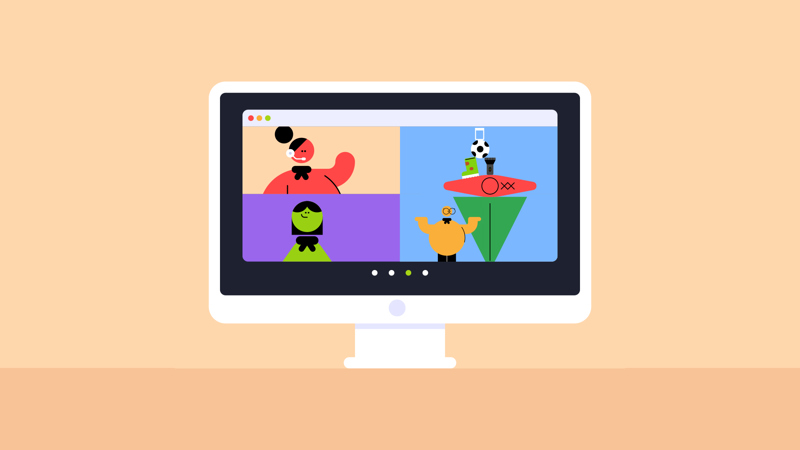 You will need
Pens or pencils
Scrap paper
Device with access to the internet
Before you begin
This is a great activity to run during an online session. Check out the advice on using Zoom and other popular digital platforms and the guidance on being safe online.
Contact parents and carers and ask them to help their young person choose a six letter word. Ask them to help their young person find an object that begins with each letter of the word they chose.
Build an example tower of your own to show everyone. Feel free to use the example above – unless you've sent it to people's parents and carers!
Build towers
Everyone except the person leading the game should mute themselves.
The person leading the activity should show everyone their example tower. They should explain that if people put the first letter of each item in the right order, they'll make a word.
Everyone should take a few minutes to try to find the word. It may help to write their guesses on a piece of paper, starting with the names of the items, then rearranging the letters.
When the time is up, the person leading the game should around the group and ask people for their answers. Everyone should unmute themselves when it's their turn to talk and mute themselves again once they're finished.
Once everyone's guessed, the person leading the game should tell them the answer and the names of the objects they chose.
Everyone should take it in turns to show off their tower. Everyone else should spend a couple of minutes writing down their guesses, a few people could share their guesses, then the person whose turn it is should reveal the correct answer.
Keep going until everyone's had a chance to share their tower.
Reflection
This activity needed everyone to problem solve while being independent by making their own decisions and building their own tower. Did people find it challenging to choose a word and find the right items around their house? Did anyone have to change their word? Why was it difficult to complete that word? People may have had tricky letters (such as Z or V) or maybe the same letter repeated too many times. Can anyone remember an especially creative item they noticed someone else using?
Safety
All activities must be safely managed. Use the safety checklist to help you plan and risk assess your activity. Do a risk assessment and take appropriate steps to reduce risk. Always get approval for the activity and have suitable supervision and an InTouch process.
Online safety

Supervise young people when they're online and give them advice about staying safe.

For more support around online safety or bullying, check out the NSPCC website. If you want to know more about specific social networks and games, Childnet has information and safety tips for apps. You can also report anything that's worried you online to the Child Exploitation and Online Protection command.

As always, if you've got concerns about a young person's welfare (including their online experiences), follow the Yellow Card reporting processes.