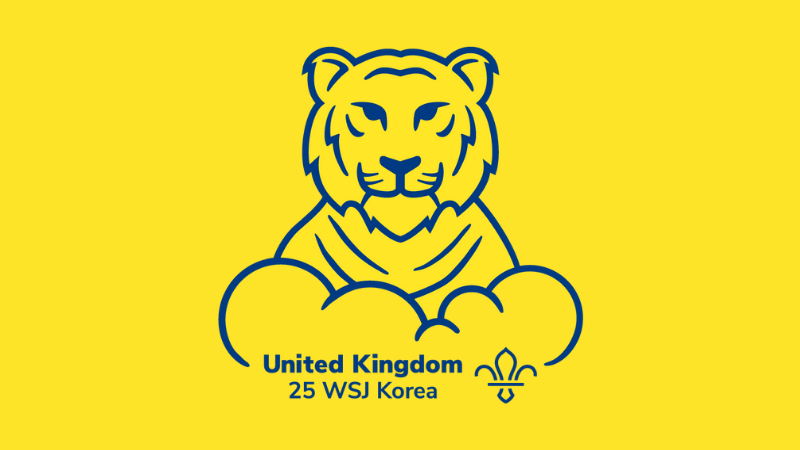 Jamboree Korean barbecue
First suggested by 25th World Scout Jamboree United Kingdom Contingent
Take part in the World Scout Jamboree and international themed programme with a Korean cooking activity
You will need
Access to a kitchen and a hob or stove
Cooking equipment for each group, including a pan, knives, 2 chopping boards and 2 bowls
Food for a Korean barbecue - see the list below
Washing up liquid, tea towels, access to a sink and cleaning sponges
Chopsticks (optional)
Plates or bowls to serve food in
Cutlery
시작하기 전에

(Before start)
Use the safety checklist to help you plan and risk assess your activity. Additional help to carry out your risk assessment, including examples, can be found here.  Don't forget to make sure all young people and adults involved in the activity know how to take part safely.

Check for any dietary requirements or allergies within your group before you begin. Make sure you have suitable areas for storing and preparing food, and avoid the cross contamination of different, or raw and cooked, foods.
Shopping list per group of 4-6 participants
1 teaspoon of oil

45ml of soy sauce
15ml of gochujang paste
15ml of honey
60ml mirin (sweet rice cooking wine) or white grape juice as a non-alcoholic alternative
½ red onion, (chopped finely)
2 cloves garlic, (chopped finely)
30g of spring onion, (chopped finely)
Ginger, (1 inch in size, grated)
30g sesame seeds
1kg of boneless chicken or beef

Vegetarian or vegan options can be accommodated easily by simply replacing the meat with a firm tofu or vegan approved Quorn.
For gluten free diets, check the soy sauce and mirin before buying.
All ingredients should be available in large supermarkets.
조리 공간 준비

(Preparing the cooking area)
Everyone should start by washing their hands. Everyone needs to wash their hands thoroughly throughout this activity and before handling any food or taking part in any cooking task.

Everyone then needs to be split into groups of four to six people

Groups need to get their food chopping areas set up. Each group needs two bowls, a chopping board and knife. Each group could use two chopping boards, or they need access to a sink and washing up liquid to clean the board and knife between ingredients.
Divide all the ingredients up between the groups. There needs to be enough food for between four and six people per group.
음식 준비

(Food preparation)
Using a separate chopping board and knife to cut the raw meat or meat substitute into thin strips, around 1-2 inches wide, then set aside for cooking. Wash your hands, knife and chopping board thoroughly with soap and water between steps.

Using a different chopping board and a clean or different knife, finely chop the red onion and garlic before setting these aside in a bowl.

Finely chop the spring onion, putting the white part in with the red onion and garlic. Keep the green part in its own bowl to use later.

Grate or chop the ginger, and add this into your bowl with the red onion, garlic and white spring onions.

Once all of your ingredients have been chopped, add the soy sauce, honey, mirin, and gochujang to the bowl. Give it a stir and you have now created your marinade.

Add the meat or substitute to your marinade, and stir it so that all the meat is fully covered.

요리 시작 (

Start the cooking)
Set up your hob or stove and pans ready for cooking. This is where you could teach young people how to use cooking equipment safely and supervise them appropriately throughout.
Preheat a frying pan or grill on a high heat with the teaspoon of oil.

Fry or grill the marinated meat or substitute for 2 to 3 minutes per side, depending on thickness. Check that the meat is fully cooked before moving onto the next step. A meat thermometer could be used to measure this.

When the meat is fully cooked, place it onto a plate or bowl. Next, add the green parts of the spring onions and sesame seeds over the top.
즐겨 (

Enjoy It)
Serve up a portion of the food for everyone. Remember, the food and pan will be hot.

Wait for the food to cool down, then dig in and enjoy!
Reflection
This activity was a chance for young people to take part in cooking a dish from other countries and take part in the wider international adventures. Have you tried Korean food before? How did it taste? Would you eat it again? This was a great opportunity to try food from a different country; if you were going to Korea what food would you take there for them to try?  Have a think about traditional English foods, such as fish and chips or Yorkshire puddings. What do you think they would say about our traditional dishes?
Safety
All activities must be safely managed. Use the safety checklist to help you plan and risk assess your activity. Do a risk assessment and take appropriate steps to reduce risk. Always get approval for the activity and have suitable supervision and an InTouch process.
Cooking

Teach young people how to use cooking equipment safely. Supervise them appropriately throughout. Make sure it's safe to use and follow manufacturers' guidelines for use.

Fires and stoves

Make sure anyone using fires and stoves is doing so safely. Check that the equipment and area are suitable and have plenty of ventilation. Follow the gas safety guidance. Have a safe way to extinguish the fire in an emergency.

Food

Check for allergies before you begin and read the guidance on food safety. Make sure you have suitable areas for storing and preparing food and avoid cross contamination of different foods.