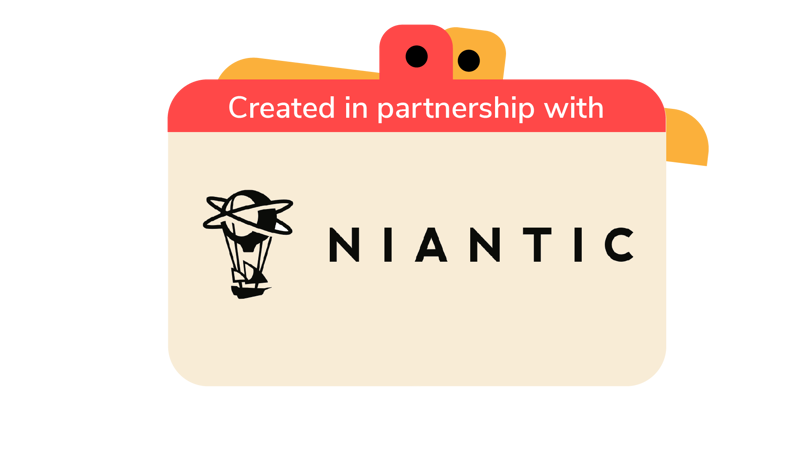 Game stop location
Learn more about your local area and share it through our partnership with Niantic.
This activity is supported by Niantic. Niantic are the creators behind popular games, such as Pokémon Go and Ingress Prime, which use augmented reality technologies to achieve their mission of enriching our experiences as human beings in the physical world. They turn the world around us into a game, which motivates players to head outside and to see the world with new perspective, as well as getting players visiting new places that are both close to and further away from home.
Before you begin
Use the safety checklist to help you plan and risk assess your activity. Additional help to carry out your risk assessment, including examples, can be found here. Don't forget to make sure all young people and adults involved in the activity know how to take part safely.
You might want to run our activity, Local knowledge tour, to gather the information needed to submit with your game stop.
Depending on how much time and resources you have available, you may want to run this activity across two sessions.
Research your location
The person leading the activity should explain that everyone will be submitting a game stop within their local area. Consider the places in your local community that have significance and bring people together.
Everyone should split into small groups.
Everyone should spend some time researching their local area. Groups should think of as many local landmarks, places of interest, historical buildings or landscape features as they can. They should make a note of the location and other important information for each place. We've included some example things to look out for below.


Everyone should visit their chosen location and take a clear picture of it to accompany their submission. 
The person running the activity should remind everyone of the location guidelines, which we have detailed below.
Using pens and paper, everyone should choose their own unique place of interest in their local area. Using the research they have gathered, everyone should write a title and description for the location.


Everyone should write down the exact location of their chosen stop using its street address and latitude and longitude.


Safety
All activities must be safely managed. Use the safety checklist to help you plan and risk assess your activity. Do a risk assessment and take appropriate steps to reduce risk. Always get approval for the activity and have suitable supervision and an InTouch process.
Online safety

Supervise young people when they're online and give them advice about staying safe.

For more support around online safety or bullying, check out the NSPCC website. If you want to know more about specific social networks and games, Childnet has information and safety tips for apps. You can also report anything that's worried you online to the Child Exploitation and Online Protection command.

As always, if you've got concerns about a young person's welfare (including their online experiences), follow the Yellow Card reporting processes.

Visits away from your meeting place

Do a risk assessment and include hazards such as roads, woodland, bodies of water (for example, rivers, ponds, lakes, and seas), plants, and animals.

You'll probably need more adult helpers than usual. Your risk assessment should include how many adults you need. The young people to adult ratios are a minimum requirement; when you do your risk assessment, you might decide that you need more adults than the ratio specifies.

Think about extra equipment that you may need to take with you, for example, a first aid kit, water, and waterproofs.

Throughout the activity, watch out for changes in the weather and do regular headcounts.